Lockwood ready for Round 1 challenge against Legit
By : Justin Felisko
May 16, 2019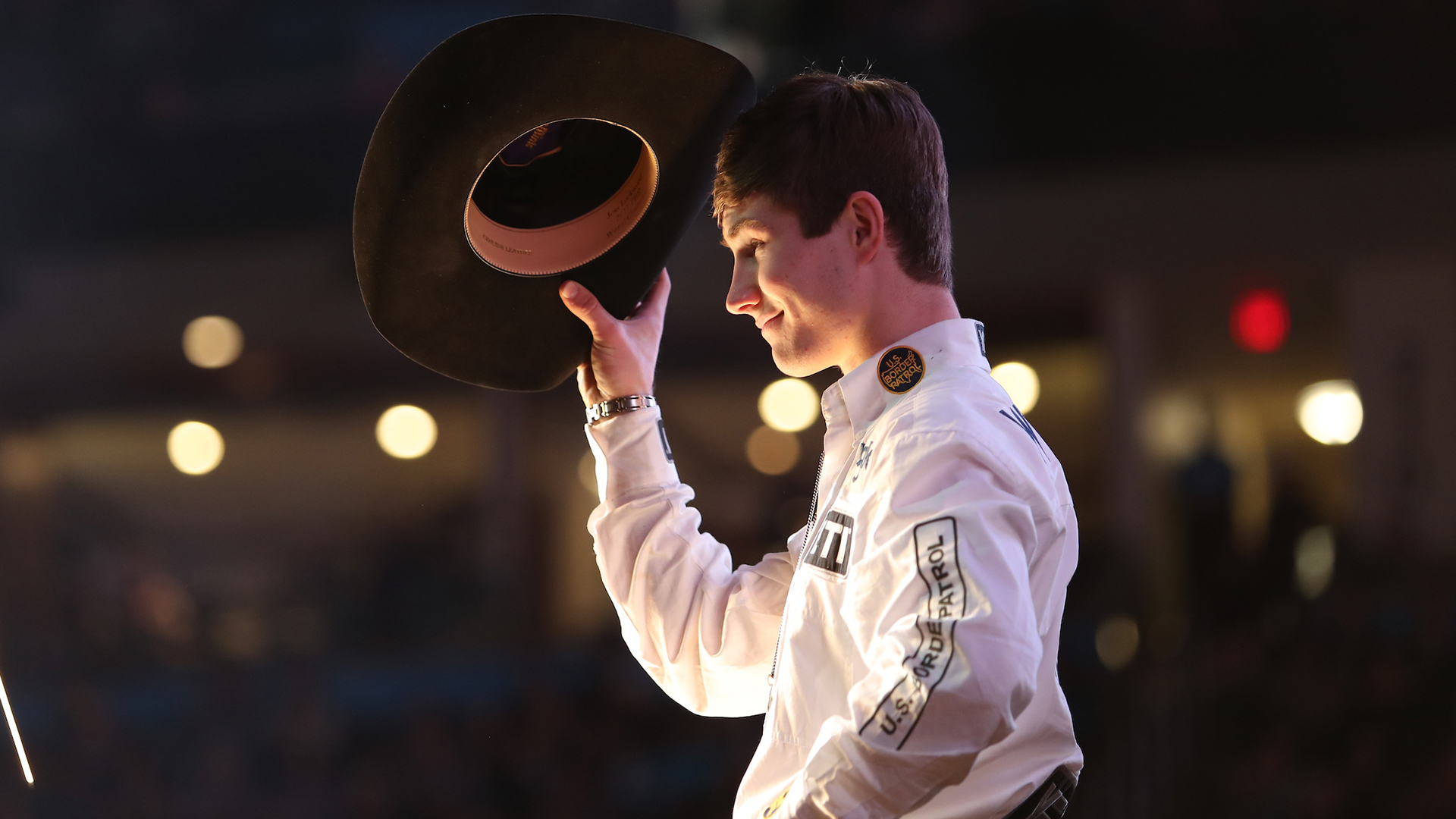 ALBUQUERQUE, N.M. – 2017 World Champion Jess Lockwood has spent the majority of the 2019 season stuck on the sidelines because of a broken left collarbone at the PBR Global Cup USA on Feb. 9, but that has not kept him out of the World Championship race by any means.
The No. 4 bull rider in the world is still very much alive in the world title race after beginning the year with back-to-back victories, including a PBR Major win at the Monster Energy Buck Off at The Garden, and Lockwood can reassert himself as the favorite to win the title again in a big way this weekend.
Lockwood is set to appear in his first Unleash The Beast event since Feb. 1 (Oklahoma City), and he has drawn arguably the rankest bull possible in Round 1 of the Ty Murray Invitational, presented by Isleta Resort & Casino, on Friday night.
The 21-year-old has been paired up with 2019 World Champion Bull contender Legit 1 as the normal 15/15 Bucking Battle/championship-round caliber bull is set to buck twice this weekend at The Pit in Albuquerque, New Mexico.
Legit is sitting No. 4 in the World Champion Bull race and is 6-0 this season, and 9-0 in his brief premier series career overall.
"He is pretty honest about it all," Lockwood said. "He isn't going to have a whole hell of a lot to him. I saw two videos from Jeremy Walker of people riding him 5, 6 seconds. I know he was better with Lucas (Divino) at 7 seconds.
"He is just so mean. A couple of times he has been rode 5, 6 seconds and other than that, he gets so pissed he starts throwing his head at you and he quits kicking and kind of just chases his tail. He just gets pissed you are on his back still."
Fans can watch Round 1 exclusively on RidePass beginning at 9:30 p.m. ET.
Two-time World Champion and CBS Sports analyst Justin McBride expects Lockwood to show up "ready to kick ass" and that a ride aboard Legit would certainly be a statement ride if he were to become the first rider to reach 8 seconds on the 2018 Co-PBR Bull of the World Finals.
"If he rides Legit Friday night, not only is that big for him, but that would send a shockwave through that locker room," McBride said.
Divino has lasted the longest aboard Legit, reaching the 7.55-second mark before being jerked down and dislocating his shoulder in Sioux Falls, South Dakota.
World No. 2 Chase Outlaw made it just past 6 seconds with Legit in Glendale, Arizona, but was bucked off 2.48 seconds in Tacoma, Washington.
"I am going to think he is going to get stronger as you ride, but there is a good chance he is going to decrease as the ride goes on because he is going to get pissed and pissed that you are still on his back," Lockwood said.
Reigning Stock Contractor of the Year Chad Berger could not be happier after learning his bull drew Lockwood for Round 1 and leading Rookie of the Year contender Cody Jesus for the 15/15 Bucking Battle.
"That is a hell of a one to get on for your first one back, isn't?" Berger said. "It will be a good test."
Berger explained his decision to buck Legit in Round 1 and the 15/15 Bucking Battle instead of the championship round and 15/15 Bucking Battle is to give his bull a few extra hours of rest overnight rather than buck him Saturday night and Sunday afternoon.
Legit is averaging 44.83 points per out.
"I think he is a contender every day, but we will have to see," Berger said. "That is why I want to buck him back-to-back here. I will tell you after this weekend if he is or not. Lockwood's chances are good against any bull. If the bull has his day, he will be tough and I will pick the bull."
Albuquerque will be Lockwood's second event back from the broken collarbone after he first returned two weeks ago at the Uvalde, Texas, Touring Pro Division event.
Lockwood began Uvalde with 84.5 points aboard Hospitality Tent before he was bucked off by Oasis Outback (6.75 seconds) and Black Hammer (2.78 seconds).
"I got wacked in my other shoulder down there," Lockwood said of his out against Black Hammer. "That is why I didn't go to Mason's (Mason Lowe Memorial Touring Pro Division event). I think I hit that AC joint. It has been tight and sore, so I figured I would just rest it and get all of that strength back in my upper body."
Lockwood missed nine Unleash The Beast events because of his broken collarbone, for which he did not have surgery, but the previous world leader did not lose nearly as much ground as he expected to in the title race.
He only trails world leader Jose Vitor Leme by 654.16 points heading into this weekend and could leave The Pit back atop the world standings.
To do that, Lockwood, who won four rounds in his first five events, will first have to get passed Legit Friday night.
"I'm strong now," Lockwood said. "When you draw a bull that is just a bull, yeah you are pumped up and everything, but you put a short rounder in a long round and it gets you really jacked up like it's the short round and you are going for the event title instead of a round win.
"If you ride him, you are guaranteed the round win pretty much."
Follow Justin Felisko on Twitter @jfelisko