Albuquerque draw: Nance ready to return to 'loudest' building in PBR
By : Justin Felisko
May 15, 2019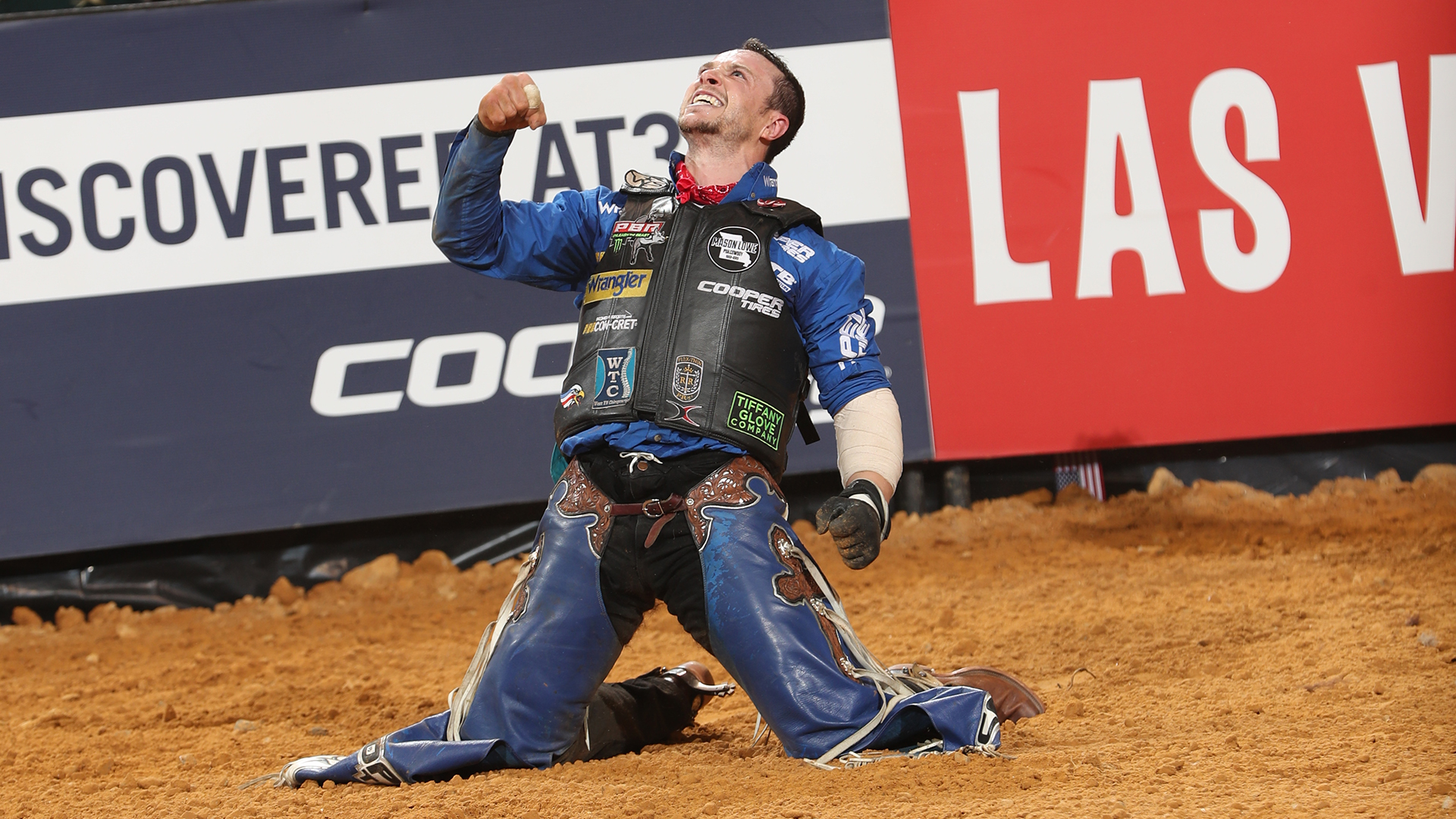 PUEBLO, Colo. – Ten-time PBR World Finals qualifier Cody Nance has nodded his head on the PBR's elite tour and in bull riding venues all over the world more than 750 times.
However, nothing compares to the atmosphere that is The Pit on the campus of the University of New Mexico.
"Albuquerque is probably the loudest because of the building," Nance said. "It was built underground to make it even louder."
The Pit, which is home to the University of New Mexico basketball teams, is one of the more unique venues in all of professional sports. It truly stands out on the Unleash The Beast schedule. The arena was first built in 1966 with the Behlen roof being constructed first. Crews then had to remove 55,000 cubic yards of earth to build what is essentially an "underground" venue.
The arena floor is 37 feet below street level, creating an atmosphere where the fans are sitting right on top of the bull riding.
The annual Ty Murray Invitational moved to The Pit beginning in 2008 after Tingley Coliseum played host to Murray's namesake event from 1997-2007.
The PBR is back in Albuquerque this coming weekend, and Nance is thrilled to be returning to competition at such a historic location.
Nance has missed the past four Unleash The Beast events, and six weeks overall, after he dislocated his hip on March 23 when Pan Am stepped on him following his 87.25-point ride.
"I am excited," Nance said. "I feel good. I guess everything happens for a reason. (The layoff) did give a couple of little (injuries) I have been dealing with the opportunity to heal up and feel better."
Albuquerque, New Mexico, has historically treated Nance well. He won the annual Ty Murray Invitational, presented by Isleta Resort & Casino, for the first time in his career last season a year following his runner-up finish in 2017.
Nance takes on What It Is (0-0, UTB) in Round 1 on Friday night (RidePass 8 p.m. ET).
The Paris, Tennessee, bull rider was cleared to return to competition last week and competed at an International Professional Rodeo Association bull riding in Mayfield, Kentucky, on Saturday to knock some rust off.
"The physical therapist said I was good to go, so I said, 'Good. I am entered tomorrow,'" Nance said. "I went and got on a bull and it didn't hurt at all. I didn't have to do any physical therapy really. There was enough strength that there wasn't really any reason to focus on any extra or different kinds of workouts or anything."
Nance is sitting No. 32 in the world standings and is 62.5 points ahead of No. 35 Junio Quaresima.
LOCKWOOD, JESUS, BARBOSA RETURNING; DAVIS OUT
Three heavy hitters are also returning to competition in Albuquerque.
2017 World Champion and No. 4 Jess Lockwood is making his first Unleash The Beast appearance since breaking his left collarbone at the 2019 WinStar World Casino & Resort Global Cup USA on Feb. 9 in Arlington, Texas.
Lockwood has missed nine Unleash The Beast events because of the injury, for which he did not have surgery, but he has only fallen to No. 4 in the world standings.
The 21-year-old returned to competition at the Cactus Jack PBR Touring Pro Division event two weeks ago in Uvalde, Texas, going 1-for-3.
Lockwood will take on Legit in Albuquerque in Round 1.
Reigning Stock Contractor of the Year Chad Berger is bucking Legit in Round 1 and the 15/15 Bucking Battle in hopes of improving the bovine's standing in the World Champion Bull race.
RELATED: Teel & Smooth Operator to collide in 15/15 Bucking Battle
Legit is 9-0 on the premier series and 6-0 this season. The 2018 PBR Co-Bull of the Finals is currently No. 4 in the world standings.
Meanwhile, Cody Jesus fell to No. 11 in the world standings after tearing his left groin attempting to ride Short Pop (1.97 seconds) on March 30 at the Tacoma Invitational.
The leading Rookie of the Year contender has already attempted more than 20 practice bulls to prepare for his return.
Jesus has drawn Thunderstruck (0-0, UTB) for Round 1.
2016 PBR Brazil champion Dener Barbosa will make his 2019 Unleash The Beast debut against Texas Comfort Air's First Blood (6-2, UTB).
Barbosa sat out the first four months of the UTB season recovering from offseason right shoulder surgery – his second surgery in six years.
The 25-year-old returned to action in Uvalde, Texas, and is 2-for-4 through two Touring Pro Division events.
Barbosa is one of four riders replacing Top 35 riders who are unable to compete in Albuquerque.
2016 World Champion Cooper Davis is not riding because of his ongoing riding hand injury, while No. 13 Lucas Divino (dislocated left shoulder), No. 22 Aaron Kleier (personal choice to ride in Australia) and No. 34 Cody Heffernan (visa issues) are also unable to ride.
Therefore, Dylan Smith (80.84 points behind No. 35 Quaresima) joins injury/World Champion exempt riders No. 62 Emilio Resende (-235 points), No. 70 Kaique Pacheco (-284.17 points) and No. 192 Barbosa (-452.5 points) as alternates.
LONG & DURAZO SPECIAL INVITES
2018 Indian National Finals Rodeo event winner Latrell Long will be making his PBR debut Friday night as the annual Ty Murray Native American invite.
Long is an 18-year-old from Dilkon, Arizona, and will take on Red Bones (0-0, UTB) in Round 1.
Edgar Durazo is making his Unleash The Beast season debut as this weekend's Hispanic invite. Durazo is 96th in the world standings and recently won the Brooks, Alberta, PBR Canada TPD event. Durazo has ridden four consecutive bulls since the 2019 PBR Global Cup USA where he rode for Team Mexico.
Durazo has drawn Undertaker (0-0, UTB).
LEME GETS REMATCH IN ROUND 1
World leader Jose Vitor Leme takes a 184.16-point lead atop the world standings to Albuquerque.
Leme takes on Nailed in Round 1. Nailed bucked Leme off in 3.11 seconds at the season-opening Monster Energy Buck Off at The Garden.
The rematch is one of five taking place in Round 1.
Luciano de Castro vs. Losing My Religion (1.88 seconds in Nashville in 2016 & 2.48 seconds at the 2017 World Finals)
Mason Taylor vs. Mr. Clean (4.29 seconds last year in Window Rock, Arizona).
Silvano Alves vs. RJ (3.17 seconds in Sioux Falls, South Dakota)
Taylor Toves vs. Medicine Man (85.75 points in Little Rock, Arkansas)
Follow Justin Felisko on Twitter @jfelisko