Dirteater talks walking a mile in her shoes
By : Justin Felisko
May 08, 2019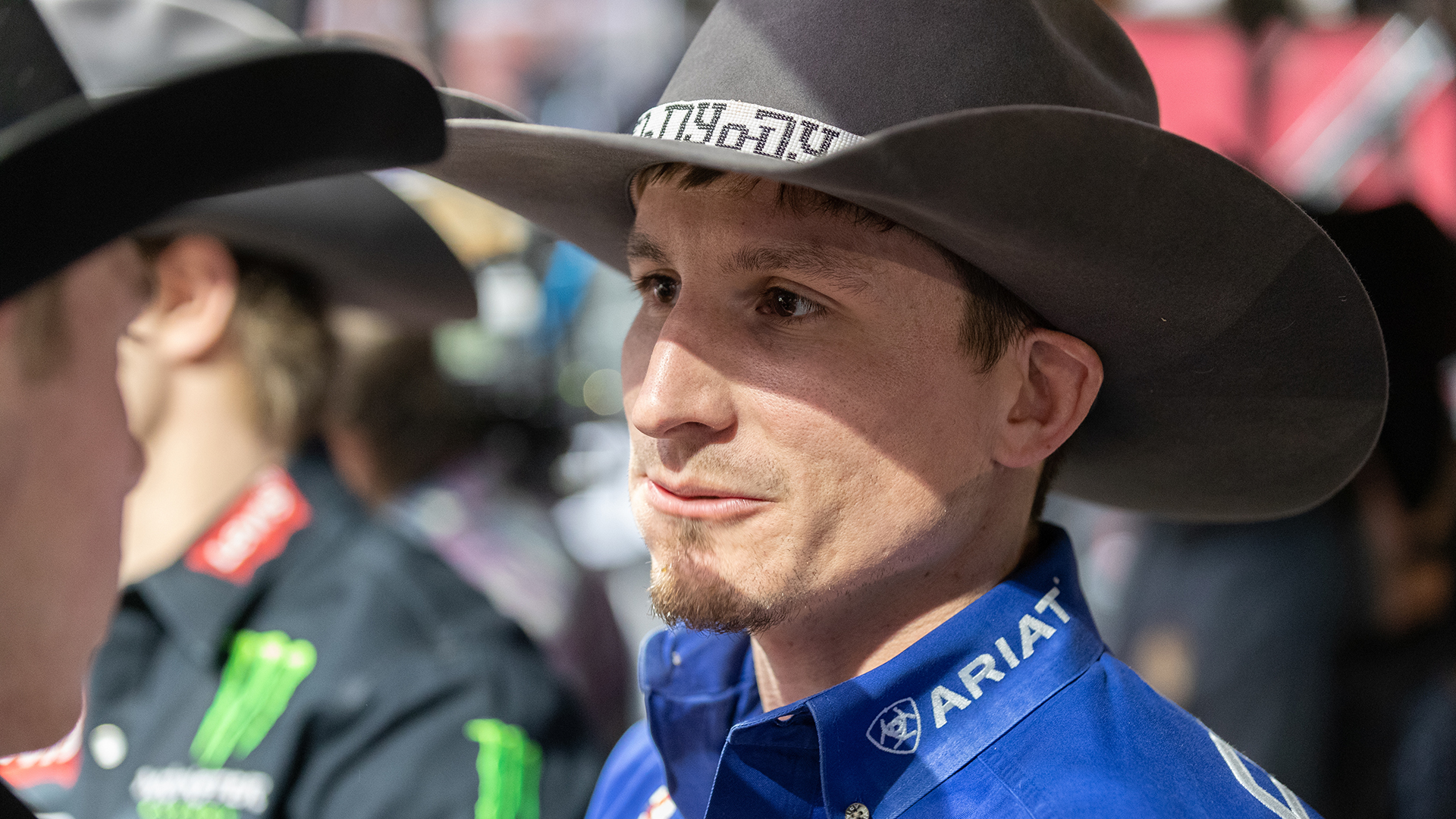 PUEBLO, Colo. – Ryan Dirteater's legs began to buckle and sway as his athletic talents were being pushed to different limits last month.
Dirteater had only taken a few steps down North Muskogee Avenue in Tahlequah, Oklahoma, in his bright red high heels – or "big roach killers" as he jokingly calls them – before he felt even more uneasy.
The Hulbert, Oklahoma, native attempted to regain his balance with each step he took. He looked ahead down the street to see close to 500 other men trying to overcome the obstacle of walking a mile in a pair of high heels.
This was a different challenge compared to riding a 2,000-pound bovine athlete, Dirteater thought to himself as he participated in the ninth annual Walk a Mile in Her Shoes campaign on April 20.
The international men's march to help stop rape, sexual assault and gender violence is a playful opportunity for men to raise awareness in their community about the serious causes, effects and remediation to men's sexualized violence against women.
"It was tough," Dirteater said. "The whole mile it was hurting. We were stumbling, twisting ankles and knees. Heels were falling off. Soles were blowing out. A lot of the guys were taping them because they were falling off."
Help-In-Crisis Inc., which offers domestic violence services, shelter and transitional housing for battered women, a 24-hour crisis hotline and counseling for Adair, Cherokee, Sequoyah and Wagoner Counties, organized the Walk a Mile in Her Shoes event in Tahlequah where men literally walk one mile in women's high-heeled shoes.
It is no easy task, but the walk is a fun one and it gets the community to talk about something that is really difficult to talk about: gender relations and men's sexualized violence against women.
"It is huge," Dirteater said of the awareness. "Just to show we all care. We are all cowboys. It is a way of life and that is how we do it. It is good to let them know that all of us men out there care."
Dirteater had wanted to participate in previous years, but he was unable to because of various commitments.
His girlfriend, April, encouraged him to join the walk this year with the PBR's Unleash The Beast on break and the couple being home for the Easter holiday.
"It was great," Dirteater said. "All the women were there cheering us on. They gave me the high (heel) ones. It was a last minute decision. I have been invited to it before and I never got the opportunity to do it before. Normally it is on top of Easter and I am usually traveling or doing something else. I happened to be there and I finally did it and experienced it."
Two-time World Champion J.B. Mauney overheard Dirteater talking about the charity event and chimed in, "Those were nice shoes."
Dirteater is sitting at No. 8 in the PBR world standings with the Unleash The Beast on a mini two-week break.
The 30-year-old is 16-for-38 with an event victory and four Top-5 finishes. He trails world leader Jose Vitor Leme by 1,478.33 points.
Dirteater has the luxury of taking some time off during the Unleash The Beast off weeks because of his strong start to the 2019 season.
He has instead used the time to get involved in his local community and spend time with his family.
He put on a "Thank You Hulbert" event with Scott and Bridgette Manes this past weekend in his hometown with a free concert from the Doc Fell Band, bounce house, mechanical bull, other activities and free hot dogs and drinks.
Dirteater gave away tickets to the upcoming Express Ranches Classic on Aug. 10-11 in Tulsa, Oklahoma, as well.
"The community is a big supporter of me," Dirteater said. "They're huge PBR fans and support the Western lifestyle. They've been there for me since day one. I love being from Hulbert and we support one another."
The Unleash The Beast resumes on May 17 with the Ty Murray Invitational in Albuquerque, New Mexico.
Dirteater said he does not have many plans to compete at non-UTB events this summer. He will instead focus on his family and taking care of business at the UTB level.
"I love it," Dirteater said of the breaks in the schedule. "You just have to make sure you make it count when you are here and then you can enjoy your time at home with your family and getting chores done. Take advantage of every weekend you get. I enjoy breaks. I do for sure. Let your body rest and recoup."
Follow Justin Felisko on Twitter @jfelisko