Eguchi gets revenge against Losing My Religion
By : Justin Felisko
April 28, 2019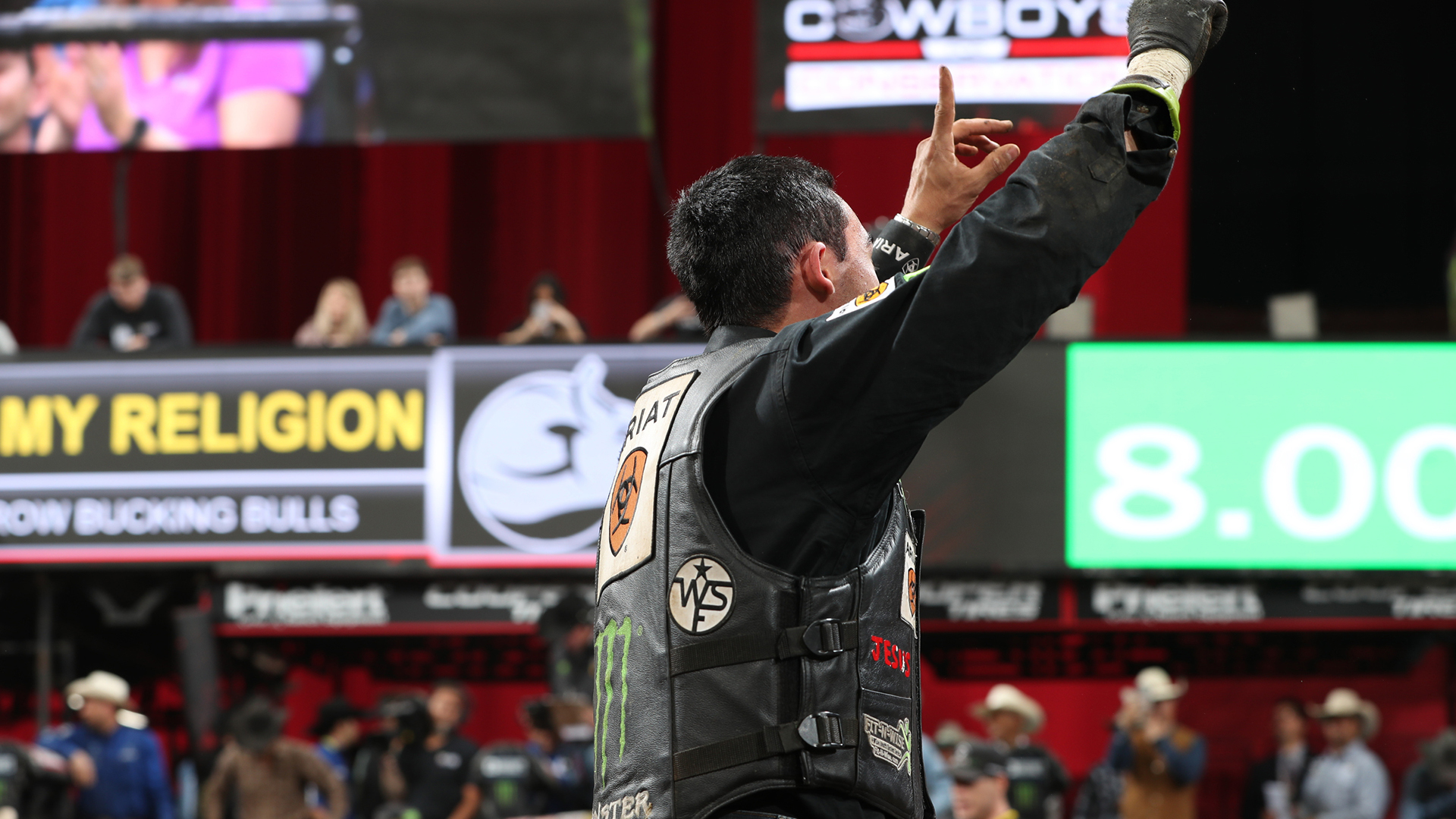 COLUMBUS, Ohio – Marco Eguchi knows it is slim pickings when a rider slides into the championship round sitting in the bottom slots.
Eguchi stepped up to the shark cage inside The Schottenstein Center during the Wrangler Long Live Cowboys Classic, presented by Cooper Tires, on Sunday afternoon with the 12th pick and paused.
The 2018 PBR World Finals event winner saw a familiar foe – granted, one that he never had success against, but still a bull that he felt comfortable with.
Therefore, he decided to select Losing My Religion and roll the dice against a bull that has only surrendered five qualified rides in 41 outs on the Unleash The Beast.
Eguchi had previously faced Losing My Religion two times with no success. The two first met up in Tulsa, Oklahoma, on August 12, 2017 with Losing My Religion bucking him off in 5.69 seconds. Last season, Losing My Religion disposed of him in 3.52 seconds in Glendale, Arizona.
"I know he bucked me off twice, but it was my mistakes, not because of the bull," Eguchi said. "I planned on figuring it out. I had let him put me on the outside of the spin, and I should have stayed inside the whole time."
Eguchi put his knowledge to work in the championship round by successfully riding Losing My Religion for 89.5 points to win the championship round and finish the event in fifth place overall.
"Today it was the same thing," Eguchi said. "The points say everything. I am happy to ride him."
There were four qualified rides in the championship round. Also picking up championship round scores Sunday were Cody Teel (89.25 points on Milky Chance), Eduardo Aparecido (88 points on Bottoms Up) and Claudio Montanha Jr. (87.25 points on M.A.G.A.).
The ride is Eguchi's best of 2019 and the fifth-place finish is also a season-high.
His round win is his second of the season as well.
He finished Columbus 2-for-3, earning 210 world points. He began his weekend by riding Bandit for 85.25 points in Round 1 on Saturday night.
The 29-year-old moves up to No. 26 in the world standings after entering Columbus in 32nd.
Eguchi will spend parts of the upcoming two-week premier series break moving into his new home (4 bedrooms, 2.5 bathrooms) in Decatur, Texas. The six-time PBR World Finals qualifier is in the final process of purchasing a home right next to Fabiano Vieira's ranch.
The UTB gets back underway on May 17-19 with the Ty Murray Invitational in Albuquerque, New Mexico.
"I am going to be moving into a new home," Eguchi said. "This will be nice for my family."
Follow Justin Felisko on Twitter @jfelisko