Leme extends lead atop world rankings with 15/15 Bucking Battle win in Columbus
By : Kacie Albert
April 27, 2019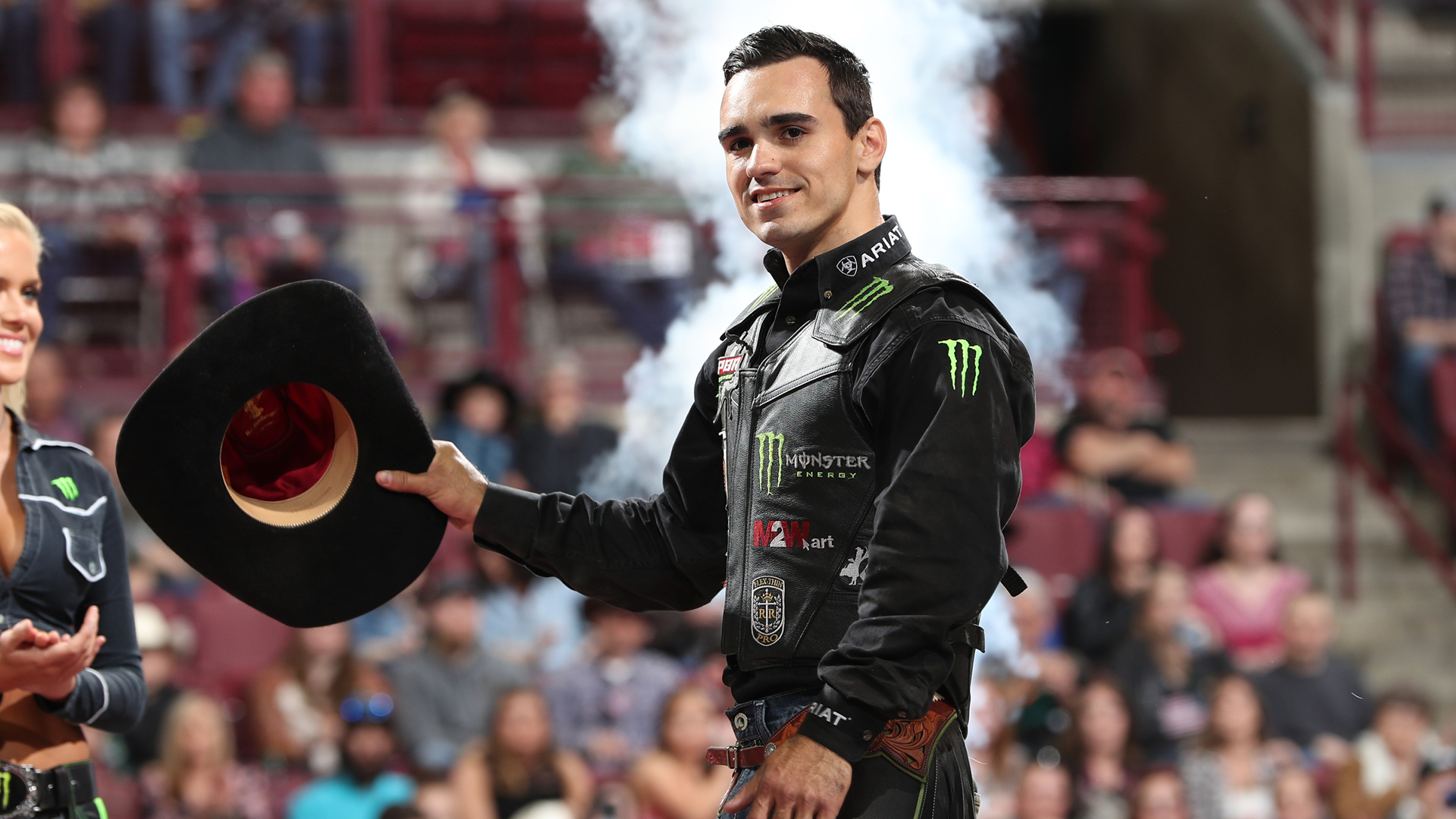 COLUMBUS, Ohio – As the last man to erupt from the chutes inside the Schottenstein Center on Saturday night, Jose Vitor Leme (Ribas do Rio Pardo, Brazil) recorded the high-marked ride of the 2019 PBR (Professional Bull Riders) Unleash The Beast season to win the Wrangler Long Live Cowboys Classic, presented by Cooper Tires, 15/15 Bucking Battle, further extending his lead atop the world standings.
In what was a match-up for the ages, the 2017 PBR Rookie of the Year squared off against Smooth Operator (Dakota Rodeo/Julie Rosen/Clay Struve/Chad Berger), one of the top-ranked bulls in the race to be crowned the 2019 PBR YETI World Champion Bull. Entering the showdown, the bovine athlete had bucked off 12 consecutive riders on the premier series, last covered by 2016 PBR World Champion Cooper Davis (Jasper, Texas) in September 2018 for 93.75 points.
Taking Smooth Operator to the 8-second whistle, subsequently bringing the electric crowd on the campus of The Ohio State University to its feet, Leme earned a 92.5-point score to win the special round, along with $11,500 and 150 world points.
Earlier in the night, the Brazilian phenom recorded the fourth highest score in Round 1 to net $1,300 and 40 world points. He covered Big Black Cat (Dakota Rodeo/Chad Berger/Clay Struve/Heald Pro Bulls) for 86.25 points.
Collectively Leme earned 190 world points, and a check for $12,800, for his two 8-second efforts Saturday evening.
Remaining the No. 1-ranked rider in the world, Leme is now 219.16 points ahead of No. 2 Chase Outlaw (Hamburg, Arkansas) after beginning the event just 79.16 points in front.
As the only other rider to record a score in the 15/15 Bucking Battle, Derek Kolbaba (Walla Walla, Washington) finished second to earn $9,500 and 90 world points. Now his high-marked ride of the season, the Washington cowboy rode Stretch (Dakota Rodeo/Chad Berger/Clay Struve/Heald Pro Bulls) for 89.5 points.
Kolbaba began the night on a hot-streak, winning the first round with an 87.5-point trip on Sugar Boom Boom (Cornwell Bucking Bulls/Circle G). The win, his second round victory of the season, earned him an additional 100 points and $3,580.
Netting a total of 190 points, the 23-year-old climbed four spots in the world rankings, rising from No. 15 to No. 11. He is now 1,830 points behind No. 1 Leme.
Competing for the first time since breaking his jaw two weeks ago, Eduardo Aparecido (Gouvelandia, Brazil) finished second in Round 1 via an 87.25-point ride on Peep Show (Cornwell Bucking Bulls).
Aparecido earned $2,750 and 60 world points for the runner-up finish and is now No. 31 in the world after beginning the event outside the Top 35.
Third in Round 1 went to Outlaw who rode All The Way Up (K-C Bucking Bulls) for 87 points.
The "CEO of the Outlaw Nation" earned 50 points and $2,000 for the 8-second effort.
Also competing in the 15/15 Bucking Battle, Outlaw nearly covered three-time and reigning PBR World Champion Bull SweetPro's Bruiser (D&H Cattle Co./Buck Cattle Co.), bucked off in a heartbreaking 7.43 seconds.
The out earned the bovine athlete a 45.5-point score, currently the top marks of the event, allowing him to extend his lead atop the current World Champion Bull race.
Beginning the Columbus stop 0.17 points in front of then No. 2 Smooth Operator, he now leads the second-ranked bull Fearless (D&H Cattle/Buck Cattle/Tommy Julian) by 0.19 points. Smooth Operator is now No. 3 in the race, 0.22 points behind SweetPro's Bruiser.
All three bovine athletes bucked in the 15/15 Bucking Battle, with Fearless marked 45.5 points for his 7.83-second buckoff of Cody Teel (Kountze, Texas) and Smooth Operator 45.25 points for his trip with Leme.
Rounding out the Top 5 in Round 1 was Claudio Montanha Jr. (Pacaembu, Brazil) who rode Night Sweats (Plummer/Hart Cattle Co.) for 85.75 points to earn 30 points and $850.
Two additional riders also earned world points in a first round which saw 10 qualified rides.
Junio Quaresima (Meridiano, Brazil) rode Handsome Jeff (Jo Z Bucking Bulls/K-C) for 85.5 points to finish sixth and earn 15 points and $600, while 2018 PBR World Finals event winner Marco Eguchi (Poa, Brazil) was seventh courtesy of his 85.25-point trip on Bandit (Mike Miller Bucking Bulls) to earn 5 points and $450.
Fans can watch the 15/15 Bucking Battle on Sunday, April 28 at 1:00 p.m. EDT on CBS Sports.
Additionally, starting at 8:00 a.m. EDT on Sunday, April 28, fans can relive all the action from Round 1 of the Wrangler Long Live Cowboys Classic, presented by Cooper Tires, on-demand at RidePass.com or via the mobile app.
The world's best bull riders will return to the Schottenstein Center for Round 2 and the Championship Round on Sunday, April 28 at 2:45 p.m. EDT. Live coverage of the event will begin at 3:00 p.m. EDT on CBS Sports Network, and at 2:45 p.m. EDT via the listen live stream on RidePass.com or the mobile app.
PBR Unleash The Beast
15/15 Bucking Battle
Schottenstein Center – Columbus, Ohio
1. Jose Vitor Leme, 92.5-92.50-150 Points.
2. Derek Kolbaba, 89.5-89.50-90 Points.
Chase Outlaw, 0-0.00
João Ricardo Vieira, 0-0.00
Luciano De Castro, 0-0.00
Cody Teel, 0-0.00
Ryan Dirteater, 0-0.00
Cooper Davis, 0-0.00
Mason Taylor, 0-0.00
Ezekiel Mitchell, 0-0.00
Claudio Montanha Jr., 0-0.00
Rubens Barbosa, 0-0.00
J.B. Mauney, 0-0.00
Stetson Lawrence, 0-0.00
Joe Frost, 0-0.00
PBR Unleash The Beast
Wrangler Long Live Cowboys Classic, presented by Cooper Tires
Schottenstein Center – Columbus, Ohio
Event Leaders (Round 1-Round 2-Round 3-Event Aggregate-Event Points)
1. Derek Kolbaba, 87.5-0-0-87.50-100 Points.
2. Eduardo Aparecido, 87.25-0-0-87.25-60 Points.
3. Chase Outlaw, 87-0-0-87.00-50 Points.
4. Jose Vitor Leme, 86.25-0-0-86.25-40 Points.
5. Claudio Montanha Jr., 85.75-0-0-85.75-30 Points.
6. Junio Quaresima, 85.5-0-0-85.50-15 Points.
7. Marco Antônio Eguchi, 85.25-0-0-85.25-5 Points.
8. Ryan Dirteater, 84.25-0-0-84.25
9. Joe Frost, 83.5-0-0-83.50
10. Keyshawn Whitehorse, 77.5-0-0-77.50
João Ricardo Vieira, 0-0-0-0.00
Luciano De Castro, 0-0-0-0.00
Cody Teel, 0-0-0-0.00
Cooper Davis, 0-0-0-0.00
Mason Taylor, 0-0-0-0.00
Cannon Cravens, 0-0-0-0.00
Matt Triplett, 0-0-0-0.00
Ezekiel Mitchell, 0-0-0-0.00
Rubens Barbosa, 0-0-0-0.00
Alisson De Souza, 0-0-0-0.00
J.B. Mauney, 0-0-0-0.00
Stetson Lawrence, 0-0-0-0.00
Silvano Alves, 0-0-0-0.00
Danilo Carlos Sobrinho, 0-0-0-0.00
Taylor Toves, 0-0-0-0.00
Colten Jesse, 0-0-0-0.00
Scottie Knapp, 0-0-0-0.00
Brennon Eldred, 0-0-0-0.00
Daylon Swearingen, 0-0-0-0.00
Daniel Tinsman, 0-0-0-0.00
Ruger Piva, 0-0-0-0.00
Dylan Smith, 0-0-0-0.00
Paulo Ferreira Lima, 0-0-0-0.00
Emilio Resende, 0-0-0-0.00
Kaique Pacheco, 0-0-0-0.00