Kolbaba wins Round 1 in Columbus
By : Justin Felisko
April 27, 2019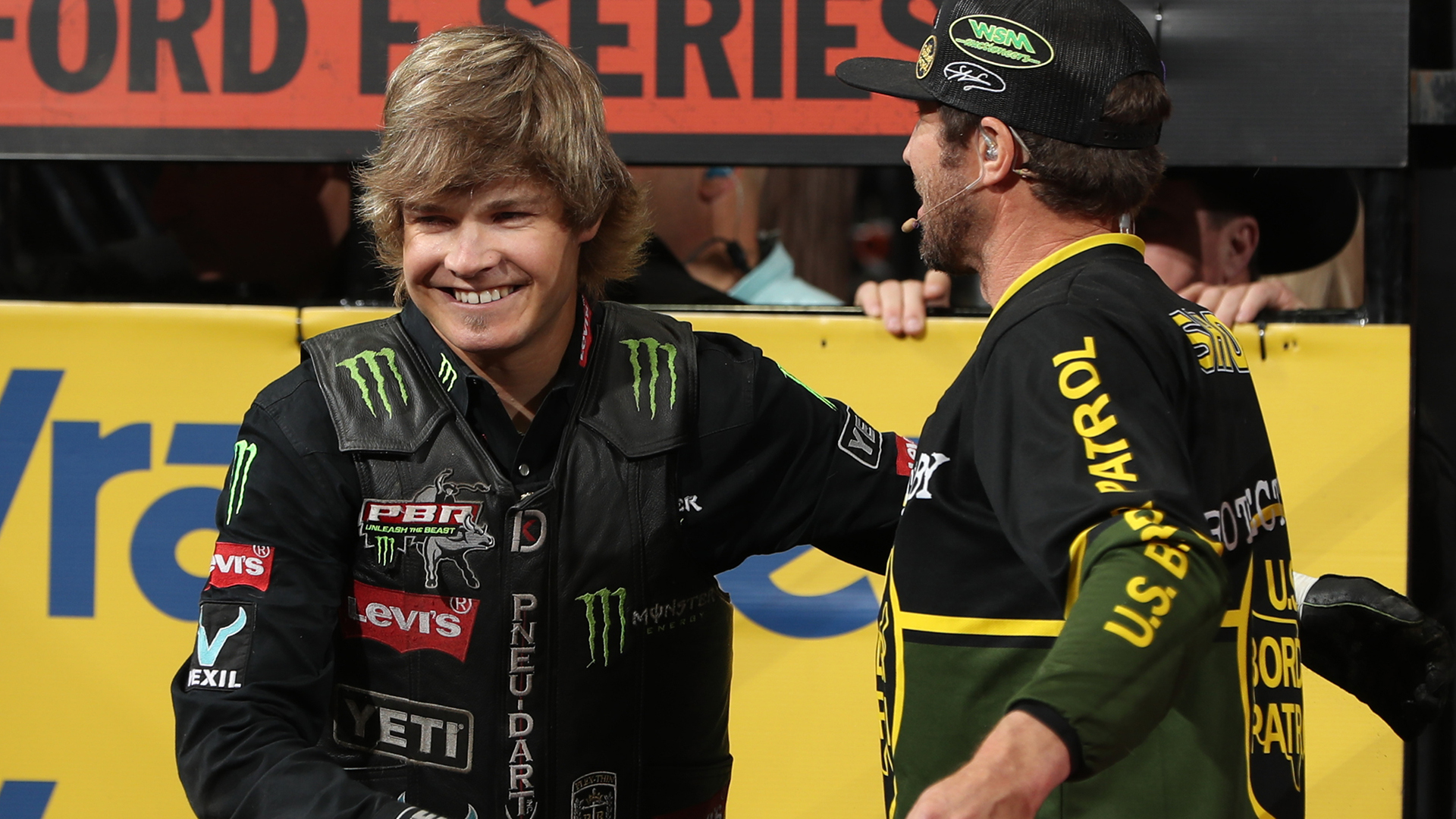 COLUMBUS, Ohio – During the 15/15 Bucking Battle inside The Schottenstein Center on Saturday night, Derek Kolbaba let out a loud, celebratory yell even before he was able to take off his black Monster Energy helmet and toss it towards Flint Rasmussen.
Kolbaba had just ridden Stretch for a season-high 89.5 points 30 minutes after he was celebrating his Round 1 victory at the Wrangler Long Live Cowboys Classic, presented by Cooper Tires, courtesy of an 87.5-point ride on Sugar Boom Boom.
"If you aren't enjoying it and having fun here then you might as well stay home," Kolbaba said. "We are enjoying every minute it of it right now. It is just fun. I have been trying to tell everybody that this is where I want to be."
Kolbaba finished the 15/15 Bucking Battle in second place behind world leader Jose Vitor Leme's 92.5-point ride on Smooth Operator.
The 23-year-old earned 190 points toward the world standings with his Round 1 victory and second-place finish in the 15/15 Bucking Battle, improving from No. 15 in the world standings to No. 11.
Kolbaba has won at least one round in back-to-back Unleash The Beast events to surge to the cusp of the Top 10.
It was only a little bit more than a month ago when Kolbaba was hanging on to an Unleash The Beast roster spot by a thread before he won the Wheeling, West Virginia, Pendleton Whisky Velocity Tour event.
"It is just fun again," Kolbaba said. "I have been trying to tell everybody that this is where I want to be."
Kolbaba was the first man to reach 8 seconds in both Round 1 and the 15/15 Bucking Battle.
The Walla Walla, Washington, bull rider was able to make easy work of Sugar Boom Boom in Round 1 even once the bull turned back away from his hand.
"I knew that was kind of the book on him," Kolbaba said. "Start left and be really good, and probably come back to the right. Kind of maybe got caught waiting on the right a little too much there in the middle of it, but I knew to just keep trying and keep digging and it'd work out."
Kolbaba made sure to not prepare too much either.
At the end of the day, it is all reactionary.
"I don't think you're going to set a trap, but at the end of the day you've just got to go back to the basics of it, and believe in yourself that you can do it, and kind of let your body react," Kolbaba said. "That's just kind of what we did and gave everything we had until the whistle blew, and that's what we've got to do on all of them."
Rounding out the Top 5 in Round 1 was Eduardo Aparecido (87.25 points on Peep Show), Chase Outlaw (87 points on All The Way Up), Jose Vitor Leme (86.25 points on Big Black Cat) and Claudio Montanha Jr. (85.75 points on Night Sweats).
Aparecido, two weeks removed from surgery to repair a broken jaw, earned an important 60 points toward the world standings to move from No. 38 to No. 31.
Kolbaba carried his momentum from Round 1 into the 15/15 Bucking Battle with a solid ride on Stretch away from his hand.
"He is kind of a bull that you might even underestimate just because of how small he is," Kolbaba said. "They said just freaking gather him up and get around the corner and go to it. Once we got around the corner, that is what we did."
This weekend is Kolbaba's first 15/15 Buckle Battle since the season opener in New York in January.
"It has been a minute since I have been in a 15/15 so that is kind of a little fire under my ass to show up and actually do something," he said. "That is what we did. It is just having fun."
Kolbaba will look for his first Unleash The Beast event win since October 21, 2017 (San Jose, California) on Sunday afternoon.
He has drawn Jungle Can Do (11-1, UTB) for Round 2 (CBS Sports Network 3 p.m. ET/RidePass 2:45 p.m. ET).
"It only takes one, and you just kind of keep riding the confidence off of that one into this next one," Kolbaba concluded.
Follow Justin Felisko on Twitter @jfelisko