Columbus draw: Eldred & Aparecido back from broken jaws; Mauney also returning
By : Justin Felisko
April 24, 2019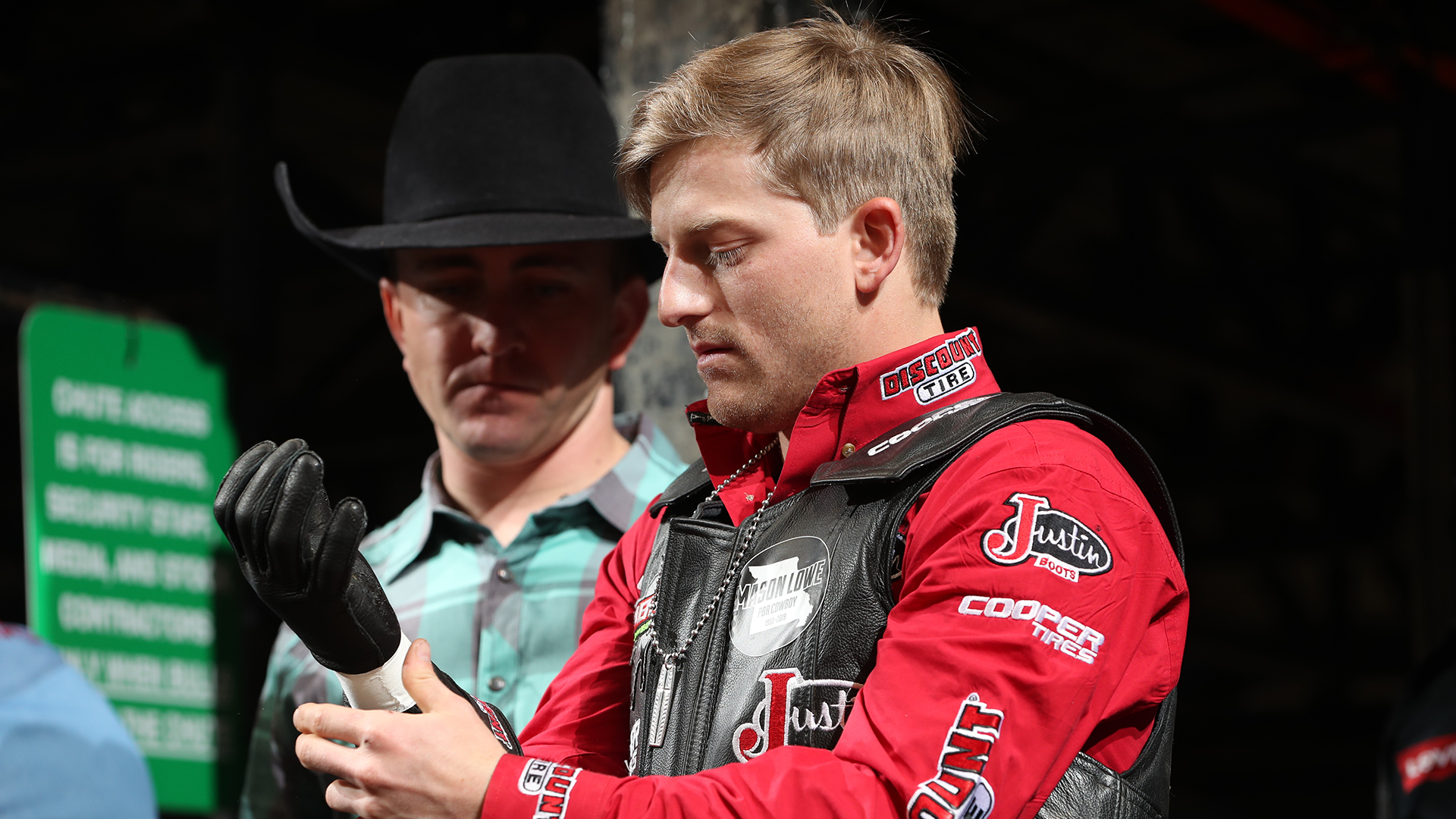 PUEBLO, Colo. – Brennon Eldred is confident he can live without milkshakes.
Eldred spent his first two weeks of recovery from a broken jaw last month sipping down all sorts of creamy, sugary milkshakes. Vanilla, chocolate, strawberry – even all three mixed at once – were on the menu for the 24-year-old bull rider.
The two-time PBR World Finals qualifier is happy to be able to put down that cup of milkshake and finally grab his bull rope for this coming weekend's Wrangler Long Live Cowboys Classic, presented by Cooper Tires, on Saturday and Sunday at The Schottenstein Center in Columbus, Ohio.
The event is his first since Speed Demon popped him in the mouth during THE AMERICAN on March 3 inside AT&T Stadium.
Eldred underwent surgery on March 5. Dr. Thomas Draper used two plates and four screws to surgically repair his jaw, which was broken in two different places.
"The first two weeks was really rough," Eldred said. "It was straight milkshakes. I couldn't open my mouth. And then on top of it, they did the surgery from the inside of the mouth so I had stitches all the way from the other side to the other. My mouth was looking pretty rough there for a few weeks. After about the third or fourth week, I was able to eat a steak and it was on."
Fans can watch Round 1 from Columbus exclusively on RidePass beginning at 6:30 p.m. ET.
Eldred has drawn Cha Ching (7-0, UTB).
"I feel really good," Eldred said. "This break has dang sure been nice. I have been enjoying it. Man, being able to stay home and not even think about riding bulls, really. I bought a new place (in Ross, Oklahoma) so I have been working on that and trying to get moved. I have been able to take care of a bunch of stuff I haven't had time to do."
The Sulphur, Oklahoma, bull rider was No. 21 in the world standings before dropping to No. 37 during his extended layoff.
Eldred trails No. 35 Daylon Swearingen by just 12.5 points.
Swearingen is making his Unleash The Beast debut following his victory at the Wichita, Kansas, Pendleton Whisky Velocity Tour event. The 19-year-old is 26-for-63 (41.27 percent) at all levels of competition. A native of Piffard, New York, he has won two of the last PBR events at which he has ridden. Swearingen is also the 2018 National High School Finals Rodeo champion bareback rider.
Eldred will get his feet wet before Columbus by competing at the Touring Pro Division Major event in Clovis, California, on Thursday night. He is one 10 riders in the Top 40 tentatively scheduled to ride in California.
The Sulphur, Oklahoma, bull rider added that the time off was good for him to mentally recharge following his 4-for-16 (21.05 percent) start to the season.
Eldred also had a slight fracture in his riding hand that benefitted from the time off.
"After going through that surgery and stuff, I didn't want to take a chance (coming back too soon) to have to get another surgery," Eldred said. "It just wasn't worth it and I needed the time off."
Eduardo Aparecido is also returning in Columbus after breaking his jaw in Sioux Falls, South Dakota, when Acting Crazy flipped him over and clipped him with his horn. It was the fourth time in as many meetings that Acting Crazy has bucked him off.
Eldred actually ran into Aparecido last week at the doctor's office.
Aparecido is No. 38 in the world standings, trailing Swearingen by only 15 points.
The six-time PBR World Finals qualifier was ranked No. 36 in the world standings at the time of his injury and has a favorable rematch in his pursuit of getting back into the Top 35, taking on Peep Show in Round 1. He rode Peep Show for 87 points last year at the PBR World Finals.
It has only been two weeks since Aparecido had surgery on April 9.
"I am very happy with my recovery, and that I can ride this weekend with a helmet," he said.
Aparecido said his mouth is still closed a little bit, and he has only been able to eat soup and mashed sweet potatoes.
He has lost close to nine pounds since breaking his jaw.
"I lose a little weight, but I'm good to ride and I want to take advantage of trying to make points to be in the Top 35," he said.
MAUNEY PURSUING SOLE POSSESSION OF SECOND-MOST QUALIFIED RIDES
Two-time World Champion J.B. Mauney is returning to action after missing Billings because of a sprained right ankle and left leg injury.
Mauney – the No. 20 rider in the world – takes on Living Large (1-0, UTB) in Round 1.
The 32-year-old needs one qualified ride to pass 2004 World Champion Mike Lee for sole possession of the second-most qualified rides in PBR history. Mauney and Lee have 525 rides on the premier series.
RESENDE ONE OF SEVEN ALTERNATE/EXEMPT RIDERS
No. 56 Emilio Resende is returning to competition for the first time since breaking his right collarbone in Los Angeles when he hit the ground hard at the STAPLES Center following his 85.75-point ride on Acting Crazy.
Eldred, Aparecido and Resende are three of seven alternate riders competing in Columbus. Additional alternates/exempt riders are No. 40 Ruger Piva (-30 points), No. 41 Dylan Smith (-55.84 points), No. 43 Paulo Lima (-77.5 points) and No. 67 & reigning World Champion Kaique Pacheco (-214.17 points).
The group is replacing No. 4 Jess Lockwood (broken collarbone), No. 9 Cody Jesus (left groin), No. 11 Lucas Divino (dislocated left shoulder), No. 19 Aaron Kleier (competing in Australia), No. 27 Cody Nance (dislocated left hip), No. 29 Cody Heffernan (visa issues) and No. 31 Koal Livingston (groin).
LEME BRINGS 249.16-POINT LEAD INTO COLUMBUS
World leader Jose Vitor Leme will look to extend his reign atop the world standings when he takes on Big Black Cat (28-10) in Round 1.
The Chad Berger Bucking Bull bucked him off in 7.84 seconds last year in Albuquerque, New Mexico, in their only previous meeting.
The bovine athlete is 9-0 this season, and most recently buked off Luciano de Castro in 7.1 seconds in Sioux Falls, South Dakota.
ROUND 1 REMATCHES
Chase Outlaw vs. All The Way Up (3.13 seconds at the 2017 World Finals)
Cody Teel vs. Cool Customer (3.88 seconds in Sioux Falls, South Dakota)
Eduardo Aparecido vs. Peep Show (87 points at the 2018 World Finals)
Jose Vitor Leme vs. Big Black Cat (7.84 seconds last year in Albuquerque, New Mexico)
Kaique Pacheco vs. Chocolate Shake (1-3/87 points in Sacramento, California, in 2017)
Rubens Barbosa vs. Rebel Yell II (2.55 seconds in Oklahoma City in 2016)
Follow Justin Felisko on Twitter @jfelisko