Teams selected for Bismarck team challenge
By : Justin Felisko
April 08, 2019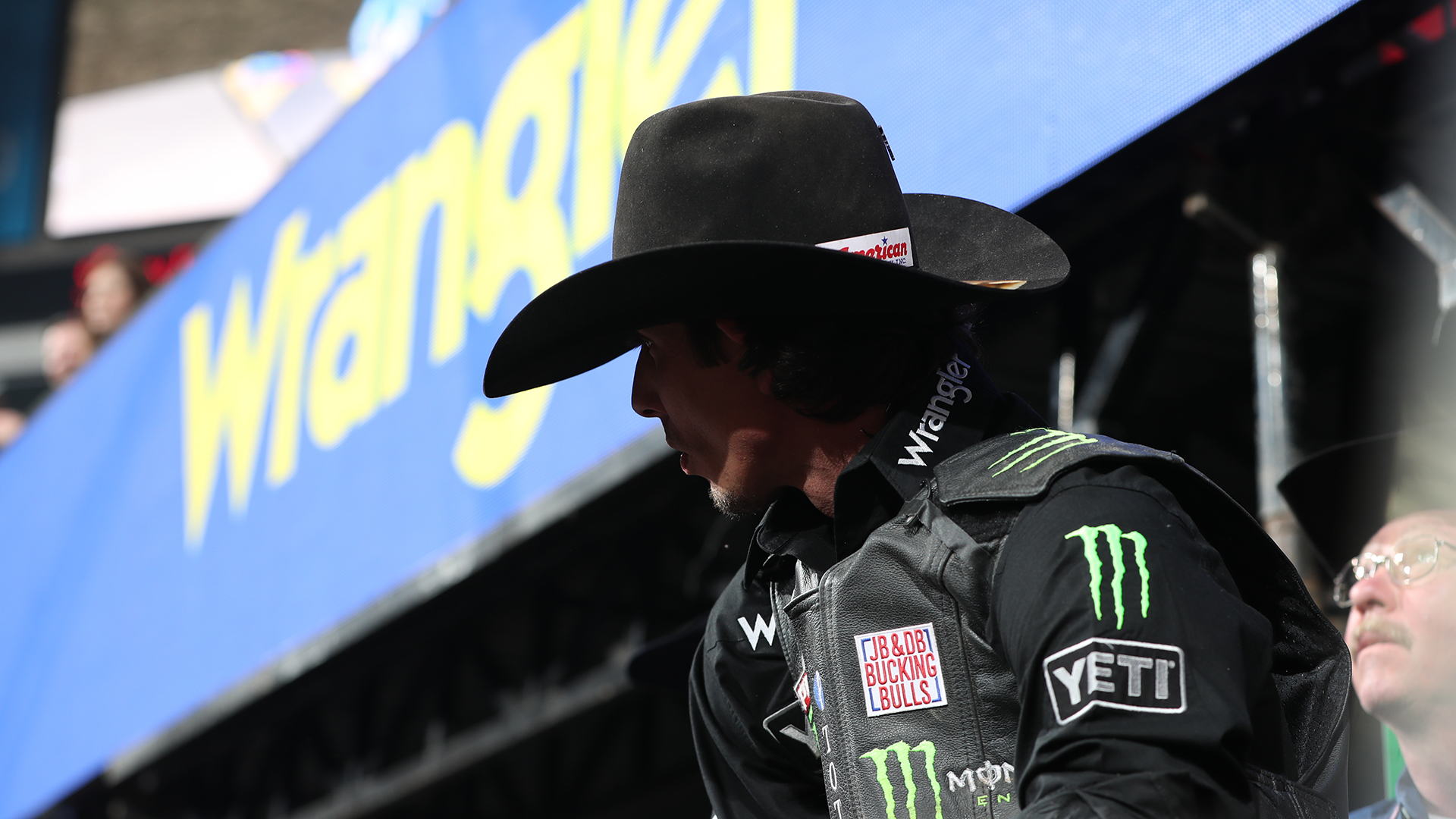 SIOUX FALLS, S.D. – Reigning Stock Contractor of the Year Chad Berger held the draft for his $100,000 PBR Bull Rider Team World Championship, presented by Marquis Metal Works, this past Saturday at the PBR Thaw Out Days Tailgate in Sioux Falls, South Dakota.
Berger's 19th annual Dakota Community Bank & Trust Touring Pro Division event in Bismarck, North Dakota, on June 14-15 at the Bismarck Event Center will be highlighted by the five-team challenge featuring some of the top bull riders in the world.
2017 World Champion Jess Lockwood was awarded the top selection for the snake-style draft at random, and 2016 World Champion Cooper Davis, two-time World Champion J.B. Mauney, 2017 PBR World Finals event winner Jose Vitor Leme and Stetson Lawrence picked after him.
TEAM DAKOTA COMMUNITY BANK & TRUST
Captain: Jess Lockwood
Selections: Derek Kolbaba, J.T. Moore, Jake Lockwood (alternate)
Lockwood started the draft out with an unexpected bang when he revealed that he and Davis came to an agreement that he would not select 2019 World Champion contender Chase Outlaw before Davis.
Lockwood's reasoning was that he wanted to select J.T. Moore with his second pick. When Davis learned of Lockwood's "sleeper pick," he told him that he would select Moore with his second pick and not give Lockwood the opportunity to do so.
It was a stunning move by Lockwood seeing as he potentially could have landed Kolbaba with his second pick and paired him Outlaw.
Instead, he will ride things out in Bismarck with one his best friends on tour in Kolbaba, Moore and his brother Jake as his alternate.
Moore, 22, is 5-for-17 in 10 PBR events at all levels since 2015, but the Texas bull rider focuses primarily on the rodeo circuit.
He won a round at THE AMERICAN this past March with an 88-point ride on Cool Arrow.
BERGER'S TAKE: "I would have picked a little different on some. I don't really know a couple of guys like they do. Jess picked some guy, J.T. Moore, who is supposed to be a bull riding machine."
TEAM COOPER TIRES
Captain: Cooper Davis
Selections: Chase Outlaw, Sage Kimzey, Braden Richardson (alternate)
Davis made out like a bandit by getting Outlaw with the second pick of the draft and then pairing him with five-time PRCA champion Sage Kimzey.
Kimzey and Davis have been friends for years. When Davis first agreed to be a part of the team event, he made sure to call Kimzey instantly to see if he would be available and interested in coming to Bismarck as a member of his team.
Kimzey is currently No. 2 in the PRCA standings.
Richardson and Davis grew up together in Jasper, Texas, and Davis believes Richardson, 24, has a bright future ahead of him if he can just stay healthy.
Outlaw is ranked No. 2 in the world standings and has been riding at a 58.93-percent clip on the Unleash The Beast the last two seasons.
The Hamburg, Arkansas, cowboy is 23-for-41 this year, winning two UTB events and posting three 90-point rides.
BERGER'S TAKE: "I really like Cooper Davis' team. Looking at it, I like that team the best. That guy Chase Outlaw is going to pump Team Cooper Tires up alone. Then you add a five-time PRCA champ in Kimzey."
TEAM WSM AUCTIONEERS
Captain: J.B. Mauney
Selections: Cody Teel, Joe Frost, Scottie Knapp (alternate)
Two-time World Champion J.B. Mauney had said previously that he wanted Teel on his team, and he was able to snatch Teel up with the No. 3 pick in the draft.
Teel is ninth in the world standings and won the Tacoma Invitational two weeks ago.
Mauney then went all rodeo the rest of the way during the draft.
The 32-year-old selected current PBR rookie and five-time Wrangler National Finals qualifier Joe Frost with his second-round pick, before adding Knapp, a 2016 NFR qualifer, in the final round as his alternate.
Mauney's selection of Frost came after Frost did a little politicking Friday night in Sioux Falls. Frost wanted to make sure the captains knew he would be open to riding in Bismarck and had no rodeo plans that weekend.
BERGER'S TAKE: "This is old school right here. J.B., Cody Teel, Joe Frost and Scottie Knapp. If you want to talk about tough and rugged, they can surely do it."
TEAM FOUR BEARS CASINO & LODGE
Captain: Stetson Lawrence
Selections: Cannon Cravens, Colten Jesse, Cody Jesus (alternate)
Lawrence was required to pick only Native American riders for his team, but that does not mean he is at a disadvantage by any means.
The 30-year-old seized talented rookie Cannon Cravens and second-year pro Colten Jesse with his first two picks. He then used his alternate selection on Cody Jesus.
Cravens (No. 14) and Jesus (No. 7) are both inside the Top 15 of the world standings.
Jesus was also one of the top riders going with two 90-point rides and seven Top-10 finishes before he injured his left groin
BERGER'S TAKE: "This Native American team is as good as any team here. Bar none."
TEAM DIAMOND WILLOW CONSTRUCTION
Captain: Jose Vitor Leme
Selections: Luciano de Castro, Marco Eguchi, Lucas Divino (alternate)
Leme added his best friend on tour, Luciano de Castro, to his team before going with 2018 World Finals event winner Marco Eguchi and top 2019 Brazilian rookie Lucas Divino as his alternate.
The No. 1 bull rider in the world did not have to pick only Brazilians for his team, but Leme said through Paulo Crimber that he decided to go with his three compatriots partially for communication reasons.
Each of the teams will be allowed to choose which rider gets on what bull in their respective pens, so communication will certainly be important.
Nationality aside, Castro is still one of the top riders going this year, currently No. 5 in the world standings.
Castro is coming off a third-place finish in Sioux Falls where he ended his 3-for-4 weekend with an 87.25-point ride on Bottoms Up in the championship round.
BERGER'S TAKE: "Of course, Jose picked real stout. These guys are real tough."
Follow Justin Felisko on Twitter @jfelisko