Remembering a Beverly Hills cowboy
By : Andrew Giangola
March 07, 2019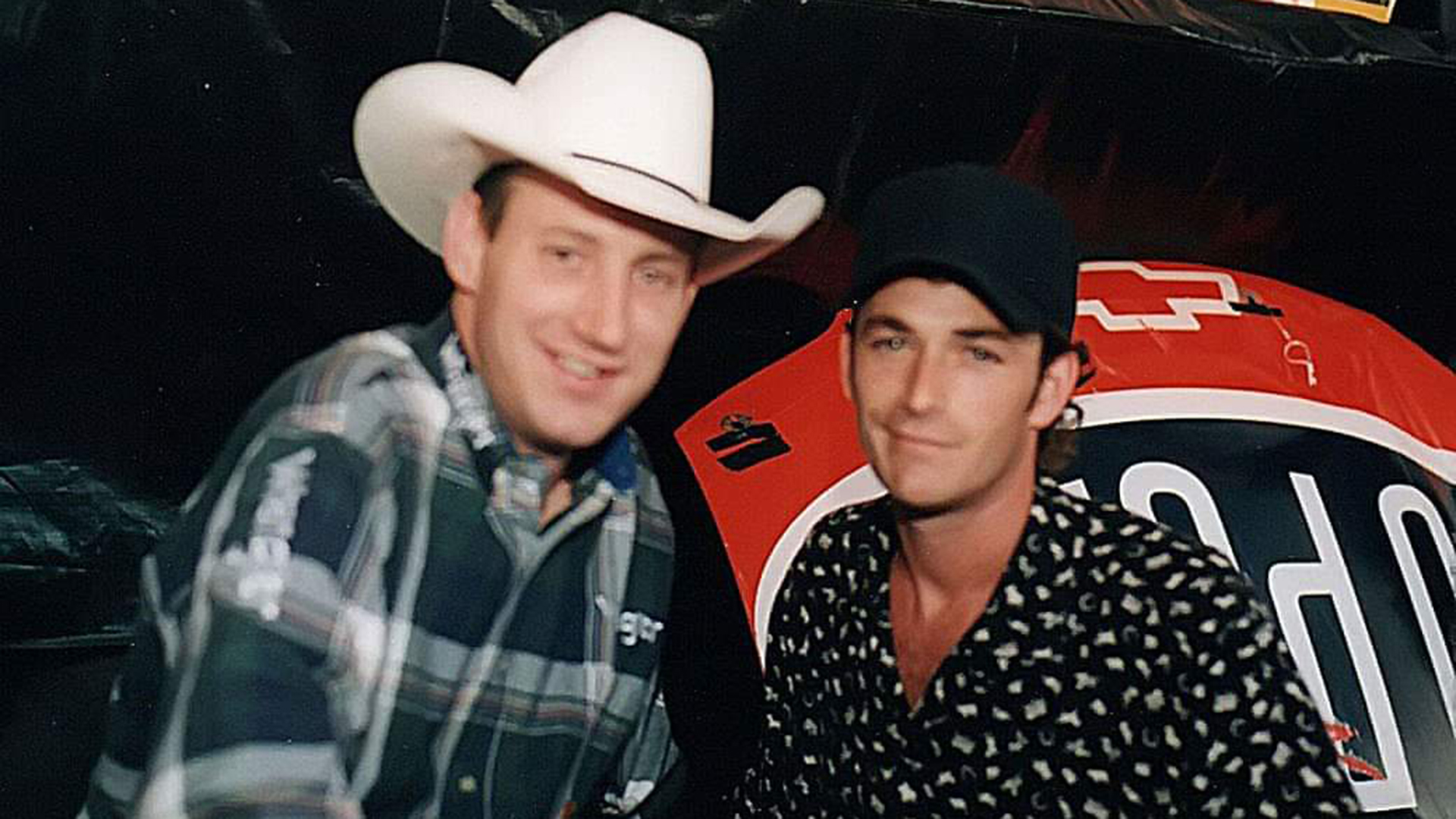 In 1993, Jerome Davis, an easy-going college student in West Texas, barely had two nickels to rub together.
Known as "The Carolina Cowboy," Davis, 20, had joined a colorful band of rodeo cowboys who had formed a new standalone bull riding league, not knowing if PBR would succeed but thrilled to be along for the adventure with heroes he idolized.
There were no signed contracts or advance money for those who had left their hometowns seeking fame, if not fortune.
Going into the Del Rio bull-riding event, Davis found a way to make a few guaranteed greenbacks. The film company on site in Texas shooting a Lane Frost biopic was paying bull riders fifty bucks to dress up like Luke Perry, the Beverly Hills 90120 heartthrob who was impressing everyone by flexing serious cowboy chops in playing the rodeo star.
A quintessential no brainer: Davis donned the requisite plaid shirt and found a black cowboy hat along with a handful of toilet paper.
"I had a straw hat because it was starting to be warm. Luke was wearing a big black felt hat, so I needed something to keep it on my small head," Davis recalled.
Minus the cranial TP, three or four other bull riders also turned up looking like Lane Frost, whose life, five years earlier, had been cut short at 25 by a misplaced bull horn at the Cheyenne Frontier Days Rodeo.
"There were only a few guys dressed like Luke. Not everyone was as broke as I was," Davis said.
The pot for doing so, though, was even sweeter. If the ride footage of any Luke Perry lookalike made it into the movie, 8 Seconds, he'd earn an additional $500.
Davis produced what he called one of top five rides of his career, riding a bull named Playboy for 92 points to take the George Paul Memorial Bull Riding XVI in Del Rio, his first PBR win.
"The arena announcer said it was 97 points, but we're pretty sure he was drunk," joked Tiffany Davis, Jerome's wife, chuckling about the good old days of the PBR.
"Wasn't a bad weekend for me," Davis said. "I got on a few bulls and won $18,000 wearing those clothes. The movie shows Lane winning Del Rio, and I actually won that bull riding, so that was kind of cool."
Fans of 8 Seconds will remember the scene where Davis rides Playboy as Stephen Baldwin playing Tuff Hedeman tells Lane Frost to "cowboy up."
Unfortunately, Davis hurt his knee and was unable to perform additional stunt work for the rest of a movie that earned Luke Perry critical praise, gave rodeo pop culture validation and attracted new fans.
He didn't get to spend much time with Perry. But he and Tiffany would forge a lifetime friendship with the actor who didn't even know how to ride a horse in pre-production yet would study and train and wind up mounting rank bulls.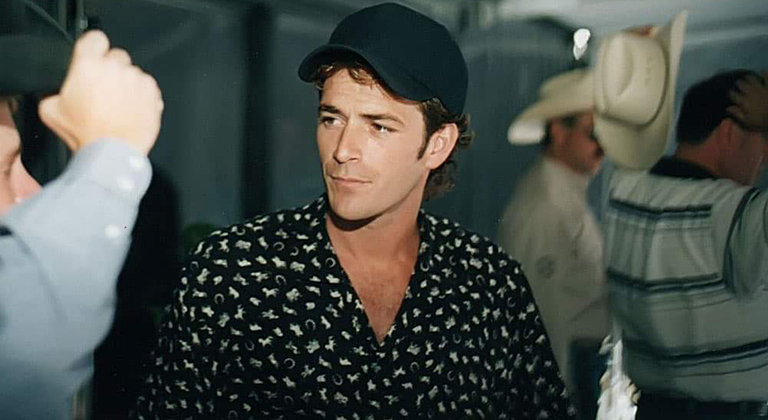 Bull riders can be a naturally skeptical bunch to outsiders putting on a pair of chaps. Yet beneath Perry's radiating Hollywood fame, Davis observed a hard-working cowboy.
When Perry arrived in the bull ring, he was completely committed to his first leading role in a motion picture. He put in the work, learned to ride bulls and convincingly captured the realism of the sport and Lane Frost's spirit in a film beloved by PBR fans to this day.
Perry, who passed away earlier this week at 52 after suffering a stroke, is at the center of 8 Seconds' success and iconic place in Western sports history.
RELATED: Cody Lambert discusses impact of '8 Seconds' to Western sports
To help Perry portray Frost, the writers drew on the counsel of his traveling partners like PBR founder and nine-time World Champion Ty Murray.
When Murray walked into the first script meeting in a hotel in San Antonio, he saw Perry dressed like Frost and already acting like his buddy.
"It was freakish how much Luke looked like Lane and took on his mannerisms," Murray said. "For a split second, it was like you had seen a ghost. I knew right then they picked the right guy to play Lane."
Perry would later say that while he played many athletes, he was most connected to the bull riders of the PBR.
"He was initially known as a very famous actor on a very popular show about Beverly Hills but you could see Luke was a cowboy," Davis said. "It felt like he was one of us, and he was. He just fit in when he was around. I didn't look at him as the 90201 star. He was just humble ol' Luke."
"He loved the cowboy lifestyle and respected bull riders," Murray said. "It was important for him to do justice to the cowboys in 8 Seconds."
In its new "Be Cowboy" brand campaign, PBR will bring to life the notion of "Be Cowboy Kind." Perry exemplified that easy generosity in a quiet, unassuming way.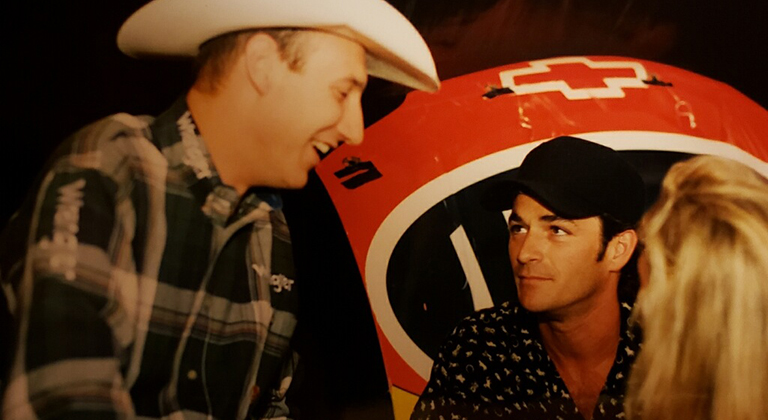 Five years after the filming at Del Rio, he would turn up in the Davis' life and exhibit extraordinary generosity when a bull-riding accent left Jerome paralyzed.
Perry found out the local North Carolina community was pulling together a fundraiser to support the injured rider.
He got ahold of Jerome's number and called the Davis ranch, intending to support the event.
Tiffany answered the phone. Assuming it was a prank, she disconnected.
Perry called back and had to convince Tiffany it was for real.
He'd do whatever was needed to help. Just one thing: he needed a ride from the airport to the charity bull riding and auction.
Tiffany called her sister who often drove bull riders from their flights to the Davis' rodeo arena.
"She said, 'Yeah, sure,' and asked 'What time is the flight, who is it, and what does he look like?'''
"I just said, 'It's Luke Perry,' and she hung up."
Tiffany immediately called back.
"Quit bein' stupid on me," her sister replied and hung up again.
Tiffany had to call her mother to persuade everyone this was no joke.
Perry laughed when a full entourage of Tiffany's family picked him up. He was gracious in meeting fans and signing autographs. He even brought a personal painting to auction off to help make the event a success.
"After that, we got to become buddies," Jerome said. "Luke would call out of the blue to see how I was. He felt like an old friend every time we talked. I can't say enough good things about him; he was just a super nice guy."
The last time Perry rang up Jerome, he was south of Nashville, just checking in to see how his friend was doing.
"It showed what kind of guy Luke was, and it made me feel good," Davis said. "He was good, grounded, and humble, and I'm so sad he's gone."
Photos courtesy of Tiffany Davis.