Iron Cowboy draw: Triplett wants to be first to make STAPLES Center bull riding history
By : Justin Felisko
February 20, 2019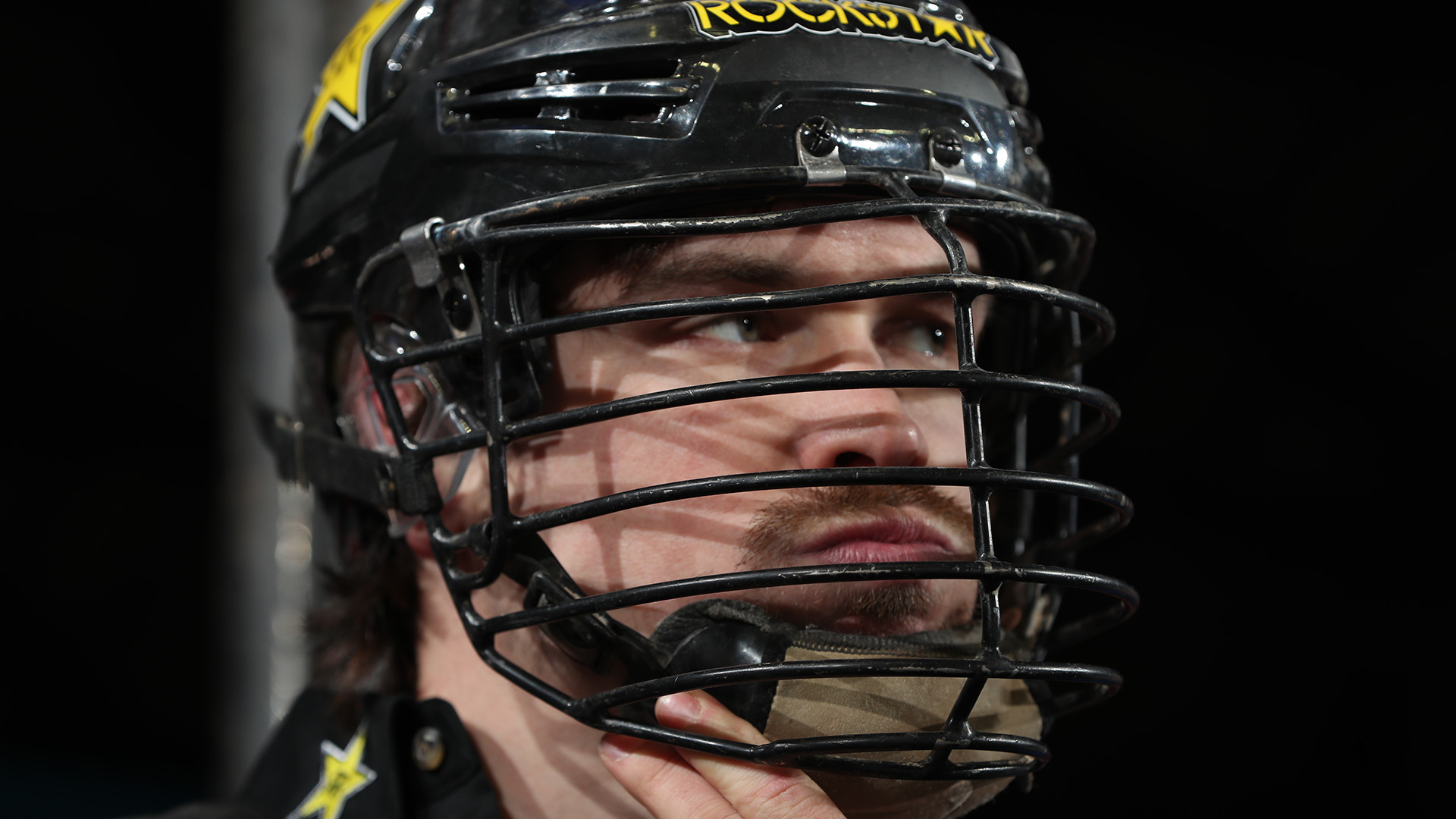 PUEBLO, Colo. – Winning a PBR Major is prestigious in its own right, but this weekend's Iron Cowboy, presented by Ariat, will carry a little more historical importance than the standard PBR Major.
The Unleash The Beast event on Friday and Saturday night is the first PBR event to be held at STAPLES Center in downtown Los Angeles.
That fact has not been lost upon five-time PBR World Finals qualifier Matt Triplett.
"To ride in an arena where Kobe Bryant and now Lebron (James) have been, all big-time names have been there, is kind of like going into (Madison Square Garden)," Triplett said. "STAPLES is an arena with so much history. Us going there for the first time, it motivates you to want to be the first person to put your name in the history book.
"You can then say, 'I was the first guy to win one of the biggest bull ridings they had in L.A.'"
Triplett is set to return to competition for the first time in a month since he left the Ak-Chin Invitational, presented by Cooper Tires, in Glendale, Arizona, with an aggravation of an old injury to his riding wrist.
He missed three UTB events, as well as the Global Cup USA, and will head into STAPLES Center ranked 30th in the world standings.
"I am feeling good," Triplett said. "I haven't gotten on any bulls, but I have been doing push-ups and the other stuff I needed to do to convince myself that I would be ready to go. The doctor told me to wear a brace for three weeks because I ended up having some ligaments swollen. Every time I put my hand in my rope, my ligaments and bones would squeeze together. I took his protocol of wearing the brace for three weeks and started getting after it getting it stronger."
Triplett first injured his right wrist last year when he won the Greensboro, North Carolina, event in October with an 85.75-point ride on Hart Breaker.
The Columbia Falls, Montana, bull rider missed the regular-season finale before going 4-for-6 at the 2018 PBR World Finals.
Triplett then took the rest of November and December off to rest his wrist.
However, the wrist injury flared up on Triplett within the first three events of 2019.
"I just never gave it enough time," Triplett said. "After the Finals, they told me to wear a brace and I didn't listen to them. I was hardheaded. This time I listened and it is feeling better. It seems like it is doing better. So go listen to them doctors."
Triplett is slated to face Bad Brad (2-0, UTB) in Round 1 on Friday night (RidePass at 10:30 p.m. ET).
RELATED: Round 1 draw for Iron Cowboy
The 27-year-old is no stranger to success in Southern California either.
In 2014, Triplett rode Oklahoma Bell for 87 points to win the Bulls on the Beach 15/15 Bucking Battle on the edge of the Pacific Ocean, 40 miles south of STAPLES Center in Huntington Beach, California.
Also returning to the dirt is No. 5 Ryan Dirteater (right groin), No. 33 Tanner Byrne (concussion), No. 38 Dakota Buttar (flu).
Dirteater takes on Rake It Up (2-1, UTB), and is looking for a seventh consecutive qualified ride. Rake It Up bucked Dirteater off in 7.8 seconds in Sacramento last month.
Byrne is down to his final guaranteed UTB event and is ranked 33rd in the world standings. He is 52.5 points behind the last alternate taken for Iron Cowboy, No. 23 Mason Taylor.
The four-time PBR World Finals qualifier was beginning to gain momentum following a season-best fifth-place finish in Oklahoma City two weeks ago before sustaining a concussion against Smooth Over (4.76 seconds) at the Global Cup competition in Arlington, Texas.
"I rested and am now doing the exercises and doing all the stuff sports med gave me to make sure I'm not showing concussion signs still," Byrne said. "Everything seems to be good."
Byrne will have to pass the PBR's concussion protocol on-site before taking on Red Sails in the Sunset (15-14, UTB) in Round 1.
The Prince Albert, Saskatchewan, native nearly won Iron Cowboy in 2015.
Byrne was down to the final three riders in contention before he was bucked off by Boot Jack in 1.82 seconds. Joao Ricardo Vieira would go on to ride Crack The Whip for 88.5 points to win the first-ever PBR Major.
INJURY UPDATES
Taylor is in the draw because two-time World Champion J.B. Mauney is set to miss his second consecutive UTB event with a left leg injury.
Mauney is one of eight riders not competing in Los Angeles because of various reasons.
World No. 1 Jess Lockwood is out because of a broken left collarbone, but he will be in L.A. working as a member of the RidePass broadcast team.
Meanwhile, Fabiano Vieira (right shoulder surgery), Dener Barbosa (right shoulder surgery), Nathan Burtenshaw (broken collarbone), Lachlan Richardson (visa issues), Guilherme Marchi (retirement) and Valdiron de Oliveira (retirement) are also not competing.
Replacing those riders in the draw is Byrne, No. 17 Cannon Cravens, No. 18 Junio Quaresima, No. 20 Taylor Toves, No. 21 Sean Willingham, No. 22 Ezekiel Mitchell, No. 23 Mason Taylor and No. 39 Emilio Resende (injury exemption).
Toves is making his 2019 Unleash The Beast season debut. Los Angeles will be his first premier series regular-season event since April 22, 2017 (Tacoma, Washington).
The 25-year-old has drawn One Eyed Jack (0-0, UTB).
No. 12 Aaron Kleier also turned down a draw spot for Iron Cowboy and is staying home in Australia.
VELOCITY TOUR INVITES
There are four Pendleton Whisky Velocity Tour invites this weekend – No. 16 Danilo Carlos Sobrinho (Youngstown, Ohio), No. 31 Dylan Smith (Knoxville, Tennessee), No. 33 Scottie Knapp (Grand Rapids, Michigan) and No. 40 Alan de Souza (Columbia, South Carolina).
Souza is the twin brother of No. 15 Alisson de Souza.
Alan is making his premier series debut and is 5-for-10 at non-UTB events in 2019. This is Alan's first year competing in the United States. He earned an invitation to Iron Cowboy courtesy of his win at the Columbia, South Carolina, Velocity Tour event on Jan. 19.
RELATED: Alisson de Souza overcomes homesickness to qualify for World Finals
OUTLAW GETS REMATCH
World No. 2 Chase Outlaw will attempt to continue to gain ground on the injured Lockwood following his emotionally charged victory at the Mason Lowe Memorial last weekend.
Outlaw takes on Something Magical (11-2, UTB) in Round 1. He trails Lockwood by 625 points in the world standings.
The Hamburg, Arkansas, bull rider rode Something Magical for 87 points in New Town, North Dakota, this past November when he split the Touring Pro Division victory with Ruger Piva.
IRON COWBOY FORMAT
Riders have to reach the 8-second mark to advance in the competition.
Iron Cowboy is a minimum of two rounds and a maximum of five. At least 25 riders will advance to Round 2, with any draw spots being filled by the current world standings heading into Iron Cowboy if there are less than 25 rides in Round 1.
If all riders buck off in Rounds 2, 3 or 4, all riders that attempted a bull advance to the next round.
If there is more than one ride in the final round (Round 5), then the Iron Cowboy will be the rider with the highest ride score in Round 5. If there are no rides in Round 5, then the Iron Cowboy will be the rider with the most round points that had competed in Round 5.
Fans can watch Round 1 exclusively on RidePass beginning at 7:30 p.m. ET on Friday night.
Follow Justin Felisko on Twitter @jfelisko