Dirteater: "Riding bulls in downtown L.A. will be really cool"
By : Justin Felisko
February 13, 2019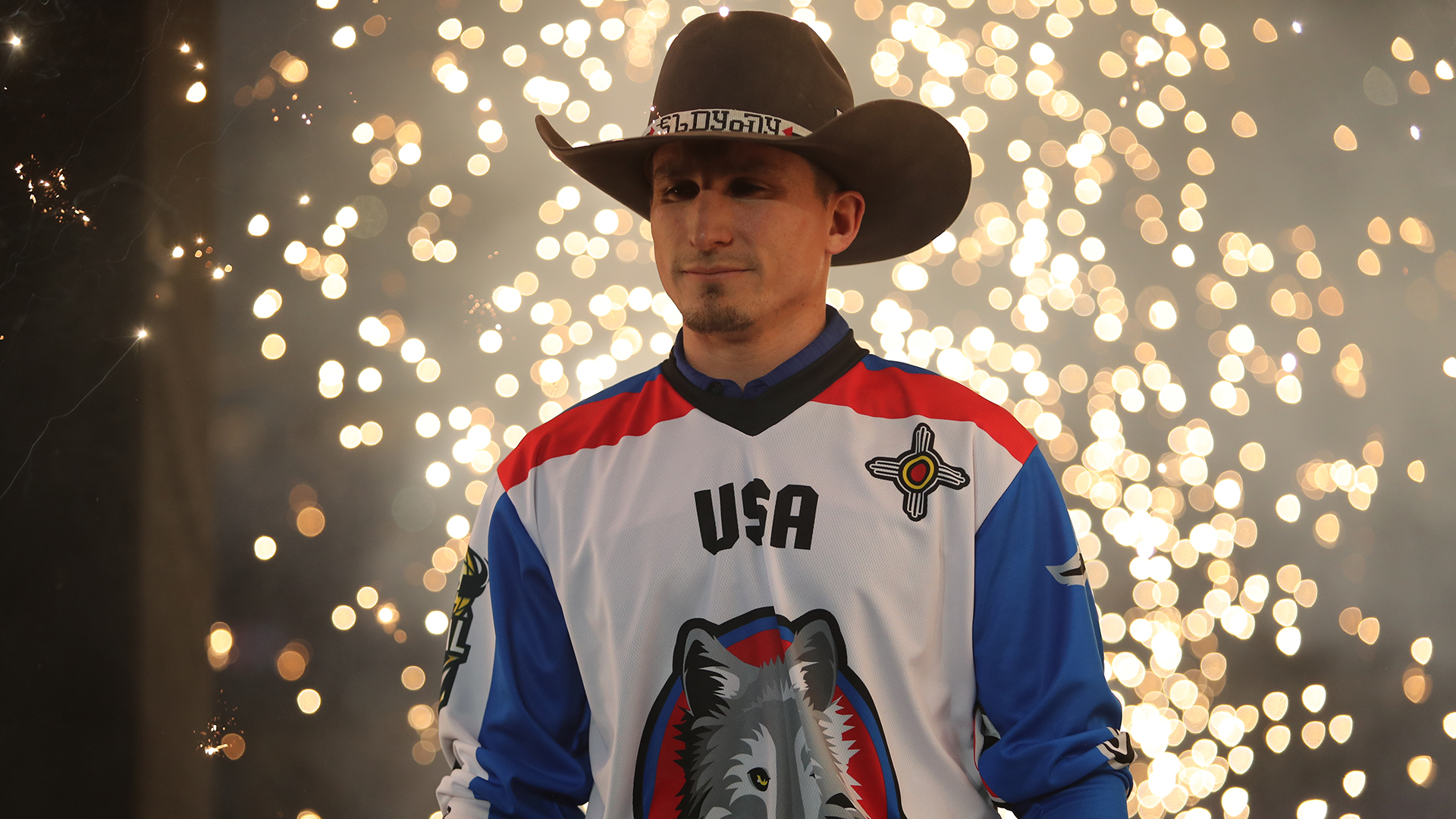 PUEBLO, Colo. – Ryan Dirteater has the longest active consecutive ride streak in the PBR right now with six consecutive rides.
However, the No. 5-ranked bull rider in the world does not want to miss the opportunity to compete in downtown Los Angeles at the historic STAPLES Center in two weeks.
Therefore, Dirteater is skipping the Mason Lowe Memorial in St. Louis this weekend because of a right groin injury.
"Riding bulls in downtown L.A. will be really cool," Dirteater said Wednesday morning. "That is what I am shooting for. It would be real nice. It's the STAPLES Center."
Iron Cowboy, presented by Ariat, takes place in less than 10 days on Feb. 22-23 in Los Angeles.
The second PBR Major of the season features a payday of $100,000 and potentially 1,250 points to the world standings.
That kind of payout and points is why Dirteater believes he can't risk furthering his injury in St. Louis.
"I don't want to keep hurting it and making it worse," Dirteater said. "I feel like I am riding good. I have been around a long time, so (taking a week off) don't really mess with me mentally."
Dirteater says he first injured his right groin during the Sacramento Invitational.
The injury did not hold him back too much, though, as he went on to win the Express Ranches Invitational in Oklahoma City the following week and lead the Team USA Wolves to a third-place finish at the WinStar World Casino & Resort Global Cup USA, presented by Monster Energy, last weekend.
There was no way the Hulbert, Oklahoma, native was going to miss his home state event or the opportunity to ride for the all-Native American Global Cup team.
"They were two important events and I just wanted to see how I felt," Dirteater said. "Once I got home and the swelling happened, that made my decision for the next event.
"I keep putting bruises on it. It swelled up on me the next day when I got home. It was getting better. It gets better during the week, but every time I ride I just keep flaring it back up."
Dirteater is 1,262.5 points behind world leader Jess Lockwood following his 8-for-14 (57.14 percent) start on the Unleash The Beast. He went 3-for-3 at the Global Cup.
Lockwood and Dirteater are two of 12 riders not competing in St. Louis this weekend because of various reasons.
Also not riding is two-time World Champion J.B. Mauney (broken leg/knee), Fabiano Vieira (right shoulder), Nathan Burtenshaw (right collarbone), Matt Triplett (right wrist), Dener Barbosa (reconstructive shoulder surgery), Dakota Buttar (flu), Tanner Byrne (concussion), Lachlan Richardson (visa issues), Guilherme Marchi (retirement) and Valdiron de Oliveira (retirement),
Mauney is scheduled to get an MRI on Tuesday night to see if there is any damage to his left knee. He already has been diagnosed with a broken fibula, but he now needs to determine if there is any ligament damage.
The 32-year-old considers himself week-to-week, which is also the case for Triplett, Buttar and Byrne.
Richardson is in the process of getting his visa approved so that he can return to the U.S. in the future. His visa was about to expire so he headed back home to Australia following the Global Cup.
Five-time National Finals Rodeo qualifier Joe Frost and 19-year-old Dylan Smith will be making their premier series debuts in St. Louis.
Frost is set to take on Nutmeg (3-0, UTB), while Smith faces Wacker Kat (1-2, UTB).
Also in the draw as replacements for the other 10 riders are No. 14 Danilo Carlos Sobrinho, No. 15 Cannon Cravens, No. 18 Sean Willingham, No. 18 Junio Quaresima, No. 20 Ruger Piva, No. 22 Ouncie Mitchell, No. 23 Ezekiel Mitchell, No. 29 Daniel Tinsman, No. 30 Scottie Knapp and No. 34 Emilio Resende.
Frost, Smith, Sobrinho, Quaresima, Piva, Ezekiel Mitchell, Tinsman and Knapp have won Pendleton Whisky Velocity Tour events in 2019.
No. 41 Stetson Lawrence, No. 43 Koal Livingston, No. 59 Ramon de Lima, No. 64 Marco Eguchi, No. 70 Keyshawn Whitehorse, No. 76 Eduardo Aparecido, No. 82 Alex Marcilio and No. 144 Kaique Pacheco are still in the St. Louis draw because of exemptions from their Top 30 finish in the 2018 world standings.
No. 2 Joao Ricardo Vieira will try to chip away at Lockwood's 967.5-point lead on him when he squares off against Barn Cat (7-2, UTB) in Round 1.
Fans can watch Round 1 exclusively on RidePass Friday night beginning at 7:30 p.m. ET.
Follow Justin Felisko on Twitter @jfelisko