The Morning Line - Global Cup Round 3
By : Slade Long
February 10, 2019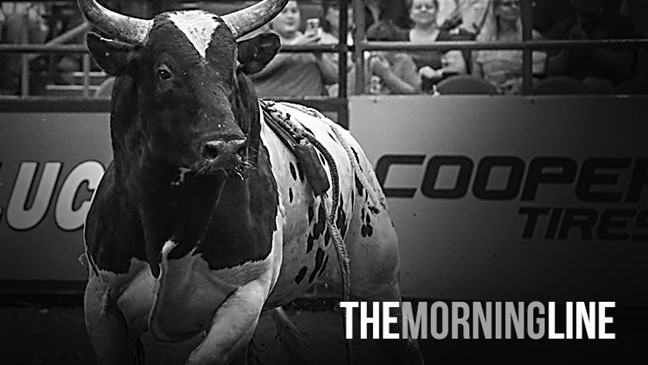 The bulls overall are a step up from Round 1. Each team here has a couple of tough matchups with short round caliber bulls. This is an advantage to the teams who have stronger riders – guys who do well against the top bulls.
Team Brazil
Brazil has a big lead here, and based on their matchups in this round they may not let go of it easily. Marco Eguchi has an unknown bull, and Fernando Henrique Novais has a tough matchup away from his hand, but the rest of their team is matched up well. If all five of those guys get the whistle there is little chance any of the other teams will be able to catch them. Lester Gillis and Cut the Cord are the best two bulls in their pool, and if Cut the Cord goes to the right, Claudio Montanha Jr. has a good chance at him.
Fernando Henrique Novais on 567 Lester Gillis
Eduardo Aparecido on Y2 Stone Cold Crazy
Jose Vitor Leme on 323 Biker Bob
Marco Eguchi on 37C Udder Brother
Bruno Scaranello on 142 Troublemaker
Joao Ricardo Vieira on -1 Lefty
Claudio Montanha on 1206 Cut the Cord
Team Mexico
Team Mexico won't have an easy time here, but they have a few things working in their favor. Their two best bulls – Big Black Cat and Hedoo – are both relatively rideable for short round caliber bulls. Francisco Garcia Torres and Jorge Valdiviezo both have very rider-friendly bulls.
Alvaro Alvarez on 437B Lil 2 Train
Francisco Morales on E5 Big Black Cat
Jorge Valdiviezo on 62 Two Point Oh
Juan Carlos Contreras on 44 Pneu-Dart's Ninja Kicks
Luis Escobedo on 361 Hedoo
Esteban Bustamante on 584 Sauce Boss
Francisco Garcia Torres on 2 Uncle G
Team Australia
Team Australia may have a hard time getting scores today. Lachlan Richardson has the nicest bull in their pool, while Aaron Kleier and Cody Heffernan have very tough matchups, although Kleier looked sharp last night and he has an outside chance against Budakon. The rest of the team is somewhere in between.
Aaron Kleier on 16B Budakon
Kurt Shephard on 314 Rocket Man
Cody Heffernan on 084 The Don
Brady Fielder on 205 Whiskey River
Lachlan Richardson on 417 Real Gun
Cliff Richardson on 039 Clemmons Time
Justin Paton on 403 Hardball
Team Canada
Tanner Byrne, Aaron Roy and Zane Lambert are doing the heavy lifting for Canada in this round. They all have really difficult bulls. The rest of the team is paired up as well as they can be. Dakota Buttar, Jared Parsonage, Jordan Hansen and Lonnie West all have a great chance at a score. They are all left-handed and have bulls that are notably weak against lefties. Lethal Larry and Accelerator have short histories, but they've been ridden by every lefty who has faced them.
Tanner Byrne on 313 Zorro
Jared Parsonage on 1602 Southern Style
Aaron Roy on 08B Hostage
Dakota Buttar on 4185 Accelerator
Jordan Hansen on 418 Lethal Larry
Zane Lambert on 202 Capone
Lonnie West on 15 Hit Man
Team USA Eagles
The Eagles lost Jess Lockwood to injury, but having Sage Kimzey in reserve minimizes that loss. Kimzey is facing a relatively unknown bull here. Pure Gangster has outs at lower level events in Fort Worth and Denver this season and that's it. Kimzey is a safe bet to ride any bull that has reasonably good timing.
Brennon Eldred, Cody Nance and Cooper Davis all have bulls they have ridden before. Davis has ridden Nailed twice. Derek Kolbaba and Chase Outlaw have fairly new bulls, and Cody Teel is facing what may be the toughest bull in their pool. The Eagles are set up to do well here.
Sage Kimzey on 503 Pure Gangster
Cody Teel on 1212 Gambini
Brennon Eldred on 30 Coyote
Cody Nance on 442 Blue Crush
Chase Outlaw on V72 Skitso
Cooper Davis on 100 Nailed
Derek Kolbaba on 727 Joker
Team USA Wolves
The Wolves pretty much hung with the Eagles last night. They may have a tougher time in this round if only because the Eagles have better matchups as a group. Justin Granger, Stetson Lawrence and Keyshawn Whitehorse have bulls that have not been ridden before, while the remaining four Wolves have fantastic matchups. Ryan Dirteater and Cannon Cravens have ridden their bulls before. Colten Jesse and Cody Jesus are should both have bulls that should fit them perfectly.
Justin Granger on 16C Strange Cargo
Stetson Lawrence on 311 Mason's Missouri Gold
Keyshawn Whitehorse on 125 Bootdaddy.com
Ryan Dirteater on 411 Scrappy
Cannon Cravens on 303 Force Awaken
Colten Jesse on 672 Mr. Miller
Cody Jesus on 111 Black Rose