Lockwood breaks collarbone; Kimzey in the draw for Team USA Eagles
By : Justin Felisko
February 10, 2019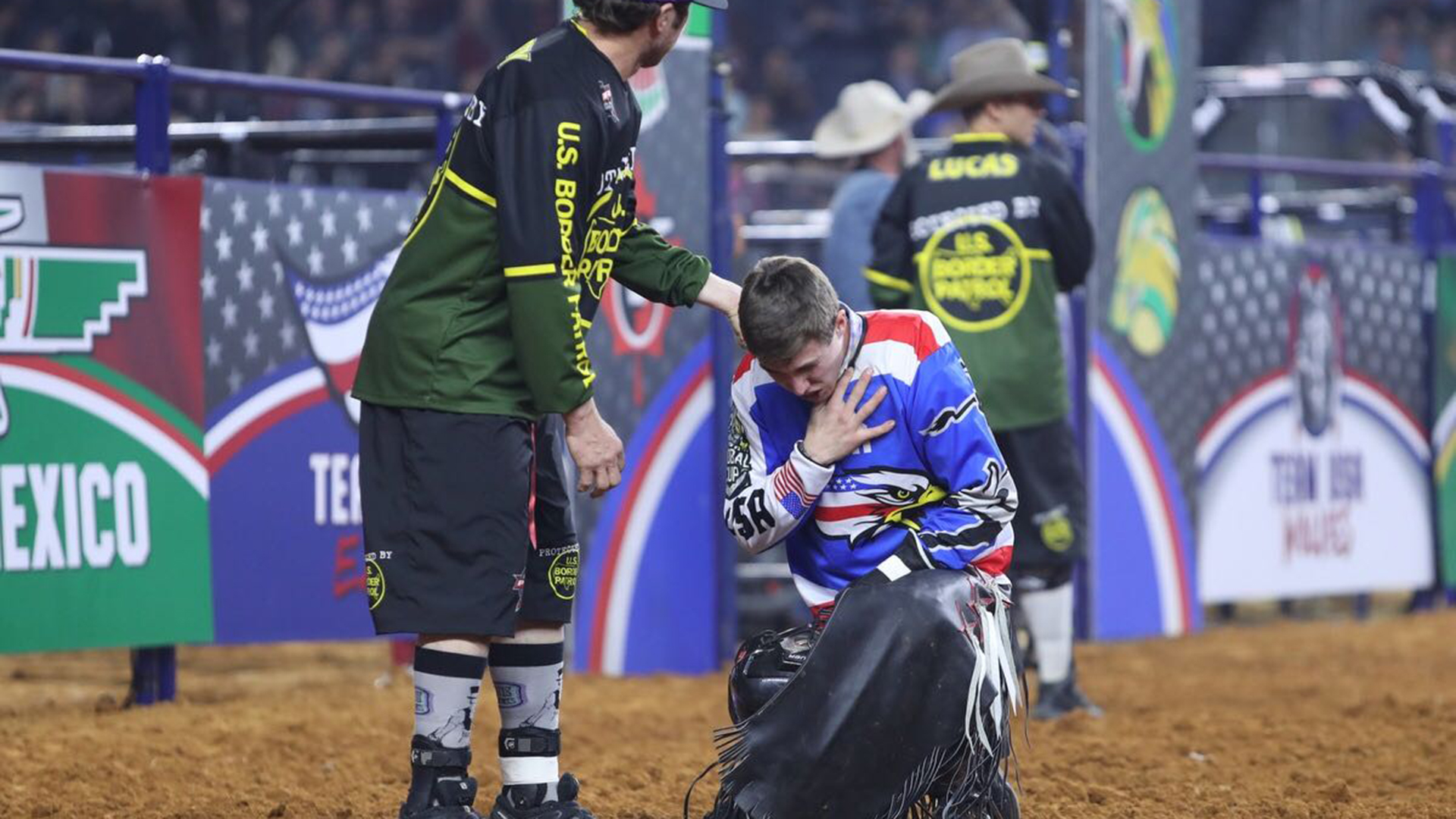 ARLINGTON, Texas – 2017 World Champion and world No. 1 bull rider Jess Lockwood winced in pain while PBR Sports Medicine director Rich Blyn adjusted the sling in which Lockwood's left arm rested.
Lockwood had just broken his collarbone 30 minutes earlier attempting to ride Wild Goose during Round 1 of the WinStar World Casino & Resort Global Cup USA, presented by Monster Energy.
The 21-year-old was disgusted with himself as he talked about the ride attempt that went wrong and knocked him out of the competition, and potentially for the next few weeks as well.
Wild Goose came hopping out of the chutes and eventually lunged forward to rocket Lockwood forward, connecting the world leader's left collarbone with his horn.
It was apparent right away to those on the back of the chutes that Lockwood likely broke his collarbone, which Dr. Tandy Freeman later confirmed.
"He didn't have his day, but I didn't either, and he got the best of me," Lockwood said. "He kind of reared up and wasn't his usual self and shot ahead, just a freaking 50-foot, and jerked me down.
"If I'm trying hard and get bucked off, that's one thing. I'm still pissed, but I'm even more pissed when they hurt me in the process of bucking me off. So I just feel like I'm useless."
Lockwood will now meet with Freeman in Dallas on Monday and get X-rays to determine the extent of his injuries and if surgery will be necessary.
The Volborg, Montana, bull rider has a 967.5-point lead on No. 2 Joao Ricardo Vieira in the world standings.
Team Australia's Nathan Burtenshaw broke his collarbone last season, and is out once again with a broken collarbone, and missed 46 days following surgery.
2016 World Champion and fellow Team USA Eagle Cooper Davis broke his in 2016 and only missed two weeks.
Lockwood's injury means that five-time PRCA champion Sage Kimzey will be in the draw for the Eagles on Sunday afternoon.
Fans can watch the conclusion of the Global Cup USA exclusively on RidePass beginning at 1:30 p.m. ET.
The Eagles (4-for-9) are sitting in second place in Arlington, but they are three rides (345.25 points) behind event leader Team Brazil.
Kimzey was not in attendance Saturday night as he was competing at the Fort Worth Stock Show & Rodeo where he finished in fifth place.
"I hate that Jess is out," Kimzey said via text message. "I have big shoes to fill coming in first for J.B. (Mauney). Now Jess. All I know is I will give 100 percent effort for not only myself, but this team and country that I love dearly.
"It will be a great experience getting to put on the red, white and blue and representing something way bigger than myself."
Two-time World Champion and Team USA Eagles coach Justin McBride made headlines earlier this week when he named Kimzey as an injury replacement for two-time World Champion J.B. Mauney (broken leg).
McBride said on Saturday night this was the scenario he was fearful of and why he wanted Kimzey in his back pocket for Sunday.
"I talked to him earlier today," McBride said. "He's ready to go. That's the method behind the madness right there. You've got to give these guys the best chance possible, and if your top guy goes out, that's the guy you want stepping in."
Team Captain Davis said he knows the Eagles can count on Kimzey, and Davis did all he could Saturday night to keep the red, white and blue within striking distance of Brazil.
Davis rode Arctic Assassin in Round 1 for 85.75 points before coming back with an emphatic 89.5 points on Hard & Fast.
"It's never over until the last bull," Davis said. "Especially in a format like this. You get a couple rides like that, and everybody feeds off it, we can be pretty dangerous."
Davis is leading the race for the individual event aggregate championship with 175.25 points. He is 4.75 points ahead of Eduardo Aparecido, the only other rider to cover two bulls Saturday night.
The Jasper, Texas, cowboy made it a point to acknowledge the fans in the crowd following his Bonus Round ride.
"It's the coolest deal in the world," Davis said. "Every other time we've been at a Global Cup, it's been other fans. Not to say they didn't want us to do good, but when you're in your home country, they take a little pride in everybody like we do."
Fellow Texan Cody Teel helped get the Eagles started in Round 1 with 89 points aboard Stunt Man Ray.
That was good enough to give Teel the Round 1 victory.
"It's everything," Teel said. "Every guy came here to stay on a bull. That's just the game plan. I don't think much past that, but it damn sure makes it more exciting having all those guys back there. And guys like J.W. (Hart), Justin (McBride) and Ross (Coleman) that aren't usually there, is pretty darn cool."
Coleman was giving Teel quite the pep talk before he climbed into the bucking chute.
"He told me to give him a chop at 10 seconds, to give him a spur for him," Teel added. "I didn't really open up on him too much, but I got a little chop in for him."
Teel – the 2012 PRCA champion – and fellow USA Eagle Brennon Eldred used to rodeo with Kimzey before switching over to the PBR full time.
Eldred rode Big City for 86 points in Round 1 for the only other qualified ride for the Eagles.
"That was damn sure wild from as soon as I crawled down in the chute until I got off," Eldred said. "I've been on that bull, that's the third time, and he bucked me off the first two times. That's a good bull of J.W.'s. He's a little bitty, not very big, but he's got an attitude and he gives it his all every time. I knew I had him tonight.
"You can't buck off that one with the guys I've got in my corner rooting me on."
The two former National Finals Rodeo qualifiers expressed their faith in Kimzey being able to help the team on Sunday too.
"You can put that guy on anything here, it don't matter, he don't care," Eldred said. "The bigger the crowd, the better he rides, and that's damn sure a guy you want in your corner."
Follow Justin Felisko on Twitter @jfelisko