The Morning Line - Global Cup Round 1
By : Slade Long
February 09, 2019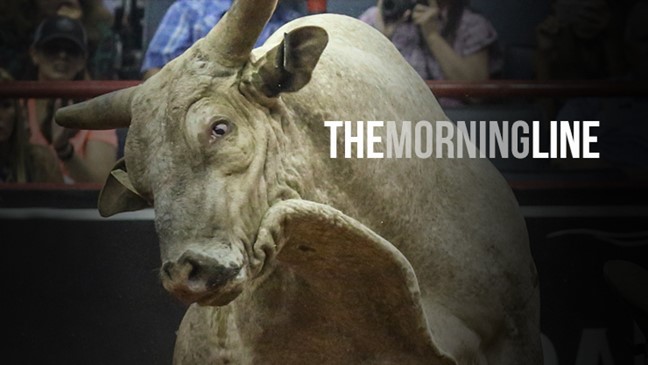 Team Mexico
Mexico's team features the least experienced riders, and they are going against a pool of mostly lesser-known bulls as well. Their best matchups on paper are Edgar Durazo on Pennywise and Esteban Bustamante on Soup in a Group (because Bustamante is right-handed).
Red Bull Rising and Soup in a may be the strongest two bulls they have, and Soup is by far the more rideable of the two, at least versus righties.
Edgar Durazo on 447 Pennywise
Esteban Bustamante on 34 Soup in a Group
Francisco Garcia Torres on 324 Million Dollar Baby
Francisco Morales on 412 Red Bull Rising
Juan Carlos Contreras on 08C Crazy Times
Jorge Valdiviezo on 500 Throw Down
Alvaro Alvarez on 66C Harold's Genuine Risk
Team USA Wolves
Wolves coach Wiley Petersen may not have a stable full of World Champions to work with, but he has his guys paired up well here. The Wolves are really counting on Cody Jesus, Keyshawn Whitehorse and Cannon Cravens to carry the load for them in Round 1.
Kern River is a perfect fit for Jesus and a possible big score. Whitehorse should get a score on Milky Chance. M.A.G.A. is a big challenge for Cravens, but he's absolutely the right guy to call on in this situation. Cravens has to do well at this event for the Wolves to contend as a team.
Justin Granger has the toughest deal here. South Texas Gangster is pretty hard to ride. Ryan Dirteater and Stetson Lawrence, the Wolves' two most experienced riders, are facing the two least-known bulls, which is a good play.
Keyshawn Whitehorse on S30 Milky Chance
Cody Jesus on 579 Kern River
Colten Jesse on 408 Big Boss
Cannon Cravens on 138 M.A.G.A.
Justin Granger on 2731 South Texas Gangster
Ryan Dirteater on 513 Boogie Bomb
Stetson Lawrence on 50 ZZ Top
Team Canada
Team Canada has nothing but promising matchups here, and they could make this interesting. Rising Sun is the best draw imaginable for a left-handed rider, and they've got their strongest lefty on him. Zane Lambert has a shot on Wicked Dreams – a bull that came from Canada and should spin into his hand at breakneck speed.
All of the Canadian riders are matched up reasonably well. The big ugly monster in their pool is Smooth Over. They've assigned him to Tanner Byrne and that's a great decision. Byrne is the best equipped guy on their team to deal with him.
Dakota Buttar on 345 Rising Sun
Tanner Byrne on 44A Smooth Over
Zane Lambert on 621 Wicked Dreams
Jared Parsonage on 243 Breaking Bad
Jordan Hansen on 446B Jaywalker
Lonnie West on 450 Scarface
Team Brazil
Brazil will of course be one of the strongest teams in this competition, but it's painfully obvious that their team would be stronger if they subtracted one right-hander from their roster and added Luciano de Castro. They may rack up five qualified rides out of their seven-man crew here. Kaique Pacheco is the only man facing an unknown bull. All the other riders have a good shot at getting the whistle – on paper at least.
Don't sleep on Bruno Scaranello. He is a talent. He's really good on bulls that go into his hand, which is what he will probably face here.
Their high-risk/high reward matchup is Jose Vitor Leme on Wicked Stick. This is a seriously difficult bull, but Leme was 90.5 on him just a few weeks ago.
Eduardo Aparecido on 514B Constant Sorrow
Bruno Scaranello on Z3 Swamp Wreck
Claudio Montanha on 203 Saint Jo
Jose Vitor Leme on 2125 Wicked Stick
Marco Eguchi on 309 Millennium's Buck
Fernando Henrique Novais on 414 Uncle Keith
Kaique Pacheco on C4 Taco Cat
Team Australia
Team Australia's best-case scenario is that it gets one qualified ride from Cody Heffernan or Jason Mara who are both on relatively unknown bulls, and three qualified rides from the rest of the field. Both Richardsons, Justin Paton, Kurt Shephard and Aaron Kleier all have decent matchups. Lachlan Richardson, Paton and Kleier have the best shot at bigger scores.
Cliff Richardson on 761 Bushwacked
Lachlan Richardson on 77B Medicine Man
Justin Paton on 315 Fist City
Kurt Shephard on 391 Slingin' Tears
Aaron Kleier on 48 Ol' Boy
Cody Heffernan on 47 Texas Red
Jason Mara on 507 Hammer Harry
Team USA Eagles
The Eagles are banking on getting qualified rides from Cooper Davis, Cody Teel and Brennon Eldred. These three guys have the most advantageous matchups. Teel has the best bull in their draw group, and Stunt Man Ray is a near perfect fit for him. Davis is a huge favorite to ride Arctic Assassin. Eldred has the smallest edge here – he's bucked off this bull twice before, but Big City is nonetheless a decent fit for a right-handed rider.
Cody Nance and Derek Kolbaba are paired with the two least known bulls in this pool. One qualified ride out of these two would give the Eagles a big boost.
Chase Outlaw and Jess Lockwood are shoot-the-moon picks. Two really good bulls, but both are pretty hard to ride. Lockwood has bucked off Wild Goose twice, but he lasted 7.7 seconds on him just a couple of weeks ago. Acting Crazy is somewhat rideable, but he can back up underneath himself while bucking, and Outlaw had trouble with a bull like this just last week. If one of these guys stay on it will be a big score.
Cooper Davis on X323 Arctic Assassin
Cody Teel on 3 Stunt Man Ray
Brennon Eldred on B402 Big City
Chase Outlaw on Z26 Acting Crazy
Jess Lockwood on 83A Wild Goose
Cody Nance on 1276 The Godfather
Derek Kolbaba on 528 Dixie Explosion