Heffernan brings new hardware back to United States
By : Justin Felisko
February 05, 2019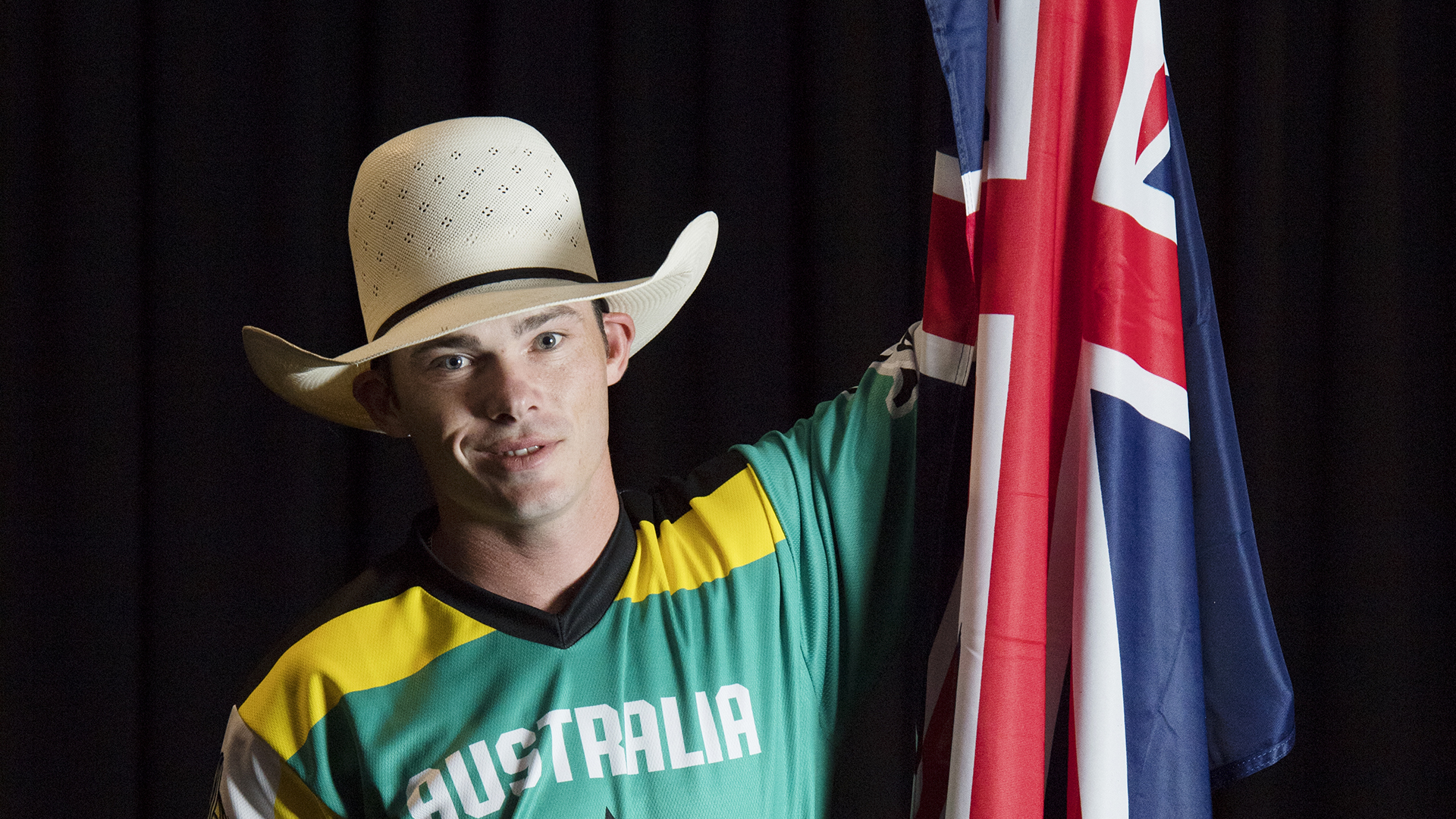 PUEBLO, Colo. – Team Australia will not have home-field advantage this time around at the 2019 WinStar World Casino & Resort Global Cup USA, presented by Monster Energy, but the Aussies will have some championship swagger on their team despite going from 14 riders to seven as a visiting nation.
Team Australia boasts three 2018 bull riding champions on their roster in 2018 PBR Australia champion Aaron Kleier, 2018 ABCRA (Australian Bushmen's Campdraft and Rodeo Association) champion Cody Heffernan and 2018 APRA (Australia Pro Rodeo Association) champion Brady Fielder.
The three champs are joined by seven-time PBR World Finals qualifier Lachlan Richardson, No. 23 Jason Mara, No. 43 Kurt Shephard, Cliff Richardson and No. 80 Justin Paton in Arlington, Texas, next weekend.
"It is hard not to be excited to represent your country," Heffernan said in Oklahoma City.
Fans can watch the first night of the Global Cup exclusively on RidePass Saturday night at 7:30 p.m. ET.
Heffernan was one of two Australians that competed at this past weekend's Express Ranches Invitational at Chesapeake Energy Arena, where he went 0-for-2.
Lachlan Richardson went 0-for-2 in his season debut after missing the first four events with an ankle injury.
The event was Heffernan's first since he won two of three rounds and the event average at the 2018 ABCRA Finals in Tamworth, Australia, two weeks ago.
The championship was a long time coming for Heffernan, and one he was fully committed to getting last year.
"I grew up doing the ABCRA, so it's pretty special," Heffernan said. "To never win a title in the junior ranks there – I was always second or third to Josh Birks, he would always beat me – to finally get one really does mean a lot to me."
The title may be Heffernan's first in the ABCRA, but it his second in Australia after previously winning the 2016 PBR Australia championship.
2016 was also Heffernan's best season overall in the PBR.
He competed in 16 premier series events and concluded the year 38th in the world standings, appearing at the 2016 PBR World Finals as an alternate.
Heffernan had a career-best 28 rides at all levels of PBR competition.
The Singleton, Australia, bull rider has yet to have the same kind of success that he had three years ago, but Team Australia coach Troy Dunn believes getting a championship under his belt could help Heffernan regain his confidence with which he first came to the United States.
"That title should really boost Cody's belief," Dunn said via email. "He does seem to ride a roller coaster. Hopefully he's on his way to the top of his hill."
Heffernan added, "That is right. Just get a good start and get some bull rode and it keeps growing. I am going to hang on to them."
Heffernan and Lachlan Richardson left Oklahoma City on Sunday morning to attend the Team Australia training camp at Chris Cox's Horsemanship Ranch in Mineral Wells, Texas.
Dunn has assembled Team Australia for team building activities and training before the start of the Global Cup.
"We will do a pretty good amount of training and bonding," Heffernan said.
The two-time Global Cup coach did the same thing before Sydney, which had a resounding impact on the Aussies.
The team left Woree, Australia, last June unified as a group and nearly defended their home soil at Qudos Bank Arena.
Nathan Burtenshaw, who will be an assistant coach in Arlington because of a broken collarbone, reached the 8-second mark on the final ride of the Sydney Global Cup but wound up 0.75 points shy of the victory.
The second-place showing was the best by Australia in any international bull riding team competition.
"He tries to bring everyone together," Richardson said. "Instead of doing it individually, you are doing it together. Which, that is what Global Cup is. To have a World Champion and someone we have looked up to like him there with us helping us out just pumps everyone up. He doesn't have to say nothing. We are all excited for him to be there helping us out."
The Australians finished the 2010 World Cup in Las Vegas in third place.
Heffernan, who went 1-for-3 in Sydney, was not a member of the 2017 squad that finished in fourth place in Edmonton.
Other than Heffernan and Richardson, the rest of the team competed in Knoxville, Tennessee, at the Pendleton Whisky Velocity Tour event to get their feet under them ahead of the Global Cup.
Mara led the way with a third-place finish, while Fielder tied with Shephard and Michael Lane for eighth place in his United States debut.
The 19-year-old had never competed in the U.S. until Knoxville. Fielder is the alternate for Team Australia after Shephard moved into the starting lineup to replace Burtenshaw.
"You look at the whole team. Obviously, Lachlan is a lot more experience over here, but the rest of us are pretty much on par I guess," Heffernan said.
Heffernan is currently 93rd in the world standings and will likely head back home to Australia for the start of their 2019 season.
If he were to crack the Top 35 and earn a spot on the Unleash The Beast, Heffernan says he will return to the United States.
"If I am on the top tour I will, but the plans are right now to return home and do Australia events," Heffernan said.
Follow Justin Felisko on Twitter @jfelisko