Legit erupts for 46.5 points in Sacramento
By : Justin Felisko
January 27, 2019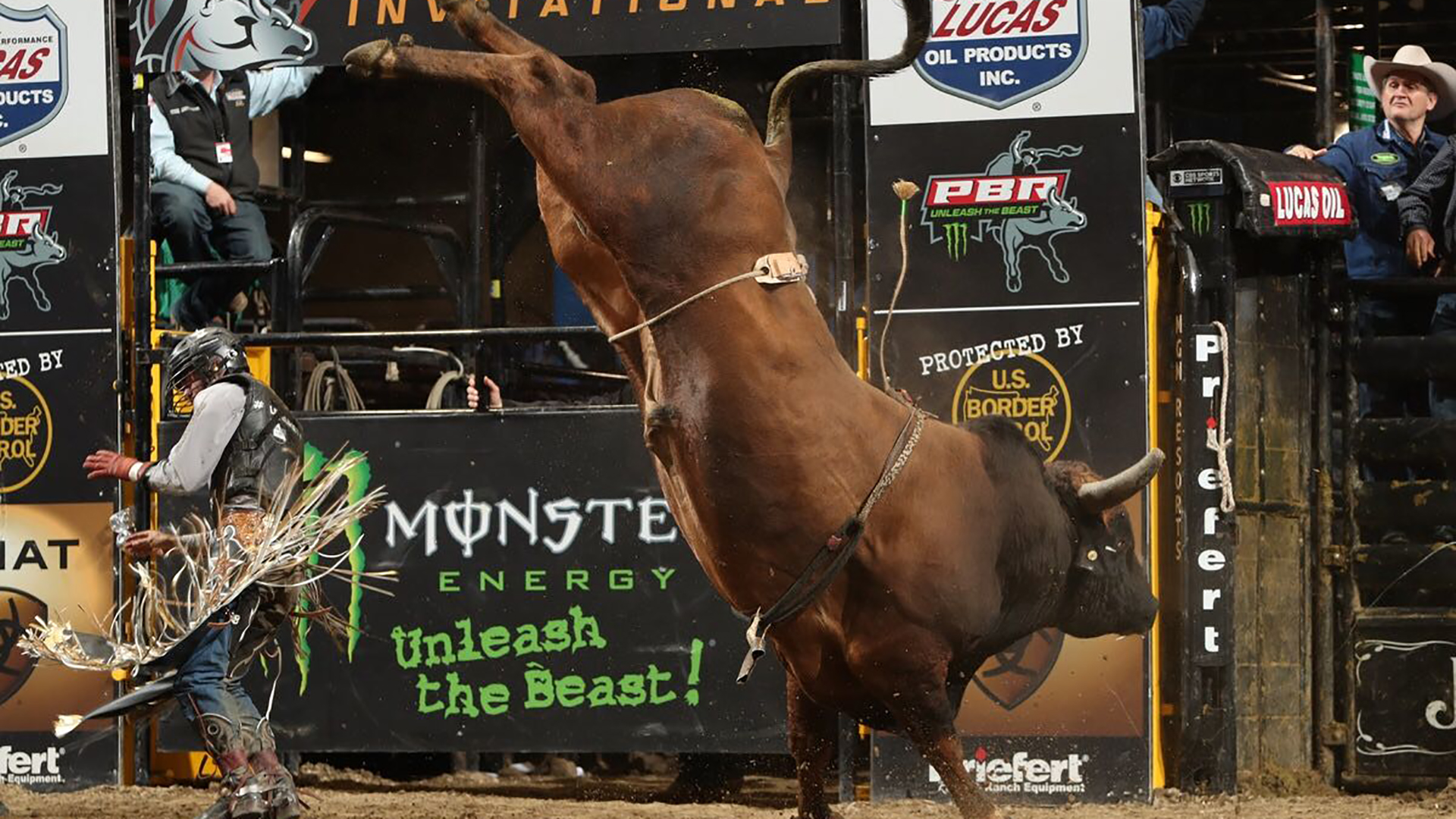 SACRAMENTO, Calif. – Lonnie West was dragging his bull rope through the out gate of the arena inside the Golden 1 Center when he glanced up at the jumbotron.
Whoa," West said to himself.
Legit had just demolished West in only 2.12 seconds during the championship round of the Sacramento Invitational.
The 23-year-old bull rider then joked, "Did I ride him?"
It was all West could do after Legit was marked a season-high 46.5 points on Sunday afternoon in a demonstration of pure strength and power.
"That bull is a handful," West said. "He is big. He is the real deal. He is an old school bull. I don't know what he would weigh in, but he is probably pushing 2,000 pounds."
West selected Legit with the 14th selection of the championship-round draft.
"I knew he was a bucker," West added. "That is why I picked him. I didn't have much to pick from, but I had seen him at the Finals and he was awesome. I knew I had my hands full. I don't want to go in bottom hole but when you do it is just ride or die really. You have to go for the win.
"They marked that bull 46.5. That is what a guy needs. It didn't work out, but oh well."
Legit beat out Strange Cargo (45.75 points for 4.03 seconds against Ryan Dirteater), Fearless (45.5 points for 6.08 seconds against Cody Jesus), Heartbreak Kid (45.5 points for 6.7 seconds against Jess Lockwood) and Wild Goose (45.25 points for 7.7 seconds against Lockwood) for the Yeti Built For the Wild Bull of the Event honors.
"You watch the amount of kick he follows up these big jumps with," said two-time World Champion Justin McBride on CBS Sports Network.
Reigning Stock Contractor of the Year Chad Berger was extremely pleased with Legit's showing.
A week ago, Legit underwhelmed with only a 43.25-point effort for bucking off Chase Outlaw in 6.02 seconds in the Glendale 15/15 Bucking Battle.
"He had a little belly on him last week and Judd (Lefew) got it off him and that bull was really rank," Berger said. "He could have been another point and a half."
Legit was the Co-Bull of the Finals at the 2018 PBR World Finals.
Was Berger nervous at all following Glendale?
"Well, I really wasn't that nervous. That bul had been laying off since the Finals. When he came in here today. You could tell he was jawed up, looked good and he was mad. He is everything you want in a bucking bull. That intimidation factor. I was pretty comfortable."
Follow Justin Felisko on Twitter @jfelisko