35 Summer Facts about the Top 35
By : Justin Felisko
August 12, 2017
With the BFTS back in action, PBR.com runs down 35 summer facts about the Top 35 bull riders in the world.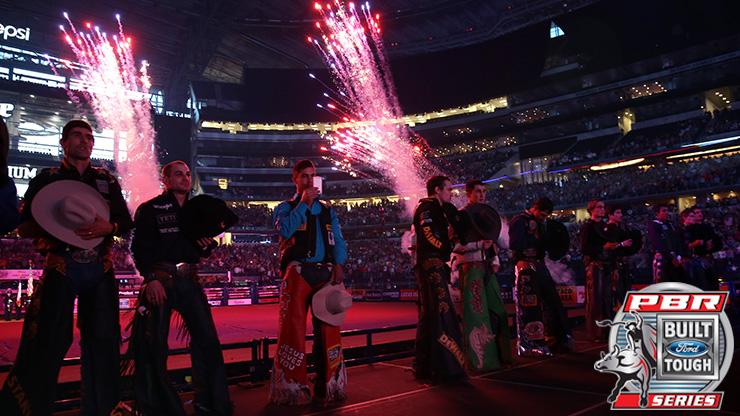 PUEBLO, Colo. – The stretch run to the 2017 PBR Built Ford Tough World Finals begins on Saturday with the Express Employment Professionals Classic, presented by Osage Casino, this weekend in Tulsa, Oklahoma.
With the Built Ford Tough Series returning to action, here is a look at the current Top 35 of the world standings and how each rider's summer went.
1. Eduardo Aparecido
World leader Eduardo Aparecido opted for rest this summer after returning home to Brazil following Last Cowboy Standing in May. Aparecido competed in one PBR Brazil event, going 1-for-2 in Frutal and sustaining a minor injury when he fainted and was stepped on by a bull.
The 27-year-old doesn't expect the injury to be an issue during the second half.
2. Kaique Pacheco
Pacheco returned home to Brazil for a summer slate of PBR Brazil events and went 12-for-20 (60 percent) to cut into Aparecido's hold on the No. 1 ranking.
RELATED: Pacheco stays consistent.
Pacheco, who placed fifth at the Allen, Texas, Real Time Pain Relief Velocity Tour event last weekend, earned only 75 points toward the world standings this summer, 60 of which came from winning the PBR Brazil Touring Pro Division event in Americana with a 90-point ride on Cassununga.
3. Derek Kolbaba
Kolbaba led all PBR riders this summer by earning 430 points toward the world standings. He earned 300 of those points by winning the first PBR Canada International Major in Quebec City, Quebec.
He followed up his Quebec victory by winning night one of the Bismarck, North Dakota, Real Time Pain Relief Velocity Tour event with an 88-point ride on American Gangster and 89 points on BC Circular Insanity.
Kolbaba concluded his summer run 9-for-17 (52.94 percent) in seven PBR-sanctioned events.
4. Jess Lockwood
Lockwood tied with Joao Ricardo Vieira for the most qualified rides (17) during the BFTS summer break. Lockwood went 17-for-28 at PBR-sanctioned events and earned the second-most points toward the world standings (372.5).
RELATED: Lockwood reboots over the summer.
Lockwood won the Binford, North Dakota, Touring Pro Division event and posted six Top-3 finishes as part of his summer run.
5. Chase Outlaw
Outlaw concluded his summer run with his best performance of the Built Ford Tough Series break this past weekend with two victories (Santa Barbara, California, & Livingston, Montana).
The Hamburg, Arkansas, bull rider earned 150 points toward the world standings in the span of three days after earning only 102.5 points through the first two months of the break.
His 252.5 world points this summer helped him leapfrog two-time World Champion J.B. Mauney in the standings.
6. J.B. Mauney
Mauney will miss the remainder of the 2017 season after undergoing reconstructive surgery on his right shoulder (free arm) after getting injured during the Calgary Stampede.
Earlier in the summer, Mauney defeated 2016 World Champion Cooper Davis in a $25,000 head-to-head showdown in Vinita, Oklahoma, by riding Cochise for 91 points.
7. Matt Triplett
After receiving a good luck drawing/letter from 6-year-old fan Harlee Ann Maddox, Triplett used an 86.5-point ride on The Kraken and 85-point ride on Just Juan to win the Big Sky, Montana, Real Time Pain Relief Velocity Tour event. Triplett then sent the belt buckle he earned from winning the event to Maddox.
RELATED: Triplett wins for young fan.
It was one of two summer victories for Triplett, who went 12-for-24 overall and picked up 210 world points.
8. Stormy Wing
Wing competed in very, limited action this summer. The 28-year-old competed in four events and picked up no points toward the world standings. However, Wing did make two noteworthy rides in Big Sky, Montana – 90.5 points on Red Dawn and 90 points on Red Sails In The Sunset.
9. Joao Ricardo Vieira
Vieira tied with Jess Lockwood for the most rides (17) during the BFTS summer break and used five Top-5 finishes to earn 105 points toward the world standings.
The 33-year-old also raised over $37,000 for charity by riding three bonuses bull in Brazil.
10. Cooper Davis
After bulking up with an additional 10 pounds of muscle in the spring, Davis has shifted his workout regimens so that he can drop back down to 145 pounds.
RELATED: Davis feels recharged.
Davis has lost 10 pounds during the summer break to get back to his preferred riding weight of 145 pounds. The third-year pro had packed on 10 pounds of muscle during the spring, but he decided after Last Cowboy Standing to get back to a closer weight that helped him win the 2015 Built Ford Tough World Finals as a rookie and then the world title last year.
Davis competed in only two events this summer – a second-place finish in Allen, Texas, and a fourth-place finish in Big Sky, Montana – and lost in his head-to-head matchup against J.B. Mauney in Vinita. The reigning World Champion was bucked off by Seven Dust in 2 seconds.
11. Mason Lowe
Lowe competed in five summer events, winning the J.W. Hart Challenge in Decatur, Texas, for 80 world points and going 3-for-7.
12. Rubens Barbosa
Barbosa went 3-for-14 in 10 events. The 33-year-old's best performance was a fifth-place finish in Rocksprings, Texas.
13. Cody Teel
Teel extended his lead for PBR Rookie of the Year to 191.67 points by going 12-for-24 in 10 events for 165 world points. The 2012 PRCA champion had a streak of eight consecutive rides in July.
14. Shane Proctor
The 2011 PRCA champion took a hiatus from PBR competition to focus on making a push at qualifying for the 2017 Wrangler National Finals Rodeo.
Proctor is currently 18th in the PRCA bull riding standings and is roughly $6,500 from the No. 15 and final qualification spot.
15. Cody Nance
Nance pushed himself into the Top 15 of the world standings by earning 177.5 points in 13 events.
The 2009 Rookie of the Year won the first night of the Rocksprings, Texas, Touring Pro Division event and had seven Top-5 finishes.
Nance went 13-for-26 (50 percent) during his summer run.
16. Claudio Montanha Jr.
Montanha went 13-for-21 (61.9 percent) in six PBR Brazil events, but only picked up 50 world points. The rookie's best finish came at the Americana PBR Brazil TPD when he placed second.
17. Marco Eguchi
Instead of returning home to Brazil, Eguchi opted to stay in the U.S. and competed sparingly. Eguchi went 0-for-7 in six events.
Eguchi also invited his parents to visit him in Texas for three weeks earlier this summer.
18. Fabiano Vieira
Vieira had one of the stronger summer runs (295 world points) since beginning the break with a second-place finish at the PBR Canada Major in Quebec City.
REALTED: Vieira stays tough over summer.
Vieira finished the summer 13-for-22 (59.09 percent) with a victory at the Calgary Touring Pro Division event and six Top-5 finishes.
19. Silvano Alves
Three-time World Champion Silvano Alves headed home and competed in five PBR Brazil events before hosting his first Velocity Tour event stateside in Allen, Texas, last weekend.
Alves went 14-for-21 (66.66 percent), but only earned world points in one event with a fifth-place finish (12.5 points) in Divinopolis.
20. Dener Barbosa
The 2016 PBR Brazil champion finished in the Top 10 at three of the four PBR Brazil events he competed in. Barbosa rode 13 of the 16 bulls he attempted.
21. Guilherme Marchi
The 2008 World Champion was 11-for-15 (73.33 percent) in five PBR Brazil events this summer. Marchi's best finish was a second-place showing at the Americana qualifying event for Brazil's Iron Cowboy competition.
22. Ryan Dirteater
The 2016 PBR World Finals event winner competed in only three summer events. Dirteater went 5-for-6 at the prestigious Calgary Stampede in his last competition.
Dirteater also held his annual Roping for Wishes team roping competition Friday night in Tulsa.
23. Luciano de Castro
The 2015 PBR Brazil champion was 7-for-8 in three PBR Brazil events before he injured his groin in early July. Castro has since informed PBR.com his groin injury has healed with a month off.
24. Stetson Lawrence
Lawrence returned to competition on July 21 after fracturing his pelvis in Tacoma, Washington. The 28-year-old was 2-for-10, but he did finish in second-place in Livingston, Montana, last weekend with an 86.5-point ride on Sully.
25. Mike Lee
The 2004 World Champion has normally been the pillar for summer success, but this year Lee was only 11-for-33 (33.33 percent) in 12 events with two third-place finishes.
It is the first summer in six seasons that Lee has failed to win at least one TPD or Velocity Tour event.
Lee, who had to miss the last month of the BFTS first half because of a left elbow dislocation, also made the trip to Brazil for the two PBR Brazil events in Americana.
26. Gage Gay
Gay began his summer with an impressive 3-for-3 victory at the Deadwood, South Dakota, Velocity Tour event.
Gay rode Americana (88.5 points), Tequila Sunrise (86 points) and Redbone (85.5 points) to earn the victory and 80 of the 115 world points he earned this summer.
The 23-year-old was 8-for-14 (57.14 percent) in six events.
27. Brennon Eldred
Eldred pushed himself farther into the Top 35 with two of the best rides of the summer break – 91 points on Cooper Tires Brown Sugar and 90.5 points on Deep Water – during his first and third-place performances in Bismarck, North Dakota.
The rookie ended the first half ranked 35th in the world standings, but his two 90-point rides in 24 hours changed that.
Eldred then went 4-for-5 at the Calgary Stampede.
28. Troy Wilkinson
Wilkinson rallied for the 2017 PBR Australia title by getting hot at the last minute and catching some lucky breaks along the way.
After returning to Australia on May 20, Wilkinson went 10-for-20, including 2-for-3 at the PBR Australia National Finals, to finish a tight 50.83 points ahead of Aaron Kleier.
29. Koal Livingston
Livingston continues to try and ride through an unstable left shoulder (free arm) as he makes a push at qualifying for his first career World Finals.
The 19-year-old went 5-for-15 (33.33 percent) in 11 events. Livingston's best finish was a second-place showing in Rocksprings, Texas.
30. Dakota Buttar
The injury black cloud that has hung over Buttar during the first half carried over into the summer.
Buttar returned from a hyperextended elbow he sustained in April in Tacoma, Washington, for a month of the summer run before he punctured his lung on the first day of the 2017 Calgary Stampede in July attempting to ride Wyoming Storm.
The two-time Canadian Pro Rodeo Association champion then decided to take the rest of the summer off to heal up.
31. Ramon de Lima
Lima is inside the Top 35 of the standings after winning the Sterling, Colorado, Touring Pro Division event on Tuesday with an 88.5-point ride on Jaynette's Pet 2.
However, Lima is not competing in Tulsa because the draw was officially set by the PBR competition department prior to his victory vaulting him into the Top 35.
Sterling was Lima's second Touring Pro Division event win of the summer and helped him finish the summer with 205 points toward the world standings.
Lima went 16-for-29 (55.17 percent) in 15 PBR-sanctioned events in the United States.
32. Cody Rodeo Tyler
Tyler was able to maintain his Top-35 ranking this summer courtesy of a victory at the Touring Pro Division event in Thief River Falls, Minnesota.
The rookie went 2-for-2 with rides aboard Beernuts (87.5 points) and Pile Driver (86 points) in his first event with a Brazilian-style bull rope.
Tyler had decided to switch up his bull rope after dealing with a hand injury during the spring.
The 22-year-old is 5-for-13 (38.46 percent) since making the switch and added that he still has some work to do to get comfortable with the rope. He was previously riding at a 31.14-percent clip.
33. J.W. Harris
Four-time PRCA champion J.W. Harris was in jeopardy of being cut from the BFTS this summer before he headed to Australia in July.
Harris went 3-for-3 at PBR Australia's Last Cowboy Standing event to earn 80 points toward the world standings and maintain his Top 35 ranking.
The 31-year-old competed at only three other PBR events worldwide, going 0-for-5.
34. Emilio Resende
Emilio Resende dropped two spots in the world standings after competing in only three PBR Brazil summer events.
Resende went 2-for-4 and had a third-place finish at the PBR Brazil Iron Cowboy qualifying event in Americana.
35. Brady Sims
Sims has continued to rehab after undergoing surgery in April for a broken leg. The 23-year-old said on Friday night his recovery is going well, but that there still isn't a clear timetable of when doctor's will give him the all-clear to return to bull riding this year.
Sims is still holding out hope he can return in time to try and qualify for the World Finals.
Follow Justin Felisko on Twitter @jfelisko