PBR Canada: LaBeth first, Jones second in Edmonton
By : Christy Atwood
February 18, 2012
Canadian Cup Series moves to Abbotsford, British Columbia on Feb. 25 and 25.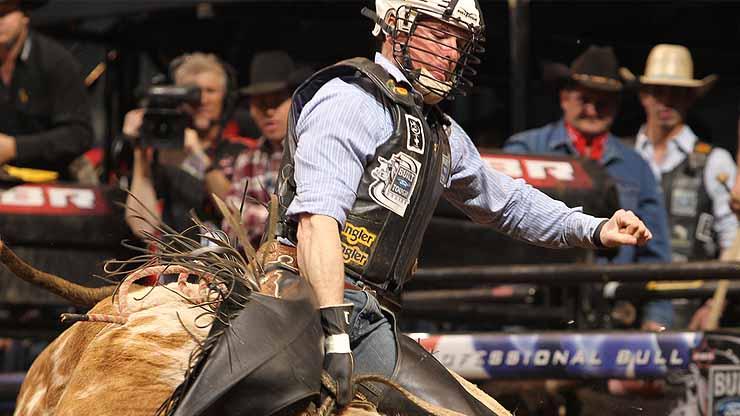 EDMONTON, Alberta - On the next-to-last ride of the weekend, the crowd went wild for Dusty LaBeth, who rode Pop Evil (Big Stone Rodeo) for the highest score of the Edmonton Invitational at 89 points. LaBeth finished the night with 175 points to take home the event win and $7,675. In Round 1, he took the option for a re-ride after his out on Friends Off, and scored 86 points on Kicking Stones (Eno/Kubinchak).

Fans got to see the dancing Australian Ben Jones do his famous jig twice in Edmonton. Jones rode Shot in the Dark (Bar UT Bucking Bulls) for 84.5 points in the long round, and earned the second-highest score of the night at 88.5 points when he made the whistle on Fig Jam (Vold Rodeo). Jones earned $4,500 qualifier dollars for his win.

Third place went to Devon Mezei for his ride on Suttsy (Braithwaite Ranches). The pair won the round with 87.5 points. Bucking off his short-go bull, Josh Ehlers came in fourth after earning 85.5 points for making the whistle on Bad to the Bone (Braithwaite Ranches). Rounding out the Top 5 was Stetson Lawrence who rode for 85 points on Kin Deadly (Vold Rodeo).

Stock Director Jason Davidson said he was impressed with Pop Evil's first trip at the Canadian Cup Series, but admits that the bull of the night was two-time bull of the year VJV Slash (Vold Rodeo) who was scored at 45 points for his out with Chad Besplug, whom he bucked off in 1.94 seconds.

The PBR Canadian Cup Series will travel west next weekend to Abbotsford for the Abbotsford Invitational on Feb. 24 and 25. Abbotsford is the last stop of a three-week stretch of the tour that included stops in Winnipeg and tonight's event in Edmonton.

2012 Edmonton Invitational Event Standings
1. Dusty LaBeth 175 $7,675
2. Ben Jones 173 $4,500
3. Devon Mezei 87.5 $4,500
4. Josh Ehlers 85.5 $4,500
5. Stetson Lawrence 85 $2,800
6. Tyler Pankewitz 84.5
7. Chad Besplug 84.5
8. Scott Schiffner 84
9. Budd Williamson 84
10. Markus Mariluch 83.5
11. Jared Farley 83.5
12. Bart Miller 83.5
13. Cody Ford 83


About Professional Bull Riders (PBR) Canada: Dollars earned at Canadian events counts towards qualification to the elite PBR Canadian Cup National Finals. Upon the conclusion of the Finals, the bull rider with the most regular-season and Finals points is crowned the PBR Canadian National Champion. Money won at all Canadian events counts toward qualifying on the prestigious PBR Built Ford Tough Series (BFTS). At the end of the BFTS season, the top-ranked PBR Canada rider will compete at the PBR World Finals in Las Vegas. For more information on PBR Canada, go to www.pbrcanada.com, or follow on Facebook at www.facebook.com/pbr.canada and Twitter at http://twitter.com/PBRCanada.