Touring Pro Division results and preview, June 5
By : Jack Carnefix
June 05, 2012
Lee, McKeeman and Lawrence notch victories; Lee to headline 14th Annual Brent Thurman Memorial Saturday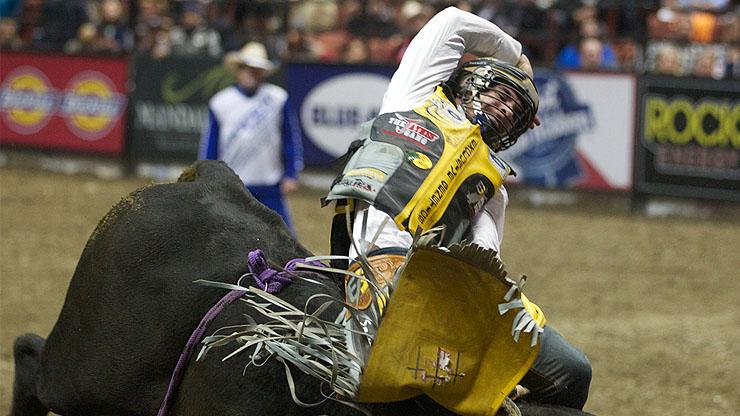 PUEBLO, Colo. - The Professional Bull Riders Touring Pro Division will be at Cowboys Dancehall in San Antonio on Saturday for the 14th Annual Brent Thurman Memorial. Proceeds from the event benefit Texas Area 13 Special Olympics and Marbridge Ranch.

Riders entered include 2004 PBR World Champion Mike Lee and fan-favorite Ben Jones, who has climbed back into the Top 25 in the Built Ford Tough Series standings after a pair of Top 4 finishes. The field also includes Top 25 riders Caleb Sanderson and Chase Outlaw as well as BFTS regulars Brendon Clark, Jarrod Craig, Kasey Hayes, Skeeter Kingsolver, Sean Willingham, and Colby Yates.

Beginning at 6:30 p.m., fans will be able to watch the Exceptional Rodeo, featuring children and adults who are affectionately known as "Brent's Kids," competing in a variety of rodeo events where the experience is more important than the result.

PBR bull riding begins at 8:30 p.m. at Cowboys Dancehall. Tickets are $10 and can be purchased at Cowboys Dancehall. For more information, visit www.BrentThurman.com and www.CowboysDanceHall.com.

Thurman competed professionally from 1989-94 and qualified for the National Finals Rodeo in 1993 and 1994. He finished fifth at the NFR in 1993 and was 13th in the world in 1994. Four seconds into his 10th and final ride at the 1994 NFR, Thurman was bucked off, became tangled in his rigging, and fell beneath the bull's hooves. He never regained consciousness. The PBR rider who earns the highest-marked ride at the Built Ford Tough World Finals receives the Brent Thurman/Lane Frost Award.

The Touring Pro Division gives riders the opportunity to compete in PBR-sanctioned events while earning money to qualify for the nationally-televised Built Ford Tough Series, which is comprised of the Top 35 bull riders in the world. Every five events on the BFTS, the Top 5 riders (based on money earned) from the TPD are allowed to move into the BFTS.

Professional Bull Riders Touring Pro Division Event Results:

June 2 at Phillipsburg, Kan.
Final Results (Round 1-Round 2-Total Points)
1. Mike Lee, 85-85-170 points.
2. Kody Lostroh, 76-83-159 points.
3. Cody Tesch, 86.5-0-86.5 points.
Jake Booco, 86.5-0-86.5 points.

June 2 at Asheville, N.C.
Final Results (Round 1-Round 2-Total Points)
1. Rooster McKeeman, 78-82-160 points.
2. Ben Jones, 89-0-89 points.
3. Skeeter Kingsolver, 87.5-0-87.5 points.
Austin Meier, 87.5-0-87.5 points.

May 31 at Asquith, Saskatchewan
Final Results (Round 1-Round 2-Total Points)
1. Stetson Lawrence, 81-91-172 points.
2. Aaron Roy, 81.5-89.5-171 points.
3. Ty Pozzobon, 85.5-83.5-169 points.