The Morning Line - Chicago Round 2
By : Slade Long
January 13, 2019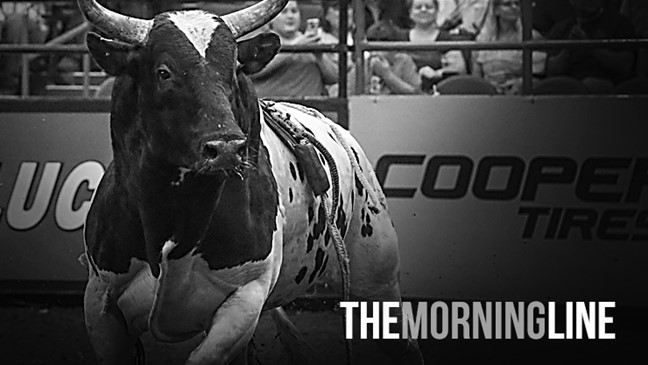 Colten Jesse on 48 Ol' Boy:
Jesse was 85.75 points in Round 1, and he's set up to be a lot more than that here. This is not a well-known bull, but he's one of the best bulls available in this round, particularly for a lefty. Ol' Boy shows well, he's bucky, reasonably honest, and he's good enough to deliver a round win. He's the kind of bull riders want to draw every time.
Lonnie West on 247 Red Dawn:
West bucked off in Round 1 and he was 1-for-3 in New York, but he could turn things around here. Red Dawn is a fantastic draw. He's the prototypical long round performer at this level. There's nothing about him that riders don't love, but he's salty enough to win most of his matches.
Ramon de Lima on 60-3 Inferno:
Lima rode this bull in Nashville last season. If he can do it again here, he will be 2-for-2 going into the short round. Inferno has been around for a long time, and he's long been a good draw for lefties. His best tool is speed, and he can get going pretty fast.
Tanner Byrne on +219 Blue Stone:
This will be two Canadians going at it in the Windy City. Before Blue Stone moved south, Byrne rode him twice; once at the 2015 Calgary Stampede, and once at the 2015 PBR Canada Finals. Blue Stone is one of the best draws in the business, especially for right-handed riders. He's been to the World Finals twice and carried riders to the pay window both times.
Cody Teel on 125 Catfish John:
Catfish John is a well-known veteran bull and a great draw for a right-handed rider. He had a terrible out last night, but the reason for that was they didn't get him flanked. Teel has faced him once before and he ended up with a reride option, but although this bull may be on the down slope of his career he is still potentially the best draw in the round for a righty. Teel got a score in Round 1, and he's almost certain to get another one here.
Eduardo Aparecido on 412 Canadian Fire:
Cooper Davis was 87 points on this bull last night, and Aparecido shouldn't have a problem picking up a second score here. Canadian Fire isn't a pushover, but he's well within Aparecido's ability.
Paulo Lima on B60 Handsome Jeff:
Lima has been on this bull twice with no success, but he still has a shot. Handsome Jeff is a decent draw for any left-handed rider. He's 9-8 against them. He cost Chandler Bownds the win in the WCRA rodeo here Friday Night.
Jose Vitor Leme on CM387 Call the Law:
Leme all day here. This is a good bull with a respectable record. He's capable of throwing off top riders, but Leme should win this match easily and cruise to the short round 2-for-2.
Matt Triplett on E5 Big Black Cat:
Triplett didn't get a score in Round 1, but he has to be tickled to have this bull in Round 2. This is a rematch from the World Finals where Triplett was 88 points and placed in a round. Big Black Cat is a seasoned PBR veteran bull. He's not easy, but he's honest and gives every rider a fair chance.
Jess Lockwood on 82 Kid Fletcher:
This is a fairly new bull with only three outs to his credit, but he also has buckoffs against three very good riders. He is stepping up big time here, though. Lockwood already has a World Title and he may be riding better right now than he was when he won the world.
Chase Outlaw on 418 Lethal Larry:
Outlaw is riding way better than he ever did prior to his injury last year. One of the reasons for that is that he's really drawn well since his return. He hasn't had to go against very many high difficulty level bulls. That said, most bulls in the PBR are rideable to some extent and still manage to beat most riders. Outlaw is not just squeaking by a lot of nice bulls – he's giving them the boots and spurs and dominating them. Look for more of that here. A quick look at this bull reveals that he is a pretty nice draw for any left-handed rider, and Outlaw will probably hand him a beatdown.