The Morning Line - Chicago Round 1
By : Ted Stovin
January 12, 2019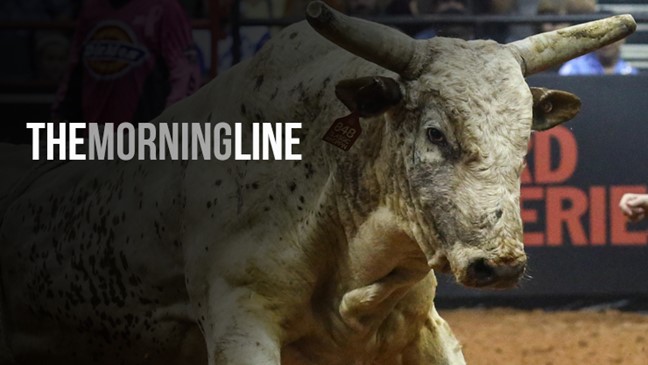 The riders looked sharp in New York, but the bulls may strike back here in Chicago. The pen of bulls will get a bump due to the addition of Chad Berger and K Bar C's herds. Between the two of them they have enough good bulls to drive bull quality way up here.
Chase Outlaw on 142 Trouble Maker:
Outlaw should have no trouble with Trouble Maker. This bull spins to the left, and he has some speed, but not much real power. He's a nice long round draw for a left-handed rider. The only difficulty he presents is in timing. He can be fast, and if Outlaw gets slightly behind, he doesn't allow for much opportunity to catch up.
Jose Vitor Leme on 442 Blue Crush:
Cody Nance was 88.5 points on this bull at the World Finals. Overall, Blue Crush is 1-2 against left-handed riders in only 11 career outs. Leme didn't have the best possible event in New York, but he still has 9 rides on his last 15 bulls. His career numbers are more than enough to win a title if he can maintain them all this year.
Cody Teel on X5 Archie:
We don't know much about this bull. He only has one career out, but that resulted in an 87.5-point score for Ezekiel Mitchell in Portland last fall. Teel hasn't been giving anything away. He's converted in every recent matchup where he's a statistical favorite, and some where he hasn't been. He should be favored here.
J.B. Mauney on 264 Ram It:
Mauney rode this bull for 88 points back in 2016. This is a serious mismatch in Mauney's favor. Ram It is one of the more rider-friendly bulls in the PBR, and he's especially weak against left-handed riders and top tier riders. Mauney is both.
Alisson de Souza on 48 Ol' Boy:
Souza rode all of his bulls in New York, and finished third. He has a good draw here. Ol' Boy is a classic style bull who puts more effort into bucking than spinning. He has a lot of up and down, and doesn't cover a lot of ground. He turns in good bull scores, and is rideable but not easy. Souza has a chance to place high in the round here if not win it.
Koal Livingston on 672 Mr. Miller:
Mr. Miller is right up there with Ram It in terms of how well riders get along with him. He's most vulnerable to right-handed riders – he's 1-5 against them. Livingston hasn't been on a roll lately, but he's due for a break and this could be it.
Cody Nance on 514 Bottoms Up:
Nance bucked off this bull in Springfield last fall, but he lasted 6.48 seconds. Bottoms Up is a fair draw, and can produce round winning scores, but he does have a respectable level of difficulty. He can move forward in the spin, or reverse his spin. Nance has an opportunity for a big score here, but he will have to do the work.
Dakota Buttar on 417 Real Gun:
Real Gun has been ridden three times in his last four outs, two of those by left-handed riders. Buttar didn't do anything in New York, but he may get off to a good start here.
Jess Lockwood on 145 Freak of Nature:
This bull had an off day in New York, but aside from that he's been solid and is unridden. Lockwood looked invincible in New York, and he should have some synergy with a bull called Freak of Nature, since he is a grown man who still wears child-sized clothes.
Cody Jesus on 314 Rocket Man:
Rocket Man is one of the more difficult to ride bulls out in Round 1. He should have a slight advantage in this matchup. However, he does go to the left, and Jesus is pretty good on bulls that go into his hand. This bull usually gets high marks because he is flashy, and Jesus is the kind of rider who usually gets big scores out of bulls. The odds are in favor of a buckoff here but Jesus could turn it into a round win.