Mauney accepts role as ultimate team player for Global Cup
By : Justin Felisko
January 11, 2019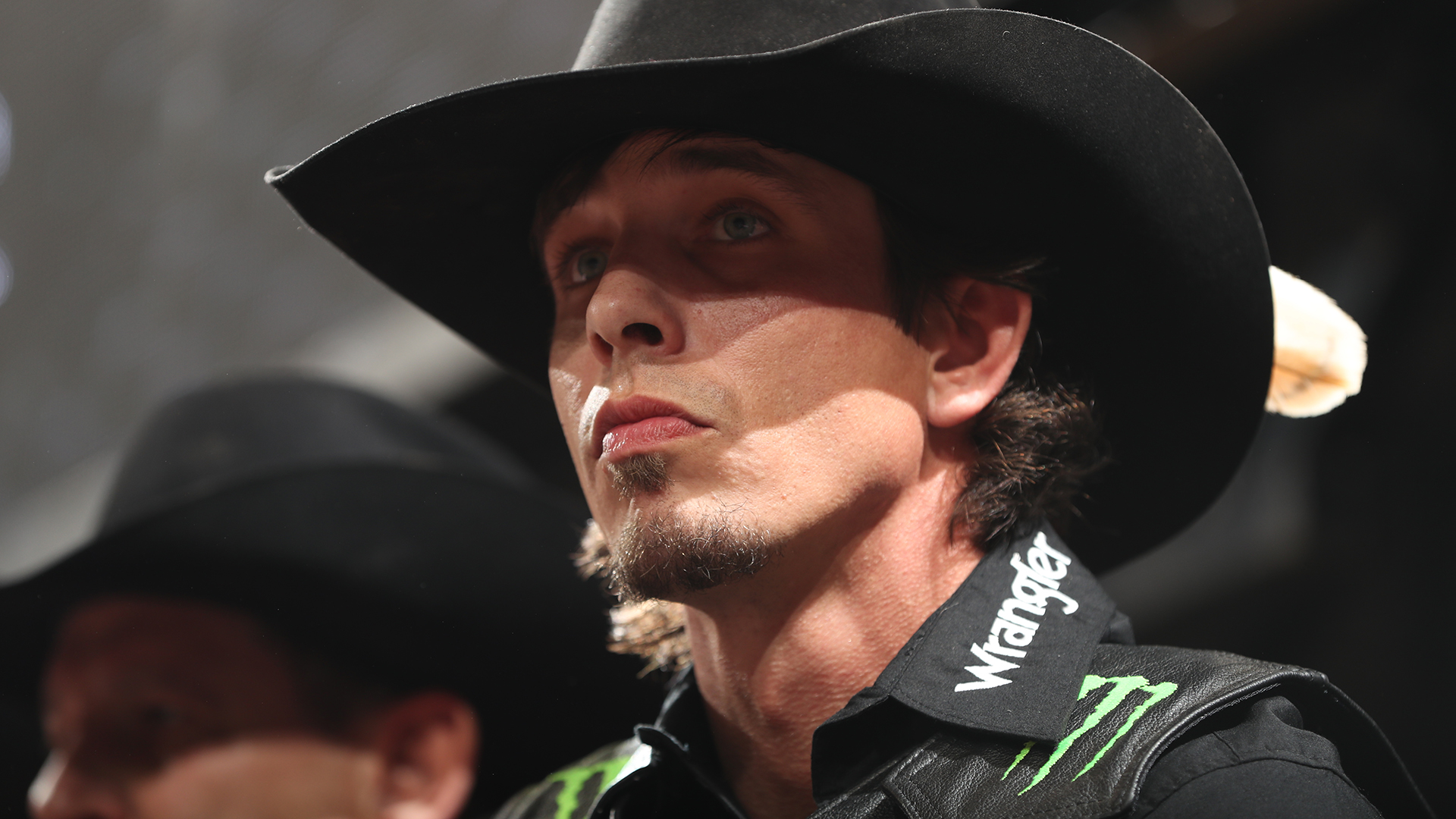 CHICAGO – Two-time World Champion Justin McBride would never want to be the coach to have to ask future Pro Football Hall of Famer and New England Patriots quarterback Tom Brady to take a seat on the bench.
However, that was the thought that crossed his mind when he pulled out his cell phone and prepared to call fellow two-time World Champion J.B. Mauney this past offseason.
McBride was still filling out his roster for the upcoming 2019 WinStar World Casino & Resort Global Cup USA and he had one final spot to consider.
Who would be his alternate?
Would Mauney, who is also riding at the WCRA Windy City Roundup on Friday night (8 p.m. ET on RidePass) accept a role as a backup rider/coach for the Team USA Eagles squad set to compete in Arlington, Texas, on Feb. 9-10?
Of course, Mauney could easily be riding in Arlington, Texas, if any of the other six Americans – 2017 World Champion Jess Lockwood, 2016 World Champion Cooper Davis, 2012 PRCA champion Cody Teel, Cody Nance, Chase Outlaw, Matt Triplett or Derek Kolbaba get hurt.
"That was an awkward conversation," McBride said last week. "One I wasn't looking forward to having. He has never been in that position. It is kind of like asking Tom Brady to be a backup and sit on the bench and coach the other guy on the field. If we need you, then we know you can do it, but help these guys win.
"That was what it was like to ask him to do that. I wanted it to be done with respect, and for him to feel that way. I didn't want it to be a slight to him, and I wanted him to do it because I know he can make those guys better."
Mauney, though, handled the request as best as McBride could have hoped for.
The richest bull rider in PBR history and future first ballot Ring of Honor inductee accepted the offer to join Team USA as an alternate rider.
Mauney, who celebrated his 32nd birthday on Wednesday, said he understood where McBride was coming from.
The 13-time PBR World Finalist would be the first to admit he was far from himself in 2018.
"He told me he wanted me in the locker room to pump those guys up," Mauney said. "I understand. I didn't make the cut on the team, but it don't matter.
"Last year, I didn't ride good enough. I was hurt most of the year. I didn't ride good enough to be on the team. For a guy like Justin McBride to call me and want me to be the alternate and sit in the locker room and make sure they are doing what they are supposed to do is a good feeling in itself."
Mauney is coming off the worst season of his career. He went 18-for-53 (33.96 percent) with two fourth-place finishes and five Top-10s in 18 events.
The Mooresville, North Carolina, cowboy missed nine events because of a torn groin and broken back, while also still struggling at times because of his surgically repaired right shoulder.
Mauney began the 2019 season 1-for-3 at the Monster Energy Buck Off at The Garden, presented by Ariat, last weekend. He rode Sling Shot for 86.25 points.
He is also one 90-point ride away from tying McBride for the second-most all time (74) and is one event win away from tying McBride for the most event wins (32) in PBR history.
McBride was happy Mauney was OK with the decision.
"He handled it really good and he got it," McBride said. "We were both on the same page and I was really glad because it easily could have went different."
One does not have to look far either to see an example of a World Champion rider serving as an alternate at the Global Cup.
2008 World Champion Guilherme Marchi was an alternate rider for Team Brazil at the Sydney Global Cup and was pivotal behind the scenes, managing the talented Brazilian squad alongside coach Renato Nunes.
"He is going to be the motivation for the other cowboys," Marchi said. "He is going to be the inspiration. The assistant to help them have more power."
Marchi said the role is not too hard to embrace when you are thinking about the betterment of the team.
"You are on a team," Marchi said. "I was part of the team and I needed to help the riders on motivation and to be able to ride strong."
Team USA Eagles captain Cooper Davis says the Eagles are going to receive a huge boost from Mauney inside the locker room, and possibly even in the arena too.
Seeing your childhood idol in the locker room wearing your jersey alongside you is quite the boost.
"That is a huge deal because J.B. is a guy that anybody on the team looked up to as a kid," Davis said. "It is really, really cool and says a lot about his character as a person. It just says a lot about him. He is one of those guys we looked up to and just to have him in our corner is pretty special."
Davis was quick to point out that Mauney could also become quiet the secret weapon.
"If somebody gets hurt we dang sure have the best guy available," Davis added. "J.B. could take any of our spots and do just as good as he always has. J.B. has always dominated. It is good to have him on the team."
Mauney last competed in a team bull riding competition at the 2009 World Cup in Brazil. He was named the Team MVP as he went 5-for-5 to lead the Americans to victory on Brazilian soil.
A year earlier, Mauney went 2-for-4 as Team USA was victorious at the World Cup in Mexico.
Mauney is turning his focus toward this weekend's WCRA Windy City Roundup – a $1 million rodeo – on Friday night in Chicago before the Chicago Invitational on Saturday and Sunday.
Fans can watch the WCRA event on RidePass Friday night at 8 p.m. ET.
Mauney shrugs when he hears people say he is past his prime.
He understands that people have a case to make, but he is not ready to concede defeat.
"They all think I am washed up so it is good," Mauney concluded. "It is going to happen. Whenever you ride bulls for 13 years, and then you start getting hurt right in a row, I would say it about people. I would tell someone to hang it up.
"I don't blame anybody for saying it. They see it and it happens, but I am not ready to let it happen yet."
Follow Justin Felisko on Twitter @jfelisko