Oliveira: 'It was time to stop'
By : Justin Felisko
January 10, 2019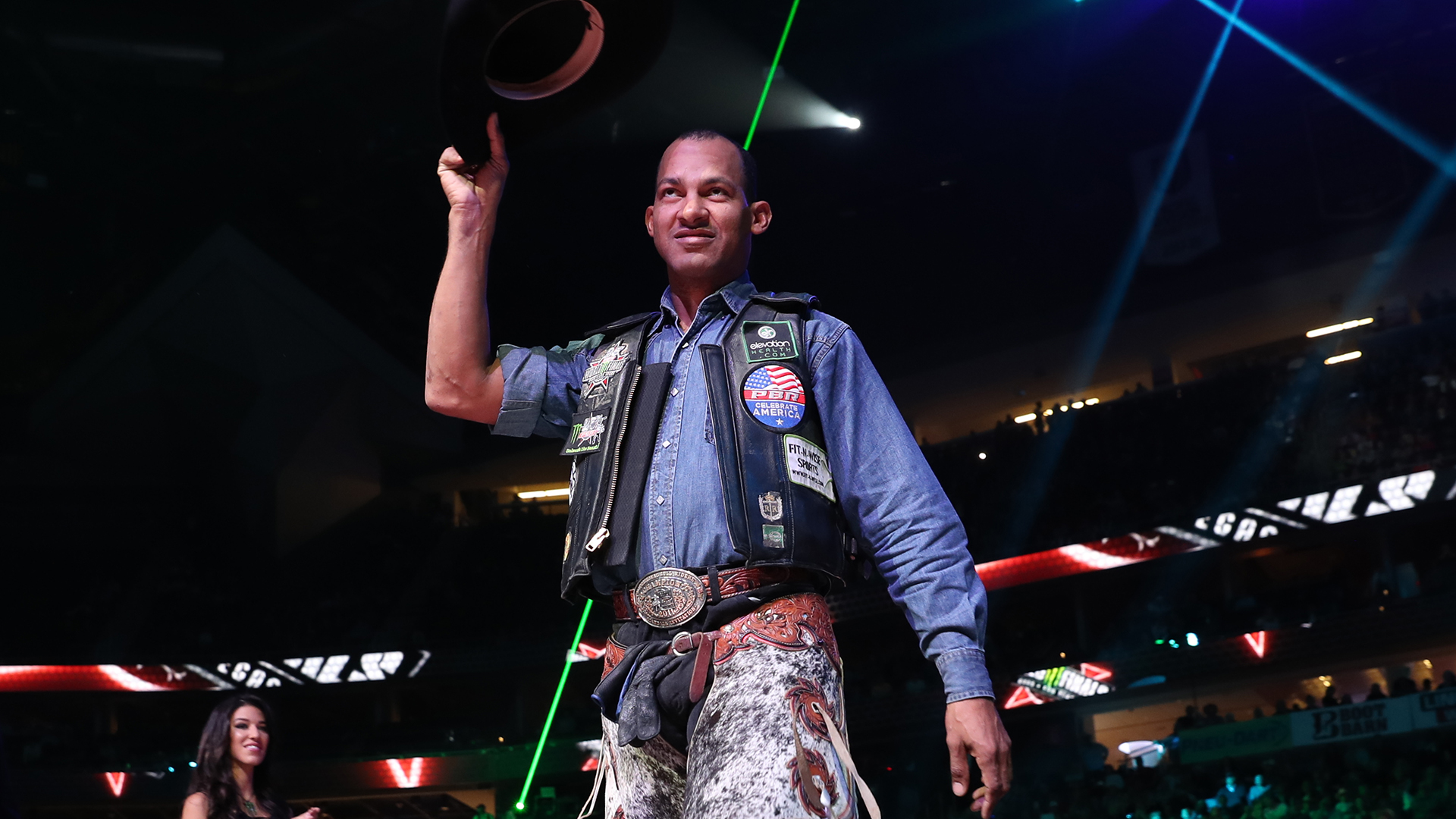 CHICAGO – Valdiron de Oliveira put his fingers to his lips and went, "Shhhhh."
The 39-year-old bull rider then smiled.
Oliveira had told a very small group of people that he would likely be retiring at the conclusion of the 2018 PBR World Finals.
The 11-time PBR World Finalist, who returned to competition last year after originally calling it a career during the 2016 PBR World Finals, confirmed to the PBR competition department before the 2019 premier series began that he would not be returning to the United States.
"During last season, I was going through some pain in my back and I felt that it was time to stop," Oliveira told PBR.com with the help of Miriaham Garcia translating in his first public comments since retiring.
Oliveira said in Las Vegas that he did not want to make a public announcement that he was debating retirement and politely turned down an interview request with PBR.com.
He was still not 100 percent sure during the 2018 PBR World Finals that he would indeed retire.
"I just didn't announce my retirement at the Finals because I had plans to return this year," Oliveira said this week.
The end of 2018 saw the end of an era in many ways with the retirements of Oliveira, 2008 World Champion Guilherme Marchi and three-time World Finals event winner Robson Palermo.
Oliveira had his farewell moment at the 2016 PBR World Finals.
It was then that Oliveira announced what he thought was his retirement.
That announcement, though, did not feel quite right as Oliveira sat sobbing in the locker room after riding Nailed for 86.5 points in the championship round.
It took one year, but Oliveira eventually changed his mind and returned to the United States in November 2017 for another pursuit of a World Championship and World Finals qualification.
RELATED: Oliveria decides to unretire
A world title was not within his grasp, but the 11-year veteran used a fast start (12-for-19) to the 2018 season to cement himself amidst the Top 35 of the world standings.
Oliveira would go on to qualify for the 2018 PBR World Finals and concluded the season ranked 20th in the world standings.
"It wasn't as hard (this time) because the first time I decided to retire I was more emotional than this time," Oliveira said.
Oliveira reached the 8-second mark 429 times in his premier series career, 23 for 90 or more points, and walked on top of the shark cage as an event winner on 12 occasions.
"Valdiron is a great rider here in the PBR," 2018 World Champion Kaique Pacheco said in 2016 with the help of Silvano Alves translating. "He has broken records. When I started to ride, I watched a lot of videos of Valdiron riding. I am proud of his career. I am very happy we rode together. My dream was to ride with all of the best cowboys in the world."
He won the Anaheim, California, 15/15 Bucking Battle with a career-high 94-point ride on Buckey.
"There is too many favorite rides," Oliveira said in 2016 when discussing his original retirement. "My favorite one, um, Buckey. I scored 94 points. I like that one too."
Oliveira made his PBR debut in 2007 at the Jack Daniel's Invitational in Nashville and won his first event in 2008 in New York.
"The first event I won in New York. I remember all of the rides," he recalled. "It was a big event – three-day event. I rode all of the rank bulls over there. People that didn't know me were surprised. 'Who is this guy? Who is this guy?' I rode perfect and rode all four bulls.
"This is what I will remember for my whole life."
Oliveira's highlight moment of his career came two seasons later when he won the Iron Cowboy title at Dallas Cowboys Stadium.
A few days before he won the $260,000 title, Oliveira had stopped at a local bank in Decatur, Texas, to see how he could get approved for a loan to purchase his current ranch.
"I rode Bones (89.5 points), and he was a strong bull too," Oliveira said. "I will never forget that."
Oliveira surpassed 50 qualified rides in his 11-year career five times and was a perennial world title contender from 2008-2012.
However, a herniated disc in his lower back forever altered his career.
In 2011, he finished second to World Champion Silvano Alves.
Oliveira was dominating the 2012 season before he injured his back and watched himself trickle down the standings and finish fourth overall.
He underwent career-threatening back surgery in 2012 in Brazil and returned to competition in 2013 following two months of rigorous rehabilitation with esteemed physical therapist Nivaldo Baldo.
He qualified for the World Finals four straight years, and then one final time in 2018, following the surgery.
Oliveira is happy to have more time to spend with his family now.
He is also focusing on achieving a new career dream.
"I want to give my kids a good life and spend lots of time with them," Oliveira said. "To really enjoy life. I also want to fulfill a long desire to have land full of cattle in my home city."
Follow Justin Felisko on Twitter @jfelisko