With third Global Cup selection under his belt, Kolbaba ready for WCRA Windy City Roundup
By : Darci Miller
January 10, 2019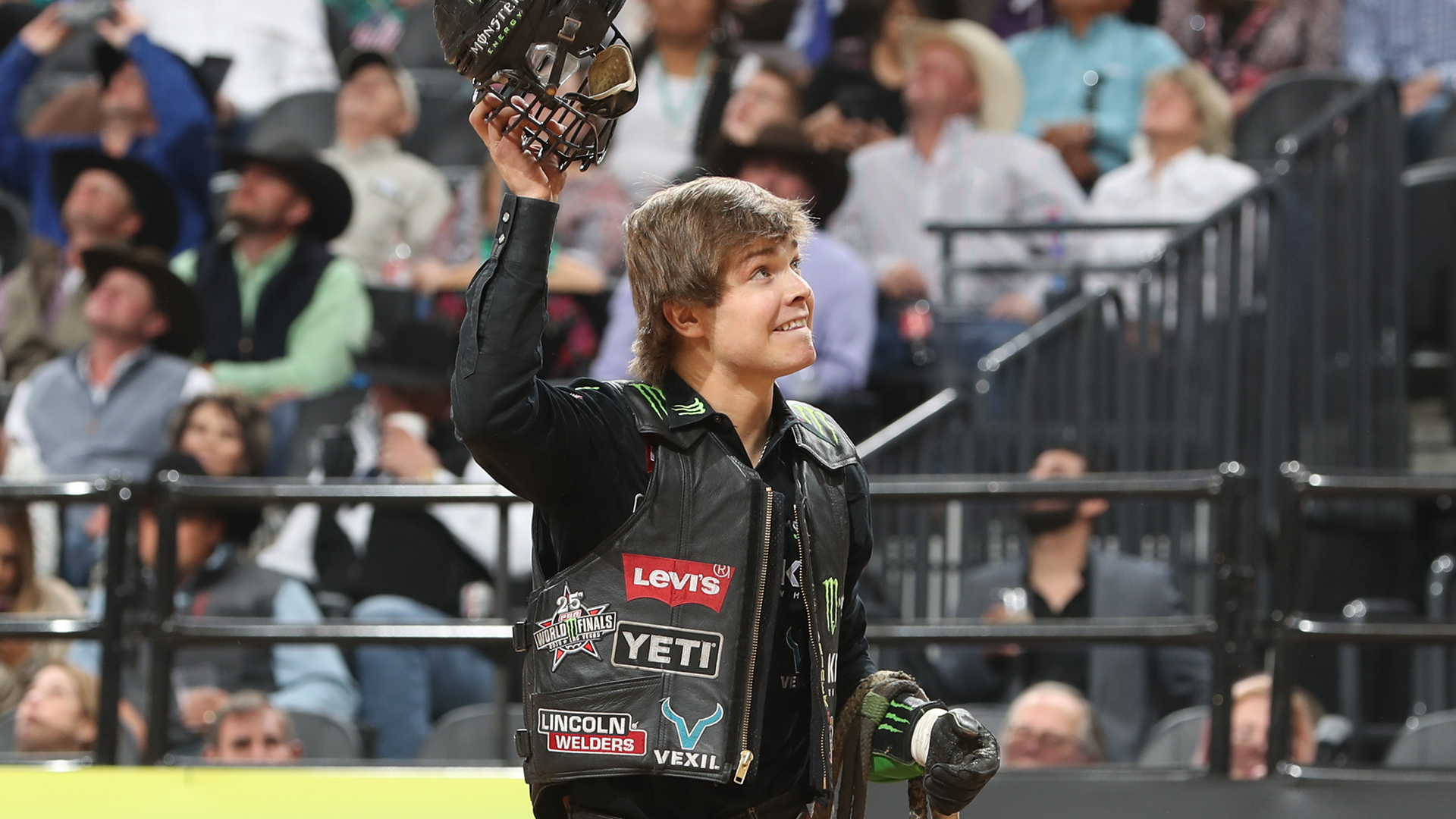 PUEBLO, Colo. – When Derek Kolbaba arrived in Edmonton, Alberta, in November 2017 for the first PBR Global Cup as a member of Team USA, he admits that he had no idea what to expect.
It took all of one out for that to change.
"Obviously we were excited, and it was an awesome experience to be a part of it. But after that first bull bucked, and the whole team was on the back of the bucking chutes and we're rooting each other on, going nuts, it kind of became surreal," Kolbaba said. "It was an experience I'll never forget."
Team USA went on to win that inaugural event, defeating teams from Australia, Brazil, Canada and Mexico. Kolbaba went 2-for-2, with – appropriately – two rides aboard Stars & Stripes for 86.5 and 86 points.
"It was the first Global Cup and everybody was so jacked up," Kolbaba said. "We kind of had some guys on the team who were last-minute fill-ins because guys had either gotten hurt or couldn't make it up there. So some people may have thought the odds were against us, but we showed up and did our job and it kind of showed."
The Walla Walla, Washington, native joined the squad again in June 2018 for the second Global Cup, held this time in Sydney. Team USA stumbled to a fourth-place finish, just one qualified ride behind champion Brazil. Kolbaba went 1-for-2.
"We made a few screw-ups and they came back to bite us in the butt there at the end," Kolbaba said. "But I think this year we'll have a little extra motivation and be coming firing on all cylinders."
Coach Justin McBride named Kolbaba to his third Team USA roster for the 2019 Winstar World Casino & Resort Global Cup USA, on Feb. 9-10 in Arlington, Texas. He will be joined by teammates Cooper Davis, Cody Nance, Chase Outlaw, Cody Teel, Jess Lockwood and J.B. Mauney.
"It's awesome. It's something I think everybody shoots to be a part of, and to be able to kind of have that under your belt is a huge accomplishment I think," Kolbaba said. "Especially if we go in there and protect our turf and come home with the trophy, I think we'll be doing pretty good."
The motivation to defend home soil is new. The motivation to ride for his country and his teammates, however, is something Kolbaba is more familiar with.
In the individual sport of bull riding, adding the team factor adds some extra incentive.
"When you're rooting for your team to do well, it's like no other experience," Kolbaba said. "It makes it that much more fun, and when you're riding for your country it puts a little more on the line.
"For one, you don't want to let yourself down, but two, you don't want to let the seven other guys that are on your team down. Which I think is good, it makes everybody rise to the occasion and get that much more excited about it."
Kolbaba finished the 2018 season ranked No. 11 in the world standings, a down year compared to his career-best year-end rank of No. 2 in 2017. But he ended the season on a high note, placing third at the 2018 PBR World Finals with a 3-for-6 showing and all three rides north of 90 points (91 on Biker Bob in Round 3, 91.75 on Smooth Wreck in Round 5 and 91 on Cochise in the championship round).
"It's just one of those things that when you're on, you're on, and when you're off, you're off," Kolbaba said. "And if there's one place to be on, it'd be the World Finals."
A performance like that would be a confidence-booster for anyone, and Kolbaba's goal is to carry that momentum into 2019.
He struggled a bit in his first attempt at the season-opening Unleash The Beast event in New York City last weekend, going 1-for-3 with a 78.25-point ride on Wiz Train the only time he made the 8 seconds.
"That's just kind of the way it goes sometimes," Kolbaba said. "Every day is a new day, and it doesn't really matter what happened yesterday or what's going to happen tomorrow. It's all about today. And I think that's kind of the mentality you have to have.
"If you're not confident and believe in yourself, nobody else is going to, and it's going to carry into the arena."
He'll hope to turn his fortunes around in Chicago, where he'll be competing at the WCRA Windy City Roundup on Friday before the Chicago Invitational.
Fans can watch the Windy City Roundup on RidePass at 8 p.m. ET.
For Kolbaba, the opportunity to rodeo during the PBR season is one he couldn't pass up.
"That'll be a pretty neat event," Kolbaba said. "It's a $1 million, one-day rodeo so there's a lot up for grabs, and I'm excited. I think those are great events to kind of push rodeo to that next level and give an opportunity for those guys to have a shot at that kind of money in a day. So I think it'll be a great event."
Kolbaba hits the rodeo trail pretty hard during the premier series summer break, and it's something he says he could never give up.
"It's a little more old school, a little more laid-back," Kolbaba said. "I couldn't ever not rodeo, because it's just fun to be able to load up in a truck and go rodeo for a month or two. And you get to see so many different people and so many different arenas, and just whatever makes that little arena or rodeo committee kind of separate themselves from everybody else.
"I damn sure probably couldn't give up the PBR for rodeoing, but I definitely enjoy being able to go hit some rodeos throughout the summer."
At the Windy City Roundup, Kolbaba will be competing against three-time World Champion Silvano Alves, two-time World Champion Mauney, Claudio Montanha Jr., Joao Ricardo Vieira, Chance Schott and Chandler Bownds.
Fabiano Vieira has not decided if he will compete because of his dislocated shoulder.
Kolbaba earned his placement by virtue of his gold-medal win at the Days of '47 Cowboy Games & Rodeo in Salt Lake City in July.
While he's looking forward to both returning to his rodeo roots and defending his home turf at the Global Cup, Kolbaba is still focused on one thing: winning that first World Championship.
"I want to win a world title," he said of his goal for the season. "That's what everybody's here to do, and I think if that's not your goal, then you're kind of showing up for the wrong reason.
"That's my goal, but for now we're just going to take it day by day and bull by bull. I just want to ride more bulls than anybody else, and I think that'll put you right where you need to be if you can do that."