Eguchi wins 2018 PBR World Finals
By : Justin Felisko
November 11, 2018
Marco Eguchi went 5-for-6 to win the 2018 PBR World Finals at T-Mobile Arena. Eguchi's $372,000 payday is more than he won in the previous four seasons combined.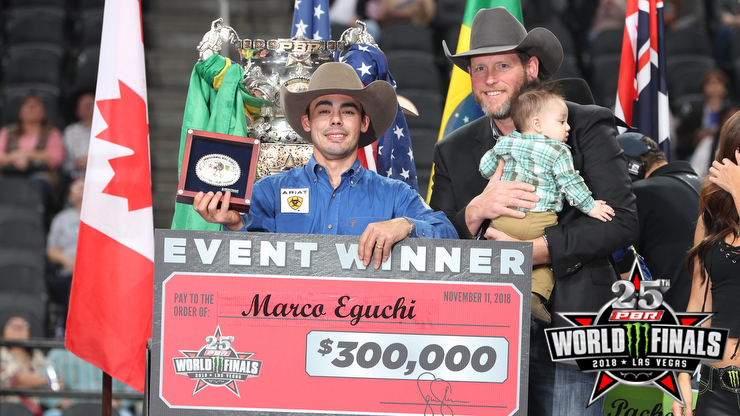 LAS VEGAS – Marco Eguchi believes that one impressive event cannot be a sign of future things to come, but the 29-year-old certainly now understands how one event can forever change a bull rider's life.
Eguchi went 5-for-6 to win the 2018 PBR World Finals this week and left T-Mobile Arena on Sunday afternoon with a career-high $372,000.
"It's an amazing sensation," Eguchi said. "We train hard for this kind of competition, to do this at the Finals. I feel great."
Eguchi clinched the World Finals event victory on Sunday when Chase Outlaw bucked off Heartbreak Kid in 3.67 seconds in the championship round.
Both riders headed into the final round of competition a perfect 5-for-5.
Eguchi's fifth ride came aboard Lightning Before Thunder. The 84.75-point ride was his lowest of the weekend, but the ride was far from easy.
Lightning Before Thunder started off spinning into Eguchi's right hand before changing direction and fading backward for the final three seconds.
"Today when I put my bull rope on him, L.J. (Jenkins) said he was just not (a spinner to) the right," Eguchi said. "I knew he could go the other way. I tried to be patient and tried to be alert and I get one more done."
The ride proved extremely valuable as Outlaw answered Eguchi's ride with an 85.75-point effort on Hangman.
Therefore, Eguchi remained 10.75 points ahead of Outlaw in the aggregate prior to their buckoffs in the championship round.
Eguchi was bucked off by Legit in 4.32 seconds. Legit was marked 46.5 points to tie with Hocus Pocus for the 2018 Bull of the Finals event title.
Rounding out the Top 5 at the World Finals behind Eguchi was 2017 Rookie of the Year Jose Vitor Leme (4-for-6, 1,230 world points), Outlaw (5-for-6, 845 world points), Derek Kolbaba (3-for-6, 845 world points) and Matt Triplett (4-for-6, 787.5 world points).
Leme finished ahead of Outlaw in the event standings because of his 93.5-point ride on SweetPro's Bruiser in the championship round, which gave Leme the round win and 300 world points.
Bruiser was marked 45.75 points and beat out Smooth Operator for the 2018 World Champion Bull title with a World Champion average of 46.08 points.
Eguchi earned 2,050 world points at the Finals to conclude the season No. 5 in the world standings. He began the Finals ranked 20th.
2018 World Champion Kaique Pacheco tipped his hat to Eguchi.
"He rode really good," Pacheco said with the help of Miriaham Garcia translating. "I am very happy for him. I am very happy he rode really good at this event. He deserved it."
Three-time World Champion Silvano Alves congratulated Marco Eguchi on his victory.
Pacheco and Eguchi would sometimes train at Alves ranch together.
"This is good for him because he had a couple hard years – two, three years that he did not ride very well," Alves said. "This is part of the sport. I am very happy. He is a good guy. I like him. He is friendly. All the time he stays and helps us. He is a great rider. He is one of the best riders in the PBR. Sometimes this happens. Sometimes you are at the top. Sometimes you go down.
"But he never had a doubt. He tried hard at every single bull, every single week."
The Poa, Brazil, bull rider won more this week ($372,000) in five days than he did in the previous four seasons combined ($364,829.51).
Eguchi came out firing on all cylinders this week.
He began the World Finals with 85.5 points on Velocity before erupting with back-to-back 90-point rides in Rounds 2 and 3.
The seventh-year pro set a career high by riding Spotted Demon for 94 points in Round 2 and came back the next evening with 91 points on Stuntman Ray.
Eguchi had to clear the PBR's concussion protocol prior to Round 3 after he was knocked out Thursday night when Spotted Demon caught Eguchi in the left cheek with his horn.
RELATED: Eguchi pays the price during 94-point ride on Spotted Demon
Even on Sunday Eguchi's face still had a gash from the West Coast bovine athlete.
"Actually, I remember before and after, but not during the ride," Eguchi said. "I have watched it."
Eguchi had not eclipsed the 90-point ride in four years prior to this week.
In Round 4, Eguchi rode Big Benny for 86.25 points.
Eguchi said earlier in the week that losing 10 pounds during the second half proved valuable in his march to the World Finals event title.
Now he joins 2015 World Finals event winner Cooper Davis, who lost 24 pounds in the second half of 2015, as one of 21 different riders to win the World Finals.
Eguchi had never finished the Finals inside the Top 12.
"This is a great Finals," he said. "I tried to be consistent on every bull. This is a win."
Can this be the beginning of career Eguchi resurgence in 2019?
"You're not going to change in one event," Eguchi concluded. "You have to build it step-by-step. It's just sometimes that happens consecutively."
Follow Justin Felisko on Twitter @jfelisko