SweetPro's Bruiser wins 2018 World Champion Bull title
By : Justin Felisko
November 11, 2018
SweetPro's Bruiser joins Little Yellow Jacket and Bushwacker as the only three-time World Champion Bulls in PBR history.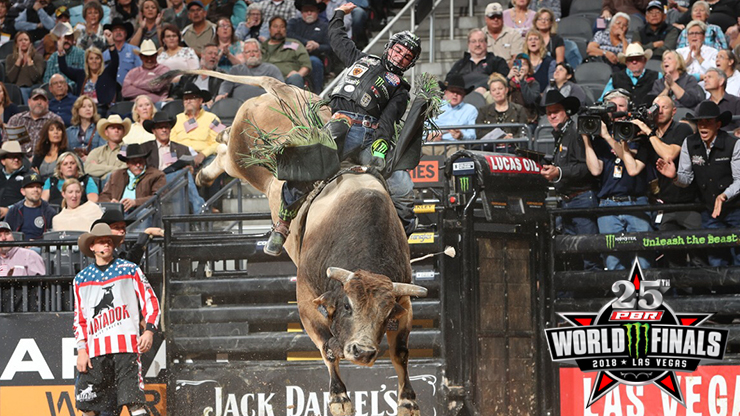 LAS VEGAS – H.D. Page could not hide his nerves this week in Las Vegas.
For the first time in SweetPro's Bruiser's career, the star-studded bovine arrived for the PBR World Finals with plenty of question marks after not bucking at all in competition for the past four months.
Page believed Bruiser was ready publicly, but inside he sure was a little anxious.
That was until Bruiser was loaded into the bucking chute on Thursday night.
Bruiser was standing at full attention, intently looking forward, chest puffed out and his ears pointed forward.
It was game time, and Bruiser was ready.
"He was zoned in and ready to go," Page said. "He was ready, so the nerves were gone."
Bruiser then dispatched of Francisco Garcia Torres in a brief 3.35 seconds.
The 7-year-old was marked only 44.75 points, but the out showed enough promise to Page that he knew his bull had what it took to win a third consecutive World Championship on Championship Sunday.
"At first, I was nervous leading up because we have had some issues with his stifle and he had a little fluid on his back that we drained out," Page said. "I was pretty nervous leading up to it. I bucked him a couple of times (at home) before we got here, and he bucked really good.
"When we loaded him the other night, the nerves were gone and he trotted up there ready."
Bruiser was then back to doing what he does best on Sunday afternoon as he clinched his third consecutive World Championship with a 45.75-point bull score.
Bruiser shared the spotlight with Jose Vitor Leme as the two combined for a championship round-winning 93.5 points.
"I can breathe," Page said after receiving the World Champion Bull belt buckle on the shark cage. "It's special."
Page knew his bull was going to strike a match with Leme and create fireworks if he stuck to his norm of bucking strong to the left.
"I knew that if Bruiser went left too long, he wouldn't have a chance to buck him off," Page said. "That guy's too good, but I was tickled to death with Bruiser. He worked it out, bucked hard and kicked."
Leme was extremely appreciative of getting the opportunity to square off against Bruiser in the championship round.
The 22-year-old brushed off the frustration of costing himself a shot at the 2018 world title by bucking off Frequent Flyer in 5.97 seconds, and instead honed in on making a memorable ride with Bruiser.
"It was certainly a dream to ride Bruiser," Leme said. "I do not think there is a better place than Vegas for that to happen. I'm really happy for 93.5."
With all the questions surrounding Bruiser for the last four months, the bovine once again leaves Las Vegas on top of the world.
Bruiser beat out Smooth Operator (45.70) for the World Championship and $100,000 bonus with a 46.08 World Champion Bull average.
"He's just a great bull, and hats off to the Page family," reigning Stock Contractor of the Year Chad Berger said.
Bruiser concludes 2018 8-4 on the PBR premier series with an average bull score of 45.83 points. Riders averaged 92.06 points with Bruiser in 2018.
The future Brand of Honor recipient joins Little Yellow Jacket and Bushwacker as the only three-time World Champion Bulls in PBR history.
Little Yellow Jacket and Bruiser are the only bulls to win three consecutively.
"Bruiser is an all-time great, and if he didn't win it he still would have been an all-time great," PBR Director of Livestock Cody Lambert said. "He has never been as rank as Bushwacker, but Bushwacker was never as good as Bruiser."
Bushwacker's owner Julio Moreno offered his congratulations to D&H Cattle Company.
"He is a great bull," Moreno said. "You can't take that from him. I love the way he bucks. I aim to try and get the bulls that buck like that. He is a great bull."
D&H Cattle Company took a cautious approach with Bruiser and allowed the bull to take as much time off as he needed before bringing him back to competition.
Now for the third consecutive year they leave Las Vegas on top of the world.
"We've had some issues with his back and stifle and that, and he just don't let up," Page said. "It doesn't matter. Whenever you need him to come through he's going to do it."
Follow Justin Felisko on Twitter @jfelisko