Legit and Hocus Pocus split 2018 Bull of the Finals title
By : Justin Felisko
November 11, 2018
Legit and Hocus Pocus stole the limelight from the normal cast of characters to split the 2018 Bull of the Finals event title at the 2018 PBR World Finals.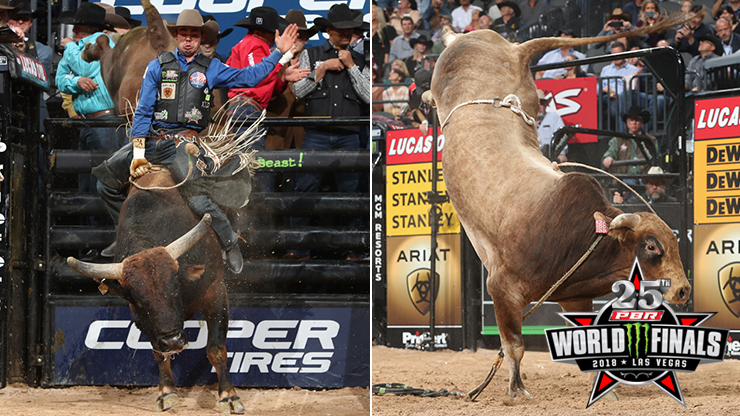 LAS VEGAS – It did not take long for two relatively unknown – and different – bulls to quickly catch the attention of all of those inside T-Mobile Arena this week at the 2018 PBR World Finals.
The first moment came in Round 1 when Hocus Pocus used a quick combo of speed and power to dispatch two-time World Champion J.B. Mauney in only 1.8 seconds for a 45.5-point score.
One night later, Legit stole the show from the 2018 World Champion bull contenders in the rank Round 2 bull pen by erupting for a 46-point bull score, bucking off Luis Blanco in 2.36 seconds.
The two flashes of talent were not flukes.
Instead, they were signs of things to come for the two bulls that eventually tied for the 2018 Bull of the Finals event title and $25,000.
Hocus Pocus posted the best score out of any bull at the 2018 World Finals with a stunning display of speed, kick and power in Round 4 against Matt Triplett.
The 3-year-old earned himself the 2018 ABBI Classic Championship, as well as the 2018 ABBI Bull of the Finals title, on Saturday night when he completely brought the hammer against Triplett, who eventually won a challenge saying he did not nod for the gate.
Hocus Pocus won $200,000 in the ABBI competition, and split the $25,000 Bull of the Finals payout with Legit.
"He is pretty awesome," Page said. "He is just a 3-year-old and I was nervous about how he would respond to the bright lights and all the bangs and sound, the atmosphere that comes along with coming to Vegas. He handled it all in stride."
Hocus Pocus has made a remarkable comeback from a broken elbow and torn tendon in February 2017, just before he turned 2 years old. There was doubt if he would ever compete again, let alone go out and win the ABBI title and Bull of the Finals.   
Not only did Hocus Pocus pack an explosion out of the chute again against Triplett, but in Round 4 he brought a tremendous amount of kick for a 47-point score – the highest bull score of any bull at the 2018 World Finals.
"He is all there," Triplett said. "I really wanted that bull. I think he would fit me to a T. He blows up. He is right in the door to the right. You have to give that bull credit. That bull is all there. If I get the chance or opportunity to get him, I am going to pick him every day. That bull is awesome and I think we could fit like a glove."
If Hocus Pocus is more speed, kick and somewhat friendliness, then Legit brought size, power and nastiness to the arena.
Legit then disposed of the red-hot 2018 World Finals event winner Marco Eguchi in 4.32 seconds by using a belly roll and change of direction on the final out of the season.
Legit earned a 46.5-point bull score to tie with Hocus Pocus atop the standings.
"I'm beyond words, and to have my dad (Gary) here getting the Ring of Honor the same week, it was a dream coming into the week," Judd Leffew said. "To have my family here, and to raise that bull – it means a lot more when you raise one."
Leffew recently sold a portion of Legit to Berger and his partners.
"That bull's got everything you want in a bucking bull, especially a Bull-of-the-Year-candidate kind of bull," Berger said. "He's big, he's mean, he's scary, he bucks hard, and he's won half the battle just when they're putting the rope on him because they know he's scary.
"That's what I liked about him so much. Hopefully we can come back next year and got us a contender."
Blanco admitted after Round 1 that there was certainly an intimidation factor in the bucking chute with Legit.
"You feel that power," Blanco said. "When you're in the chute, that bull tries to intimidate you because he is so big. He shows you his power. He is really strong."
Leffew said there were plenty of times at home in California when Legit was a handful, tearing up panels and causing a ruckus.
Yet when it was time to compete, Legit was always ready.
"The thing about Legit is the brighter the lights, the more he shows off," Leffew said. "He started off at Salinas with Marco at our first PBR this summer and bucked him off, so that was the first test."
Regardless of personality, one thing is for sure about the two bovine athletes.
Neither provided an easy task to their challengers in T-Mobile Arena, and both left a lasting impression on their opposing stock contractors.
"He's a big, rank bull," Page said of Legit. "Really, really great bull. They're two different kind of bulls but they're both special athletes."
Berger added, "What a great little bull. And the story behind Hocus Pocus. He's not supposed to even be here, and to be that great, he's a miracle bull."
Follow Justin Felisko on Twitter @jfelisko