Pacheco achieves childhood dream and wins emotional World Championship
By : Justin Felisko
November 13, 2018
World leader Kaique Pacheco faced the biggest obstacle of his career when he tore his left MCL/PCL just three days before the 2018 PBR World Finals. Regardless, Pacheco committed himself to physical therapy and would not waver in his march to a World Championship.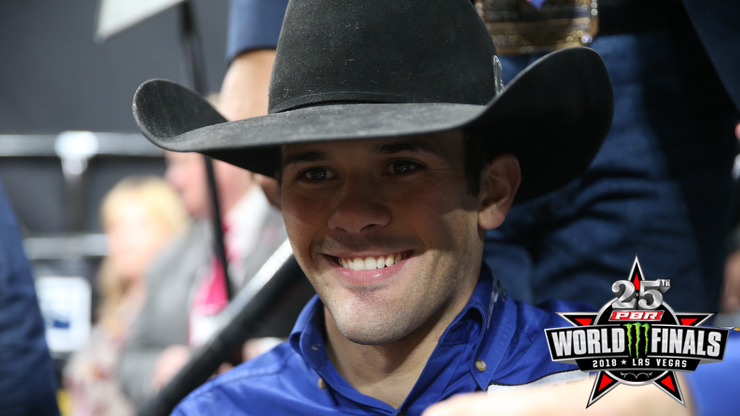 LAS VEGAS – Kaique Pacheco put his still trembling hands around the PBR World Championship trophy, draped in both Brazilian and American flags, as he was introduced to the T-Mobile Arena crowd as the 2018 World Champion on Sunday afternoon.
It took Pacheco – a slow and battered Pacheco – a couple of minutes to limp his way from the PBR Sports Medicine room to the center of the arena as the pain in his mauled left knee had only gotten worse and worse with each bull he attempted during the grueling five days of competition at the 2018 PBR World Finals.
Since he was a little boy in Itatiba, Brazil, Pacheco had dreamed of this moment.
The pain was never going to stop him from riding in Las Vegas.
There was never a question.
Eight days earlier, Pacheco had torn his left PCL and MCL at the 2018 Real Time Pain Relief Velocity Tour Finals.
It appeared as if Pacheco would be on his way to another crushing World Championship shortcoming.
That doubt even creeped into Pacheco's own mind, the 24-year-old would later admit late on Sunday evening.
Therefore, as Pacheco stood there holding that silver and gold trophy in his hands, the Ice Man finally broke down.
Three years of heartbreak, seven long, restless nights at the Park MGM Hotel and Casino as he struggled to sleep because of the radiating pain in his knee, nearly 40 hours of treatment and the realization of a lifelong dream all overcame him.
He was the World Champion.
"It wasn't easy this year. I started the season injured and then I picked back up halfway through," Pacheco said with the help of Paulo Crimber translating. "I had been working hard and this past weekend I got that injury coming into the World Finals. With that big injury, this wasn't easy. I just want to thank God for blessing me and help me go through with so much heart and hard work. Here it is. It paid off."
Pacheco sat in the locker room by himself an hour after being crowned a World Champion.
A pair of crutches was waiting for him.
His family was outside the locker room ready to go celebrate.
The journey to a World Championship had finally happened.
He could smile.
And yes, the Ice Man was indeed human and showed emotion.
"I'm really happy just because, again, it's been a dream since I was a kid," Pacheco said shaking his head in disbelief with Miriaham Garcia translating. "I wanted to come over to the U.S. and ride and be in the middle of the greatest bull riders and greatest bulls in the world in the PBR.
"Just to be able to come over, and to be here tonight and to be a World Champion, it's just a big dream come true. I'm really happy. I don't know how to explain how happy and emotional I am to have that under my belt now."
LONG NIGHTS AND EARLY MORNINGS
It was an 8 a.m. on Sunday morning when Pacheco lowered his head and winced as Jim Bui, an athletic trainer for Fit-N-Wise Rehabilitation and Performance Center, looked at the world No. 1 bull rider's left knee in room 101 on the fifth floor of the Park MGM Hotel and Casino.
"Is that where it hurts?" Bui asked.
Pacheco, biting his lip, nodded.
Bui was checking on the region around Pacheco's torn MCL. That was the area where Pacheco was feeling the most pain and struggling with in Las Vegas.
Pacheco's health had quickly deteriorated after beginning the World Finals with two qualified rides (87.25 points on Rugby and 88.25 points on Smooth Wreck).
The fourth-year pro had felt a sharp pain when he tried to move up on his rope during his 3.81-second buckoff against Finning Milky Chance in the fourth round on Friday night.
Pacheco would only receive one treatment session from Bui Sunday, seeing as the final rounds of competition began at 1 p.m.
However, Pacheco and Bui had been doing three treatment sessions a day.
Pacheco was receiving constant treatment from the PBR Sports Medicine Team (Director Rich Blyn, Dr. Tandy Freeman and their staff) at T-Mobile Arena before each round, during the competition and then post-event.
It was easily over five hours of treatment a day combined.
Bui was using a cold laser on Pacheco's knee when asked if he was surprised that Pacheco could be less than a day away from becoming a World Champion.
"Yes and no," Bui said. "I knew he had it in him. That's the thing. I knew he's on a mission. I knew that he had it in him. But I'm surprised at how his swelling hasn't blown up. That was the main thing. He's been able to take care of it. Take care of business. Do what he needs to do, and not go around town jacking around, getting to do all the fun stuff right now.
"It's all business for him right now."
Pacheco would undergo a round of treatment consisting of electric stimulation therapy with a hot pad, ultrasound therapy (only before events, not after), cold laser therapy, manual massages, NormaTec pulse recovery boots and then Game Ready cold compression.
The sessions would take up to an hour at a time.
The reality was, according to Blyn, that there was not much anyone could do for Pacheco.
Pacheco would have needed 12 weeks to recover with his knee in a locked brace in any other situation, according to Dr. Tandy Freeman, but Pacheco refused to sit out with a world title on the line.
There is also the possibility that Pacheco may need surgery now.
Blyn was in attendance at the Real Time Pain Relief Velocity Tour Finals when Pacheco injured his knee during his 7.9-second buckoff against Fly Over.
He quickly headed to the medical tent to join Doug Olle – the Velocity Tour's lead medical director – and got to work looking at Pacheco's knee.
Blyn knew it was not good.
He immediately sent a note to Dr. Tandy Freeman and plans were made to get Pacheco an MRI on Monday afternoon.
Time was of the essence with the World Finals three days away.
When the MRI confirmed the torn ligaments, Blyn worked on getting Pacheco fitted for a brace and had one ordered and shipped overnight.
The brace, and a strong tape job by Blyn, helped Pacheco even land on his feet without crumbling to the ground in pain following his second-round ride.
Pacheco would arrive at T-Mobile Arena every day about three hours before each round of competition.
Blyn would use electric stimulation, massages, heating pads and ice to try and limit Pacheco's swelling.
Following pre-event introductions, Pacheco would eventually get further treatment from Blyn and Dr. Freeman before competing.
Blyn had been skeptical that Pacheco would be able to overcome the serious injury and win a world title.
Pacheco began to show him otherwise earlier in the week.
"It certainly is (hard to ride with)," Blyn said. "Coming in here, I thought that unfortunately the World Championship might be lost at that point. He had been riding so well up to this point. That injury is a tough one. The PCL is important for these guys because when they pull their lower leg back, that ligament stabilizes the knee and helps them. Without that ligament, or when it is loose, they have pain, number one, and then they don't have the ability to squeeze.
"He has shown some real mental toughness and real physical toughness that he is able to get by."
The goal of both medicine teams was to make sure Pacheco's swelling stayed down as best it could, and to keep him comfortable enough to try and ride.
"Right now, it's more having to treat symptoms, making sure he feels good. It's one of those things where you feel good, you look good, you play good, right? And I think that also builds up some confidence for him," Bui said.
"So after that first night, after we've been doing everything, I think he was pretty sold that, 'I've got to keep doing it.' He's been really good about coming when he says he's going to come. Sleep or no sleep, he's going to come and make sure he gets it taken care of. He's willing to do whatever it takes at the moment."
Pacheco's treatment sessions with Blyn (post-event at the arena) and Bui back at the hotel would sometimes not be over until 1 a.m.
"I was trying to forget about the pain," Pacheco said. "I was just concentrating on my bulls and tried to forget about that – don't think about it. I tried to forget about just the pain itself and ride the bulls, and everything else would come. I didn't think about anything outside of that."
He would then attempt to sleep as much as he could, but the pain would be so bad at times that he was only getting roughly 3 to 4 hours of sleep.
"I'm in a lot of pain, for sure," Pacheco admitted after the Finals. "It hurts a lot. I haven't been able to go to bed. I've been going to sleep at 3 or 4 in the morning because of the pain because it's not letting me sleep. Then I'm waking up at 7 in the morning and going straight to Fit-N-Wise to get treatment on it to get better."
PBR Director of Livestock Cody Lambert was impressed by the heart and determination Pacheco demonstrated in Las Vegas.
"I'm impressed with Kaique," Lambert said. "He's always been really, really good. He's just very hard to get a read on. And his knee is really hurting and he's really got some serious pain."
Pacheco's father, Everaldo, knew immediately his son was in trouble when he got injured at the Velocity Finals.
"I was watching it on RidePass," Everaldo said on Saturday in Las Vegas with the help of Miriaham Garcia translating. "I knew it was serious, or big, when I saw him take his helmet off and I saw his face because he was in pain.
"Kaique does not show that. No matter if he's hurting or anything, he will not show that. He's the Ice Man. But when he showed it, I knew it was something serious."
Everaldo walked in to the Fit-N-Wise room on Sunday morning around 8:30 to check on his son.
The father patted his son on the shoulder and looked on with a smile.
It has been hard for him to watch his son be in pain this week, but he also knew Kaique was not going to give up on his childhood dreams with how close he was to finishing the deal.
"I'm impressed," Everaldo said. "I am overwhelmed with emotions because he's hurt. I know he's hurting. He's been hurt for a while, but he's riding with heart right now.
"All heart."
'YOU ARE EITHER GOING TO BE ANOTHER BULL RIDER OR YOU ARE GOING TO BE YOUR OWN MAN'
Kaique broke down on the shark cage as he began to thank his family and close friends for all of their love, support and guidance through the years.
"It hasn't been easy to me, especially coming into the World Finals injured," Pacheco said. "I want to thank God for everything he has given me in my life. My family. My mom. Dad. My brother. Silvano and Evelin Alves. My girlfriend and all my fans. My sponsors. To be a part of this big dream."
Eleven years ago, Kaique told his dad he wanted to one day be a World Champion bull rider.
Everaldo – a former bull rider himself in Brazil who used to compete with 2008 World Champion Guilherme Marchi – paused.
He knew his son was quickly falling in love with the sport since getting on his first steer three years earlier at 10 years old
Kaique was brought up in the sport because of his father and his grandfather, who raised bucking bulls in Brazil.
Everaldo had one message for his young, teenaged son.
"You're either going to be one bull rider, or you're going to stand out," Everaldo said to Kaique. "You're just going to be another rider or you're going to be your own man.'"
Kaique responded, "I will be my own man."
So the father and son got to work.
Everaldo was extremely cautious with the caliber of bull his son would get on.
Even when Kaique looked ready to take on a greater challenge, Everaldo stressed being perfect on each and every bull.
"Most of it's just natural talent," Everaldo said. "But he did train a lot when he was younger, and he did practice on the barrel, and all that stuff. He did train technique and that stuff too."
Once Kaique was close to perfect, then he could move up the ranks.
"Bull riding, my dad taught me, and mom, and the whole family kind of helped," Kaique said.
When Kaique was in agricultural school, his parents would drive 45 minutes to an hour every week to pick him up and bring him to either a bull riding or a practice pen every Wednesday.
"I'll correct him even now," Everaldo said. "I'll watch him and watch in a lot of detail, like 'You overcompensate over here.'
"Every time I see an error. I'll watch it and stuff and then we'll talk, and I'll tell him. Obviously when he does things the way he should, I won't say anything, but I try to do that every time I see something that needs to be fixed."
Outside of the locker room, Everaldo grinned as his son finished packing up his gear.
Twenty-four hours earlier, he was unsure if this moment would arrive.
"It's very hard to explain how I feel – the emotion – because I know how hard it's been, how much work he's had to do, and how dedicated he's been," Everaldo said. "Me, his mom, we've all had to work for it."
THE MENTOR AND HIS PRODIGY
Three-time World Champion Silvano Alves had tears on his face while Pacheco stood on the shark cage.
"He's my best friend," Alves, who is six years older than Pacheco, said. "He is like my brother and a son. It's emotional for me to watch him walk over there and hold the trophy up.
"I cried when he won because it's a dream come true. It was the same dream as me. He came here young, like myself. All the bull riders in Brazil. It's a dream to come here, and when he came here, he wanted to win a World Championship."
Alves has seen first-hand how hard Pacheco – the 2015 Rookie of the Year – has worked and wanted this championship over the last four years.
He was there inside the South Point Hotel Casino & Spa when Pacheco's world title dreams took a major hit.
Alves quickly told his prodigy it would be ok.
"'Relax. No need to worry about this. Just relax. You're in God's hands,'" Alves told him. "When the Finals started, he rode his first bull, and then rode his second bull, and rode his third bull and bucked off the re-ride bull. He was sad too, but I told him, 'No, just stay relaxed, confident. Here is your time. Stay focused, ride your bulls. You're a tough guy. It's hard.'"
Pacheco used to study film of Alves for hours upon hours at home in Brazil when he was a teenager.
Alves was amidst his World Championship dominance in 2012, and the teenaged Pacheco was enthralled. 
Pacheco would find as many videos as possible, to the point where his dad thought he may break the television remote because of how many times he would rewind Alves' ride.
"He would rewind their rides, those specific guys, Silvano and those guys," Everaldo said "He would just rewind it and watch it over and over again, I thought he was going to break the DVD player or something from all the stuff he kept rewinding."
Three-time World Champion Adriano Moraes met Pacheco when he was 13 years old and became blown away by Pacheco's focus and commitment to the craft.
"That is how it is for that kid," Moraes said. "He was born that way. He was always thinking and always analyzing stuff. In his life, he is 100 percent bull riding. He does not care about anything else. He wants to ride. He wants to ride good. He wants to be good. He doesn't compare himself to anyone else. He doesn't care if he wins or loses as long as he rides his bulls."
Alves and Pacheco would eventually meet in Brazil when Pacheco turned pro, and it was the beginning of a thriving friendship.
Pacheco would even live with Silvano and his wife, Evelin, when he first came to the United States 2015 and the Alveses became pseudo-parents for him in the U.S.
"It's helped Kaique a lot because Kaique is so reserved, so quiet, and Silvano and him just kind of hit it off from the beginning," Everaldo said. "He's like a brother to him. So I'm beyond myself."
Alves concluded, "If you ride well, it's good, but all of his dreams, all the bull riders that come from Brazil are here to win this title."
AN UNBELIEVEABLE TURNAROUND; LEARNING FROM MARCHI'S OWN SHORTCOMINGS
The turnaround Pacheco had this season is utterly amazing.
When the springtime flowers began to slowly bloom seven months ago, Pacheco looked far from a champion.
Most experts and insiders began to believe that Pacheco had "lost it."
Some people wondered if he would be cut from the premier series all together.
Pacheco began the season only 7-for-27 and went a stretch of six consecutive events without a single point toward the world standings.
He stayed afloat with two 15/15 Bucking Battle victories in the first half, but he also fell to No. 21 in the world standings at the end of March and at one point was mired in a 1-for-15.
Alves and Everaldo both knew Pacheco was struggling.
Pacheco went to Alves ranch and practiced and practiced.
"This year, he started slow," Alves said. "At the start of the year, he was not mad, but sad. I told him, 'You have time. You still have time. Don't worry about this. Don't put your head down. You're the best of the best.'
"I helped him try hard a lot. He would get on practice bulls. He tried everything. All the stuff – every single day. He stayed at my house and talked and I helped him with mechanics, and I told him, 'You can do it this year, but God has a plan for us. Take your time.'"
Pacheco never publicly vocalized his struggles, but his father believes his son was putting pressure on himself following so many close calls at winning a championship.
Kaique had finished runner-up for the world title in each of his first two seasons and finished 2017 fifth in the world standings.
He was 226.58 points ahead of Cooper Davis on the final day of the 2016 season only to lose out on the world title when Davis rode Catfish John for 91 points and he bucked off Slinger Jr. in 6.46 seconds.
Pacheco finished last season fifth overall after collapsing (10-for-32) in the final nine events because of a groin/pelvis injury.
In 2015, Pacheco finished runner-up to J.B. Mauney, who essentially blew away all of the competition.
"I think it was technical, partly, but also his head as well," Everaldo said of this year's struggles. "There was, one, a lot of pressure on him. He felt a lot of pressure, but I also think he was forcing it. Like he wanted to get better so badly that it was almost like if you want it that bad, it's not going to happen.
"I always tell him, 'You need to calm down and give it time.' When you're forcing something to happen, then it's not going to give. So that's why I always tell him, 'You've got to live and ride the ride you're doing now, and not think about what's going to happen later. You've got to worry about this, what's happening right now.'"
Pacheco turned around his season by winning Last Cowboy Standing, which was the first of his PBR-best five event wins this season.
He concluded the year 42-for-80 (50 percent) with those five wins and a PBR-record three 15/15 Bucking Battle victories.
Pacheco finished the season 35-for-53 (66.04 percent) following his slump.
"It wasn't really a frustration, finishing number two (all those years)," Pacheco said. "It was just more like, you know what, God has a plan for each of us, and I think it was not meant to be. And just coming in from the beginning this season, I was injured, and I started riding really good and healthy in the second half, and that was just great."
Pacheco also said he took solace in the fact that Marchi finished runner-up three consecutive years before winning his world title.
Marchi – another Pacheco mentor – continued to tell the young man to not give up.
"I learned a lot with them second-places," Pacheco said. "I have Guilherme Marchi as an idol and somebody to look up to, and he's been three times in second place and he finally won. It's something I learned a lot with, and his phrase for his brand, 'never give up,' is something I always look for and it's a true phrase.
"Never give up, always try, and you will get there one day."
Marchi said that philosophy is key.
You have to mentally get over the shortcomings and trust you are capable enough as a rider to one day win the championship.
"I am very proud of him," Marchi said. "It is hard because when you come to the Finals as the first guy, all the pressure is on you – and he was hurt. His dream has come true. This will make him more strong because he is still young. He is a very, very straight guy. He believes in himself. He knows what he wants in his career. This will make him more strong because all the pressure he put on himself is gone now."
Pacheco finished 422.5 points ahead of No. 2 Jose Vitor Leme in the final world standings.
He finished 2018 with $1,535.094.62 in championship earnings and was on top of the world standings with 5,444.16 points.
Leme has the utmost respect for his foe.
"Kaique certainly was fantastic this season," Leme said. "I'm not disappointed; on the contrary, I'm very happy for him too. He's an excellent professional and a great person. He deserves that title and everything that's been happening in his life.
"Surely, he deserves that title."
HUMBLENESS IN GLORY
Pacheco pulled put his Bible before the start of Round 1 of the PBR World Finals and he began to pray.
You who dwell in the shelter of the most high, who abide in the shade of the almighty / Say to the Lord, My refuge and fortress, my God in whom I trust. / He will rescue you from the fowler's snare, from the destroying plague. / He will shelter you with his pinions and under his wings you may take refuge, his faithfulness is a protecting shield. -Psalms 91: 1-4
No evil shall befall you, no affliction come near your tent. / For he commands his angels with regard to you, to guard you wherever you go. / With their hands they shall support you, lest you strike your foot against a stone. / You can tread upon the asp and the viper, trample the lion and the dragon. -Psalms 91: 10-13
Pacheco's family passed this prayer down to Pacheco many years ago, and the Psalm carried extra meaning for him this week.
Psalms 91 is a prayer of someone who has taken refuge in the Lord. The psalmist is confident that God's presence will protect people in every dangerous situation.
This week, the prayer he reads before riding had even more relevance with the dangerous obstacle he was encountering with his knee injury.
Pacheco's Catholic faith has been a large part of his lifetime, as well as his career.
You won't ever hear Pacheco vocalize his dreams of winning multiple world titles.
The humble bull rider does not want to boast or brag about his accomplishments.
"It comes from since I was really young," Pacheco said of his humbleness. "I've always been that way. I don't think I'm the best in the world. All I can do is do the best that I can do, and just work on myself. As long as I do that and do the best that I can do, then everything will come from that.
"That's all you can do, is your best. And God willing, God wants it to happen, and it will happen. Only God knows what's in your plan in your life for everyone."
MULTIPLE TITLES CAN BE IN HIS FUTURE, BUT IMMEDIATE FUTURE IN JEOPARDY
Pacheco had just finished up the last of his interviews Sunday when Blyn came into the room with a set of crutches at 6:30 p.m.
It was time for Pacheco to finally stay off his mauled knee.
The PBR Sports Medicine Team had not put Pacheco's knee in a full-time brace or made him use crutches during the PBR World Finals to try and help avoid the knee from stiffening up any further.
Pacheco will likely return home to Brazil to celebrate his World Championship, but he has yet to decide if surgery, which would require a six to eight-month recovery time, will be necessary.
He will undergo a new MRI at some point to find the extent of any additional damage he may have endured during his 2-for-5 showing at the World Finals.
"I need to get a scan everything and see what is happening," he said. "I don't know if I will go to Brazil or stay here."
It is likely Pacheco did more damage, but that does not matter to him one bit.
He is finally a World Champion.
"I had a dream since I was a kid to wear that gold buckle, and then coming in this weekend with this injury, you get little thoughts, but thank God for everything," Pacheco concluded. "I just did my best, like I do all the time, and I'm the World Champion today."
Follow Justin Felisko on Twitter @jfelisko